Headlights - Road Bike Shop
Shop
>
Accessories
>
Lights
>
Headlights
Exposure Joystick Mk10 Headlight with Helmet & HB Mount
As you're heading out to ride dark singletrack, with shadowy switchbacks and hidden obstacles, you know you'll need some type of light to help you see where you're going. For the rides when you don't want a heavy spotlight mounted to your handlebars, grab Exposure Lights' Joystick MK10 Headlight....
Exposure Joystick Mk8 & RedEye Light Pack
Retail Price:
$269.95
Our Price: $148.47
buy now
This Exposure Joystick Mk8 and RedEye Light Pack combines the tiny RedEye rear light with a 400 lumen Joystick Mk8 for front and rear visibility in a helmet-mounted design. The RedEye cleanly attaches to the Joystick Mk8 via Exposure's Smart Port Technology Plus. Essentially, it's a cylindrical...
Exposure Link Plus Front & Rear Light Combo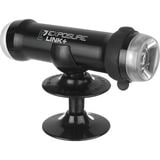 Exposure's Link Plus Front and Rear Light Combo combines a mid-strength, forward-facing light with a rear-facing light that's angled so that, while the front light is aimed at the road from a helmet or handlebar mount, the rear light is directed straight back to alert overtaking traffic to your...
Exposure MaXx-D Mk8 Headlight
Retail Price:
$529.00
Our Price: $446.13
buy now
Shorter daylight hours can either mean that riding outside after work won't happen again until spring, or they can mean it's time to start enjoying night rides again. With Exposure's MaXx-D Mk8 Headlight, you can embrace the latter. Take advantage of its intuitive features to enjoy rides in the...
Exposure Race MK10 Headlight
Retail Price:
$369.00
Our Price: $290.69
buy now
There's no telling what could be lurking in the darkness during your next trail ride, and whether you're more concerned about roaming coyotes or ill-intentioned rocks hiding in the shadows, you'll need a powerful light to see it all if you're riding or racing at night. UK-based Exposure Lights...
Exposure Red Eye Micro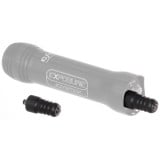 Retail Price:
$24.95
Our Price: $19.95
buy now
The Exposure Red Eye Micro is, without a doubt, the smallest rear taillight we've ever seen. Taking full advantage of Exposure's Smart Port Technology Plus, it simply plugs into the port and switches on and off with the light. It works with the Diablo and Joystick helmet-mounted headlights. The...
Exposure RedEye Light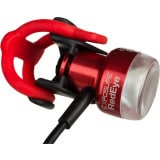 Retail Price:
$64.95
Our Price: $49.95
buy now
This RedEye Helmet Light is a bit different than the Long Cable version that we also sell. Here, the lamp bezel is CNC machined aluminum, as is the housing. It's also a bit more compact. It comes with a double-ended clip that allows it to snap directly into place in the body of the Diablo or...
Exposure Sirius Mk3 Headlight
Retail Price:
$189.00
Our Price: $141.75
buy now
Arguably the most high-tech light designed specifically for urban riding that we sell, the Exposure Sirius Mk3 Headlight is determined to help you see and be seen. The Sirius enjoys a host of features that makes it an Exposure -- which is to say, from a company that takes bike lighting, well,...
Exposure Sirius Mk4 USB Rechargeable Front Light
As you ride though a constellation of blinking brake lights and harsh headlights on dark commutes, Exposure Lights' Sirius Mk4 helps you stand out amid the chaos. Like the star it shares a name with, the 500-lumen light promises to stand out on its own and illuminate the roads on your commutes,...
Exposure Six Pack Mk5 with REFLEX Technology
Retail Price:
$679.00
Our Price: $509.25
buy now
Exposure makes some of the finest battery-powered lights on the planet, and they continue to get better and better at it, including packing their technology into ever-smaller form factors. The Six Pack Mk5 Headlight here is not only stunningly bright, at 3200 lumens, but is also fully...
<< Prev | Back | 1 | 2 | 3 | 4 | 5 | 6 | 7 | 8 | 9 | 10 | More | Next >>