Headlights - Road Bike Shop
Shop
>
Accessories
>
Lights
>
Headlights
Exposure Race Mk11 Headlight
Whether you're racing late afternoon 'cross, evening XC, or just heading out to train on the roads at night, if weight is a key concern in which light you use, consider Exposure Lights' Race Mk11 Headlight. Weighing in at just 186 grams, this tiny headlight packs a powerful punch, casting up to...
Exposure Red Eye Micro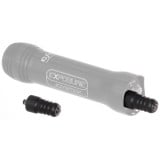 The Exposure Red Eye Micro is, without a doubt, the smallest rear taillight we've ever seen. Taking full advantage of Exposure's Smart Port Technology Plus, it simply plugs into the port and switches on and off with the light. It works with the Diablo and Joystick helmet-mounted headlights. The...
Exposure RedEye Light
This RedEye Helmet Light is a bit different than the Long Cable version that we also sell. Here, the lamp bezel is CNC machined aluminum, as is the housing. It's also a bit more compact. It comes with a double-ended clip that allows it to snap directly into place in the body of the Diablo or...
Exposure Sirius Mk5 Headlight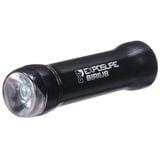 Daylight Savings Time may be your sworn enemy, but you can't stop it from arriving every year. We'd never suggest that you give up all hope and hang up your bike for the season; instead, we'd just say it's probably time to break out a light and your best reflective kit. Whether you're a commuter...
Exposure Sirius Mk5 Headlight with TraceR Tail Light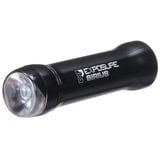 When you're commuting, you know better than to count on a few tired reflective accents on your wheels to keep you seen by motorists. Rather than relying on headlights and streetlights to reflect off of you, equip your commuter frame with Exposure Lights' Sirius Mk5 Headlight with TraceR Tail...
Exposure Smart Charger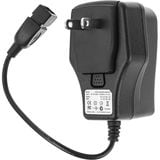 You've looked everywhere: the couch cushions, the car seats, your work bag, your gym bag. Your Exposure Lights Smart Charger is nowhere to be found. Rather than berate yourself for losing it, think of your headlight. It's still going to need a battery boost one of these days, so replace your...
Exposure Strada 1200 Road Specific Headlight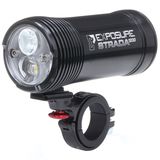 You've seen them before: cyclists spinning along on their regular routes like nothing is out of the ordinary, except for the fact that it's pitch black outside. The last glow of dusk is long gone, and yet these riders, clad in reflective kit and sporting powerful handlebar lights, don't seem to...
Exposure Strada 800 Road Specific Headlight
Rather than focusing strictly on one application, your road rides are diverse in any given year. We understand; dabbling in a bit of everything is often the most fun way to go, but don't tell the pros that. You try and show up for a few Wednesday night races in your local crit series, as well as...
Exposure Switch Headlight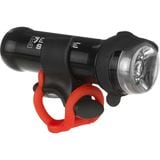 When you're commuting regularly, a reliable light is a crucial part of your setup because, unless you only commute during midsummer, chances are good that one or both parts of your commute will take place in the dark at some point. Having a light that can last through traffic and inclement...
Exposure Switch Headlight with TraceR Tail Light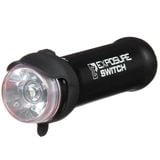 Sure, the bulk of your commute takes place in crowded bike lanes permanently cast in a downtown glow, and you seldom feel like you're actually riding at night. But that doesn't mean you shouldn't have some kind of light mounted onto your commuter bike. Instead of spending big on a high-lumen...
<< Prev | 1 | 2 | 3 | 4 | 5 | 6 | 7 | 8 | 9 | 10 | Next >>