Headlights - Road Bike Shop
Shop
>
Accessories
>
Lights
>
Headlights
CatEye Volt 100 XC and Rapid Micro Light Combo
Riding after dark is a fun mission to embark on, but cars are scary enough in daylight to deter a lot of cyclists. CatEye takes a step towards safety, making it easier for us to embark on night time adventures, thanks to the Volt 100 XC and Rapid Micro Light Combo, designed to make the ride a...
CatEye Volt 100 XC Headlight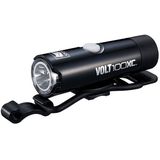 Whether you're burning the midnight oil at the office or bar hopping on a Saturday night, the CatEye Volt 100 XC Headlight provides 100 lumens of illumination, so you can pedal home safely on your commuter bike. This high-intensity LED light projects 100 lumens of bright illumination, with a...
CatEye Volt 1600 Headlight
Changing clocks mean dark commutes and early relegation to indoor trainer sessions unless you saddle up with something like CatEye's Volt 1600 Headlight. With five modes to choose from to balance lighting needs and battery life requirements, this headlight floods oncoming terrain with up to 1600...
CatEye Volt 200/Rapid X Combo
Retail Price:
$84.99
Our Price: $49.99
buy now
Outfit your commuter in affordable visibility with CatEye's Volt 200/Rapid X Combo. The front Volt 200 boasts a bright 200 lumens to light the way ahead and make sure side-street traffic knows you're on the road, while the Rapid X Rear lights flashes a notice of your presence to anyone coming up...
CatEye Volt 300 Headlight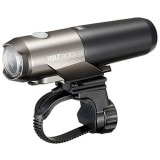 Headlight technology has evolved quickly from days of yore when you needed to carry two water-bottle sized batteries for a few hours of illumination. Now you can literally hold a complete light in the palm of your hand. The Cateye Volt 300 is the latest in portable lumens - quick to charge and...
CatEye Volt 400 Duplex Helmet Light
An innovative solution for navigating after dark and notifying vehicles of your presence, the CatEye Volt 400 Duplex Helmet Light provides a high-intensity white light in front, paired with a red taillight for rearward visibility to passing traffic. This helmet-mounted light provides 400 lumens...
CatEye Volt 400 XC Headlight
Those occasional commutes are looking to be even rarer as the light fades into the fall unless you happen to have a trusty CatEye Volt 400 XC Headlight waiting in the wings. With a price that won't leave you cringing, this light attaches quickly to your handlebars with a handy rubberized hook...
CatEye Volt 500 XC and Rapid X2 Light Combo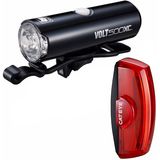 Combining the most powerful light in CatEye's XC series with an innovative rear light with surface-emitting LED strips, the Volt 500 XC and Rapid X2 Light Combo deliver brilliant illumination for everyday commuters and dedicated cyclists putting in miles before sun-up and after sunset. It's a...
CatEye Volt 500 XC Headlight
Whether you're rocking a winter commute, squeezing in some extra evening training miles, or lining up for a nighttime cyclocross race under the lights, you'll want to have your CatEye Volt 500 XC Headlight along for the ride to brighten the way. Its rubber bar mount attaches quickly and securely...
Exposure Axis Mk4 Headlight
You've learned the hard way that your trusty headlamp, usually a champ on night hikes, has an uncharacteristically hard time keeping up with you and your trail bike on dark singletrack. To make sure you can actually see on your next ride, outfit your dirt companion with Exposure Lights' Axis Mk4...
<< Prev | Back | 1 | 2 | 3 | 4 | 5 | 6 | 7 | 8 | 9 | 10 | More | Next >>