Headlights - Road Bike Shop
Shop
>
Accessories
>
Lights
>
Headlights
Exposure Joystick Light with Helmet Mount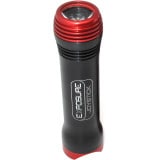 Retail Price:
$234.95
Our Price: $165.00
buy now
With seven years under its belt, the Exposure Joystick Mk7 has continually evolved as Exposure has grown to be a leader in the performance lighting market. Now sporting a boost in output to 400 lumens and Exposure's new Optimized Mode Selector, the lightweight Joystick Mk7 with Helmet Mount...
Exposure Joystick Mk8 & RedEye Light Pack
Retail Price:
$269.95
Our Price: $202.45
buy now
This Exposure Joystick Mk8 and RedEye Light Pack combines the tiny RedEye rear light with a 400 lumen Joystick Mk8 for front and rear visibility in a helmet-mounted design. The RedEye cleanly attaches to the Joystick Mk8 via Exposure's Smart Port Technology Plus. Essentially, it's a cylindrical...
Exposure Red Eye Micro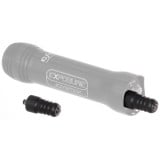 The Exposure Red Eye Micro is, without a doubt, the smallest rear taillight we've ever seen. Taking full advantage of Exposure's Smart Port Technology Plus, it simply plugs into the port and switches on and off with the light. It works with the Diablo and Joystick helmet-mounted headlights. The...
Exposure RedEye Light
This RedEye Helmet Light is a bit different than the Long Cable version that we also sell. Here, the lamp bezel is CNC machined aluminum, as is the housing. It's also a bit more compact. It comes with a double-ended clip that allows it to snap directly into place in the body of the Diablo or...
Exposure Reflex MK1
Retail Price:
$599.95
Our Price: $449.96
buy now
Pushing out 2200 Lumens, the Reflex Mk1 torch takes over as Exposure's flagship model. Lighter than the MaXx-D and brighter than the Six Pack, it's the light source high-speed night riding demands. Brightness is one aspect of a quality nightlight, and with two new technologies that build on...
Exposure Sirius with Flare
Retail Price:
$219.27
Our Price: $153.48
buy now
Exposure has quickly become an endurance and 24-hour racer's cup-o-tea when it comes to high-performance lighting. That's because of its extremely low-weight, cable-less design, and long-lasting, high-output products. While commuters don't need all the high-tech bells and whistles competitors...
Exposure Strada Mk5 Road Specific Light
Retail Price:
$449.00
Our Price: $399.00
buy now
Exposure's Strada Mk5 Road Specific Light features the same high-tech resin lens technology as the rest of Exposure's lights, except a distinct beam pattern provides better light dispersion for paved surfaces. The lens is specifically designed to maximize light collection from the two Cree XPG R5...
Exposure Trace Front Light
Sure, a quick-and-easy elastic band secures the Trace Front Light to handlebars like many other LED front lights, only Exposure's expertise makes this much more than the typical watch battery in a rubber case. First off, the Trace light combines a powerful, yet efficient Cree XPG LED with a...
Exposure Trace Light Pack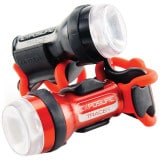 Each of Exposure's Trace Lights in this front and rear Pack weigh slightly more than 400 grams, which makes them ideal for not only commuters, but long-distance riders, too. So, if you're unsure if a ride's going to push into the dark, just toss them in a jersey pocket. This is possible because...
Exposure WhiteEye Light
The Exposure WhiteEye is CNC machined aluminum throughout, save for the plastic lens. It looks just like their RedEye Helmet Light, but instead of producing a glowing red light to be seen from the rear, the White Eye produces 240 lumens from its single Seoul P4 LED. It can be used to give...
<< Prev | 1 | 2 | 3 | 4 | 5 | 6 | 7 | 8 | 9 | Next >>