Headlights - Road Bike Shop
Shop
>
Accessories
>
Lights
>
Headlights
CatEye Volt 300 Headlight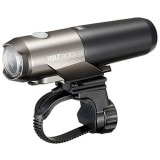 Headlight technology has evolved quickly from days of yore when you needed to carry two water-bottle sized batteries for a few hours of illumination. Now you can literally hold a complete light in the palm of your hand. The Cateye Volt 300 is the latest in portable lumens - quick to charge and...
Exposure Diablo Mk7 Headlight with Helmet & HB Mount
Retail Price:
$339.00
Our Price: $220.35
buy now
Exposure's best-selling handlebar torch returns to burn safe passages across trails and roads in the form of the Diablo Mk7 Headlight with Helmet and HB Mount. If there are differences between the Mk7 and its predecessor, the Mk6, they're so imperceptible as to not be readily apparent. And that's...
Exposure Equinox Mk2 Headlight Pack with Wireless Remote Switch
Retail Price:
$475.00
Our Price: $332.50
buy now
When it comes to lumen output on a cycling light, your general commuter-type is likely happy with a small model with a 120 lumen output. Or less. But for fast descents or off-road riding after dark, Exposure's Equinox Mk2 Headlight Pack with Wireless Remote Switch is the obvious choice. The 1,200...
Exposure Link Plus Front & Rear Light Combo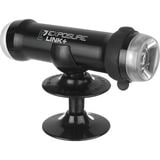 Retail Price:
$139.00
Our Price: $97.30
buy now
Exposure's Link Plus Front and Rear Light Combo combines a mid-strength, forward-facing light with a rear-facing light that's angled so that, while the front light is aimed at the road from a helmet or handlebar mount, the rear light is directed straight back to alert overtaking traffic to your...
Exposure Race MK10 Headlight
Retail Price:
$369.00
Our Price: $258.30
buy now
There's no telling what could be lurking in the darkness during your next trail ride, and whether you're more concerned about roaming coyotes or ill-intentioned rocks hiding in the shadows, you'll need a powerful light to see it all if you're riding or racing at night. UK-based Exposure Lights...
Exposure Red Eye Micro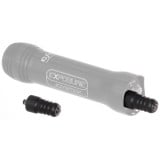 Retail Price:
$24.95
Our Price: $17.46
buy now
The Exposure Red Eye Micro is, without a doubt, the smallest rear taillight we've ever seen. Taking full advantage of Exposure's Smart Port Technology Plus, it simply plugs into the port and switches on and off with the light. It works with the Diablo and Joystick helmet-mounted headlights. The...
Exposure RedEye Light
This RedEye Helmet Light is a bit different than the Long Cable version that we also sell. Here, the lamp bezel is CNC machined aluminum, as is the housing. It's also a bit more compact. It comes with a double-ended clip that allows it to snap directly into place in the body of the Diablo or...
Exposure Switch Headlight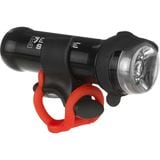 Retail Price:
$129.00
Our Price: $90.30
buy now
When you're commuting regularly, a reliable light is a crucial part of your setup because, unless you only commute during midsummer, chances are good that one or both parts of your commute will take place in the dark at some point. Having a light that can last through traffic and inclement...
Exposure WhiteEye Light
The Exposure WhiteEye is CNC machined aluminum throughout, save for the plastic lens. It looks just like their RedEye Helmet Light, but instead of producing a glowing red light to be seen from the rear, the White Eye produces 240 lumens from its single Seoul P4 LED. It can be used to give...
Fabric USB Front Light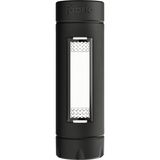 All of the crisp air and rich foliage of fall makes for a welcome change to your weekend rides, but your opportunities to sneak a few miles in after work in the evenings grow more difficult to come by every day. Extending your rides a half hour longer can be as easy as buying the right light. If...
<< Prev | Back | 1 | 2 | 3 | 4 | 5 | 6 | 7 | 8 | 9 | 10 | More | Next >>