Headlights - Road Bike Shop
Shop
>
Accessories
>
Lights
>
Headlights
CatEye Rapid X3 Headlight
Whether you're commuting in dawn shadows, bright daylight, or greying dusk, add some extra visibility to your ride with a CatEye Rapid X3 Headlight. Its 200 lumens of light spans 180-degrees of visibility to give oncoming traffic a bright heads up that you're sharing the roadway. A versatile...
CatEye Volt 1600 Headlight
Changing clocks mean dark commutes and early relegation to indoor trainer training sessions unless you saddle up with something like CatEye's Volt 1600 Headlight. With five modes to choose from to balance lighting needs and battery life requirements, this headlight floods oncoming terrain with up...
CatEye Volt 200/Rapid X Combo
Outfit your commuter in affordable visibility with CatEye's Volt 200/Rapid X Combo. The front Volt 200 boasts a bright 200 lumens to light the way ahead and make sure side-street traffic knows you're on the road, while the Rapid X Rear lights flashes a notice of your presence to anyone coming up...
CatEye Volt 300 Headlight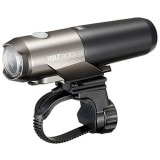 Headlight technology has evolved quickly from days of yore when you needed to carry two water-bottle sized batteries for a few hours of illumination. Now you can literally hold a complete light in the palm of your hand. The Cateye Volt 300 is the latest in portable lumens - quick to charge and...
CatEye Volt 400 XC Headlight
Those occasional commutes are looking to be even rarer as the light fades into the fall, unless you happen to have a trusty CatEye Volt 400 XC Headlight waiting in the wings. With a price that won't leave you cringing, this light attaches quickly to your handlebars with a handy rubberized hook...
CatEye Volt 500 XC Headlight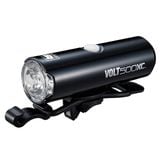 Whether you're rocking a winter commute, squeezing in some extra evening training miles, or lining up for a nighttime cyclocross race under the lights, you'll want to have your CatEye Volt 500 XC Headlight along for the ride to brighten the way. Its rubber bar mount attaches quickly and securely...
CatEye Volt 6000 Headlight
Pretty soon, night riding will be a thing of the past. With the ever-expanding output capacity of headlights, we can start to imagine a world in which powerful spotlights fully illuminate even the most shadowy sections of singletrack, so much so that riders will no longer dread the inevitable...
Exposure Equinox Mk2 Headlight Pack with Wireless Remote Switch
Retail Price:
$425.93
Our Price: $332.50
buy now
When it comes to lumen output on a cycling light, your general commuter-type is likely happy with a small model with a 120 lumen output. Or less. But for fast descents or off-road riding after dark, Exposure's Equinox Mk2 Headlight Pack with Wireless Remote Switch is the obvious choice. The 1,200...
Exposure Joystick Mk11 Headlight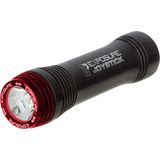 From the awkwardness of your early teen years through the angst and self-discovery of college, to the transitional years beyond, you and your joystick have weathered more than a few storms together. Now that your days of all-night gaming and group meetups have moved aside in favor of a more...
Exposure Link Plus Front & Rear Light Combo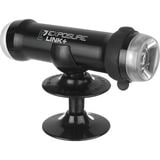 Retail Price:
$113.53
Our Price: $97.30
buy now
Exposure's Link Plus Front and Rear Light Combo combines a mid-strength, forward-facing light with a rear-facing light that's angled so that, while the front light is aimed at the road from a helmet or handlebar mount, the rear light is directed straight back to alert overtaking traffic to your...
<< Prev | Back | 1 | 2 | 3 | 4 | 5 | 6 | 7 | 8 | 9 | 10 | More | Next >>