Headlights - Road Bike Shop
Shop
>
Accessories
>
Lights
>
Headlights
Exposure Joystick Mk8 & RedEye Light Pack
Retail Price:
$269.95
Our Price: $202.45
buy now
This Exposure Joystick Mk8 and RedEye Light Pack combines the tiny RedEye rear light with a 400 lumen Joystick Mk8 for front and rear visibility in a helmet-mounted design. The RedEye cleanly attaches to the Joystick Mk8 via Exposure's Smart Port Technology Plus. Essentially, it's a cylindrical...
Exposure Race Mk8 Light
Retail Price:
$339.95
Our Price: $288.95
buy now
You're not going to give up on riding just because the sun set. And whether you're looking to maximize your visibility for commuting, or you're trying to tear up the trails without running into traffic, the Exposure Race Mk8 Light will add some much needed safety to your ride. With a maximum...
Exposure RedEye Light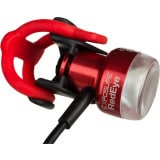 Retail Price:
$54.95
Our Price: $41.20
buy now
This RedEye Helmet Light is a bit different than the Long Cable version that we also sell. Here, the lamp bezel is CNC machined aluminum, as is the housing. It's also a bit more compact. It comes with a double-ended clip that allows it to snap directly into place in the body of the Diablo or...
Exposure Sirius Light
Retail Price:
$169.95
Our Price: $99.99
buy now
While commuting by bicycle requires adequate lighting, you don't need the same output or bells and whistles that a 24-hour racer demands. That's where the Sirius Mk1 falls in Exposure's line up -- a powerful, simple to operate, and lightweight light for getting you across town safely. Like other...
Exposure Sirius with Flare
Retail Price:
$219.27
Our Price: $153.48
buy now
Exposure has quickly become an endurance and 24-hour racer's cup-o-tea when it comes to high-performance lighting. That's because of its extremely low-weight, cable-less design, and long-lasting, high-output products. While commuters don't need all the high-tech bells and whistles competitors...
Exposure Strada Mk5 Road Specific Light
Retail Price:
$399.95
Our Price: $299.95
buy now
Exposure's Strada Mk5 Road Specific Light features the same high-tech resin lens technology as the rest of Exposure's lights, except a distinct beam pattern provides better light dispersion for paved surfaces. The lens is specifically designed to maximize light collection from the two Cree XPG R5...
Exposure WhiteEye Light
Retail Price:
$54.95
Our Price: $35.71
buy now
The Exposure WhiteEye is CNC machined aluminum throughout, save for the plastic lens. It looks just like their RedEye Helmet Light, but instead of producing a glowing red light to be seen from the rear, the White Eye produces 240 lumens from its single Seoul P4 LED. It can be used to give...
Lezyne CR2032 Battery - 8 Pack
So, you got a pair of Lezyne Femto Lights and you're ready to start commuting on your bike every night. Femto LEDs last a good long time-60 hours-in Flash mode, but that isn't forever. You'll need some backup power. Lezyne CR2032 Batteries come in an 8-Pack. That should be enough to get you...
Lezyne Femto Drive Front Light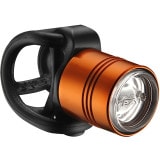 Leave it to Lezyne to turn something as ordinary as a safety light and turn it into art. The Femto Drive Front Light's durable CNC-machined aluminum body is weather-resistant, dissipates heat to protect the battery, and won't rust no matter how long you leave it outside. The Femto's lens doubles...
Lezyne Hecto Drive Front Light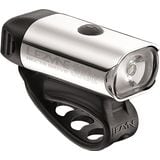 When you want a simple, lightweight headlight to pop into your bag for those days when you get stuck riding home as the sun is setting, the Lezyne Hecto is the perfect fit. It's clean style is only matched by its convenience and packability. Three long-lasting LEDs are encased in a dome-like...
<< Prev | 1 | 2 | 3 | 4 | 5 | 6 | Next >>