Headlights - Road Bike Shop
Shop
>
Accessories
>
Lights
>
Headlights
CatEye Volt 300 Rapid X Light Kit
Retail Price:
$100.00
Our Price: $79.99
buy now
Need a solid and bright light combo from a company famous for solid and bright light combos? The Cateye Volt 300/Rapid X Light Kit is calling your name. Up front, you get a Volt 300. It's super lightweight for a 300-lumen LED light, at only 120 grams. The Li-ion battery is housed in a durable...
Exposure Axis - Single XML Light
The fact that you can attach the 550-lumen Axis Single XML Light to your helmet, complete with battery, in a sub 100 gram package is pretty impressive to say the least. Exposure's makes this possible through the use of LED technology, a 2900mAh lithium ion battery (good for 2 - 36 hours), and...
Exposure Axis Mk2 Headlight
On paper, the Exposure Axis Mk2 Headlight may look a lot like the company's best-selling Diablo's little brother, and that's because it is, but this ain't no axis of evil. The Axis is more than powerful enough for most riders, packing all the same features as the Diablo, only with a slightly...
Exposure Diablo Mk6 Headlight
Retail Price:
$349.00
Our Price: $296.65
buy now
By far the company's most popular model, the Exposure Diablo Mk6 Headlight makes a strong case to be the one and only headlight you need. It hosts a number of ingenious features, is easily mountable on either a helmet or handlebar, and its timeless design and quality come courtesy of its British...
Exposure Equinox Light
Retail Price:
$479.00
Our Price: $399.00
buy now
At the forefront of lighting technology, Exposure's sub 125g, 1200-lumen Equinox Light is incredibly powerful for its feathery weight. And if that's not enough power, Equinox can boost lumens to 2000 and increase battery life with the addition of a Support Cell. As it sits, the light will last...
Exposure Equinox Light Pack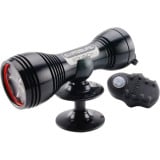 Retail Price:
$549.00
Our Price: $449.00
buy now
At the forefront of lighting technology, Exposure's sub 125g, 2000-lumen Equinox Light Pack comes with a helmet mount and a wireless remote switch. That's right, an incredibly powerful light and battery combination that's feathery enough for helmet use, complete with control at your finger tips....
Exposure Joystick Light with Helmet Mount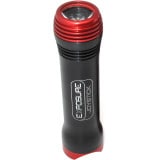 Retail Price:
$234.95
Our Price: $165.00
buy now
With seven years under its belt, the Exposure Joystick Mk7 has continually evolved as Exposure has grown to be a leader in the performance lighting market. Now sporting a boost in output to 400 lumens and Exposure's new Optimized Mode Selector, the lightweight Joystick Mk7 with Helmet Mount...
Exposure Joystick Mk8 & RedEye Light Pack
This Exposure Joystick Mk8 and RedEye Light Pack combines the tiny RedEye rear light with a 400 lumen Joystick Mk8 for front and rear visibility in a helmet-mounted design. The RedEye cleanly attaches to the Joystick Mk8 via Exposure's Smart Port Technology Plus. Essentially, it's a cylindrical...
Exposure MaXx-D Mk7 Headlight
As well-established bike nerds, we are especially enthusiastic about products from companies also run by well-established bike nerds, and a shining example of this is anything that comes from our light-minded friends at Exposure. Pieces like the British-engineered and manufactured Exposure MaXx-D...
Exposure Race Mk9 Headlight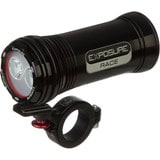 Engineered and manufactured in Great Britain, the Exposure Race Mk9 Headlight is the product of a small group of utterly obsessed engineers and designers whose sole mission is to create the world's most advanced bike lighting systems. While not as heavy-duty as its big brothers, the Toro and the...
<< Prev | 1 | 2 | 3 | 4 | 5 | 6 | 7 | 8 | 9 | 10 | Next >>