Water Reservoirs - Road Bike Shop
Shop
>
Accessories
>
Hydration Packs & Bags
>
Water Reservoirs
CamelBak Big Bite Valve Color - 4-Pack
CamelBak's Big Bite Valve Color replaces your gnawed-on, worn-out, and semi-smelly reservoir's valve. Give the other three to friends and family, or keep all four for the four different liquids you always put in your reservoir: water, flavored water, margarita, and long island iced tea.
CamelBak Crux Lumbar Reservoir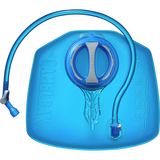 CamelBak redesigned the Crux Lumbar Reservoir to offer 20% more water per sip and to sit lower in your backpack for better stability on the trail. Its polyurethane composition still consists of Hydroguard antibacterial technology to reduce bad smells and tastes, and it's completely free from BPA,...
CamelBak Crux Water Reservoir
You can rest when the vacation's over. So, rather than sleeping in, get up and grab your trekking poles, snacks, and the Camelbak Crux Water Reservoir, so you can get to the trailhead before the parking lot fills up. An ergonomic handle provides easy, one-handed fill when you're still trying to...
CamelBak Eddy Accessory - 2 Bite Valves/2 Straws
The CamelBak Eddy Accessory gives you 2 backup straw/valve assemblies for whenever your Eddy water bottle needs a little refresher. Includes the redesigned Big Bite valve with a leak-proof, one-piece construction.
CamelBak Eddy Accessory Bite Valve Multi-Pack
Want to add some color to your CamelBak Eddy or Groove water bottle? Pick up this multi-pack of Eddy and Groove Accessory Bite Valves and your bottle will be just as fresh as your hammer pants.
CamelBak Hands Free Adapter
End the tiresome task of lifting your water bottle up to your mouth thanks to the CamelBak Hands Free Adapter. When attached to your Eddy or Groove water bottle, this Pure Flow drinking tube allows you to keep your bottle out of arm's reach in a backpack and still sip on that high-quality H2O as...
DAKINE Lumbar Replacement Reservoir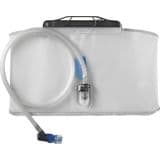 Stay hydrated on long hikes, grueling bike rides, and all-day shred missions with the Dakine Lumbar Replacement Reservoir. Its lumbar design keeps the weight in the bottom of the pack for a more stable feel when you're getting active. The wide mouth opening allows for easy filling and cleaning,...
Deuter Streamer Water Reservoirs
The Source Streamer 3. 0 Reservoir will fit in any Deuter pack designed for three-liter reservoirs and many other hydration packs as well. Deuter has chosen not to make their own bladder, but source their bladder from Source, an Israeli company. Deuter has been working closely with Source to...
Gregory 2L Reservoir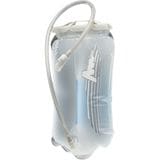 Retail Price:
$26.95
Our Price: $17.52
buy now
When you're trail running or trekking over rough terrain, the ceaseless sloshing of a hydration bladder can drive you mad. But thanks to a clever internal baffle, the Gregory 2L Reservoir prevents water from sloshing, allowing you to stay hydrated and sane when you're out on the trail. It opens...
Hydrapak Elite 1.5 Water Reservoir
The hot, dusty trail's got nothing on you when you set out with the HydraPak Elite 1. 5 Water Reservoir. Not too big and not too small, this reservoir is just right for training runs and leisurely hikes. The HydraFlex tube is equipped with a high-flow Blaster Valve to keep you hydrated on the go....
<< Prev | 1 | 2 | 3 | 4 | Next >>