Hydration Packs - Road Bike Shop
Shop
>
Accessories
>
Hydration Packs & Bags
>
Hydration Packs
CamelBak Luxe NV Hydration Backpack - Women's - 671cu in
Spend your summers mountain biking with the Women's Luxe NV Hydration Backpack with CamelBak's 3L Antidote Reservoir. Designed specifically for mountain biking, the pack's NV suspension system uses a flexible back panel and articulated pods to deliver comfort, airflow, and free-moving performance...
CamelBak Magic Hydration Backpack - Women's - 244cu in
Heading out on a quick after-work ride or catching some laps during your lunch break? Stay hydrated without overdoing it with the Camelbak Women's Magic Hydration Backpack. The two-liter Antidote reservoir is plenty to keep you hydrated for a couple hours of hard riding, and it has a lightweight,...
CamelBak Marathoner Hydration Vest
Pheidippides, the first dude to run 26. 2 miles, died after finishing the feat. As uninspiring as this may be, you can take comfort in the fact that he didn't have the CamelBak Marathoner Hydration Vest. Since hydration can mean the difference between life and death, CamelBak included a 70oz...
CamelBak Mule Hydration Pack - 549cu in
You can bring everything you need on that afternoon ride that you have planned with the CamelBak Mule Hydration Pack. The Mule has room for a short day's worth of gear and three liters of water, which should get you about three hours up the trail on a really hot day. The Mule also has CamelBak's...
CamelBak Mule NV Hydration Pack - 732cu in
Load up all the water and gear you need for a day of mountain biking with the Camelbak Mule NV Hydration Pack. A three-liter Antidote Reservoir graces the hydration sleeve of this beauty, and it's loaded with features that make it easier to fill, easier to clean, and easier to live with. The NV...
CamelBak Octane 18X Hydration Backpack - 671-915cu in
Don't let anyone tell you how to get hydrated; CamelBak's genius Octane 18X Hydration Backpack lets you customize the shape and capacity of your pack to suit your own demands, whatever they be. From 671 to 915 cubic inches of storage, you can determine what's essential and what's unnecessary....
CamelBak Octane XCT Hydration Backpack - 210cu in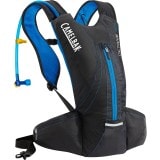 The flagship of CamelBak's multi-sport packs, the Octane XCT Hydration Backpack features a unique body-hugging design. A 210-cubic-inch essentials pocket and two cargo pockets on the waist belt offer you enough storage for a full day of your favorite activity. Plan for three hours of...
CamelBak Rim Runner Hydration Backpack - 1160cu in
Camelbak's Rim Runner 22 has become a classic among the day hiker/mountain biker crowd, and for good reason. An Air Channel back panel provides soft mesh and numerous air channels that you can rely on during the most strenuous and sweat-inducing aerobic activity. Got gear? Not to worry: an...
CamelBak Rogue Hydration Backpack - 183cu in
Say 'hi' to your new best riding buddy, the CamelBak Rogue Hydration Backpack. As long as you give this guy a piggy-back ride, he'll never leave your side. He's got your back covered and your body hydrated. Your new friend won't smother you though: the Air Channel back panel and air mesh harness...
CamelBak Sequoia 18 Hydration Backpack - 1098cu in
From all-day treks through redwood forests to dawn-til-dusk hikes up Mt. Timpanogos, the Camelbak Women's Sequoia 18 Hydration Backpack keeps you hydrated through those day-trip adventures. The included three-liter reservoir holds enough water for a day's worth of journeying, and there's still...
<< Prev | Back | 1 | 2 | 3 | 4 | 5 | 6 | 7 | 8 | 9 | 10 | More | Next >>