Hydration Packs - Road Bike Shop
Shop
>
Accessories
>
Hydration Packs & Bags
>
Hydration Packs
CamelBak Fourteener 20L Backpack
Retail Price:
$124.95
Our Price: $68.72
buy now
One of the point of hiking is to clear your mind, not to create extra static with concerns over dehydration. Camelbak's classic Fourteener 20 Hydration Backpack will worry about your water supply so you can continue focusing on greater things. Its large three-liter reservoir gets you three hours...
CamelBak Fourteener 20L Backpack
You go to the mountains to clear your mind, not clutter it with worries like whether you have enough water or if you packed all the essentials. With the CamelBak Fourteener 20 Hydration Backpack taking care of all the essential details, you'll be able to take a deep breath and let all of your...
CamelBak Fourteener 24L Backpack
When you leave the mountain hut in the pre-dawn gray, your mind's probably racing through routes and equipment and all the details you need to reach the summit. But despite all the things you're supposed to remember, it's important to enjoy the solitude and beauty of the mountain. So, let the...
CamelBak Fourteener 24L Backpack
Retail Price:
$144.95
Our Price: $72.47
buy now
When you hit the trail, you're probably more worried about the day's goal, some solitude, and the beauty of the mountains, so let the CamelBak Fourteener 24 Hydration Backpack take care of your hydration needs. Weighing in at a little over two pounds and with 1,465cu in of extra storage space,...
CamelBak Franconia LR 24L Backpack
Built for long, technical hikes and bike rides, the Franconia LR 24 Hydration Backpack is one of CamelBak's top-of-the-line lumbar adventure pack. It boasts room for a day's Tough-as-nails nylon ripstop construction proves to be durable through some of your most demanding outings, and the Air...
CamelBak Gambler 3L Backpack
Retail Price:
$94.95
Our Price: $47.47
buy now
Hit the backcountry this season with the essentials including your shovel, probe, skins, a snack, your phone, wallet, and keys. At just over a pound, the lightweight Camelback Gambler Hydration Pack hauls everything you need without weighing you down. With 100 ounces of water you won't go thirsty...
CamelBak Hawg LR 20L Backpack
Tear up the trails while staying hydrated and prepared with the Camelbak Hawg LR 20 Hydration Pack. It has a low-profile design that sits close to your back and maintains a low center of gravity to ensure stability when you're ripping around berms and flying over bumpy terrain. The Airfoil back...
CamelBak Helena 20L Backpack - Women's
Montana's capital has an endless supply of outdoor activities for you to enjoy, so it only makes sense for you to bring along the pack that bears its name. The CamelBak Women's Helena 20 Hydration Backpack offers a clean, simple aesthetic without sacrificing much-needed storage space on your...
CamelBak Hydrobak 0.8L Backpack
You've got a long to-do list and only so many hours in the day, but you can't help but squeeze in a quick morning cycle before the craziness ensues. For comfort on those quick rides, grab the CamelBak Hydrobak Hydration Backpack. Designed to carry the 1. 5-liter Crux Reservoir, this minimalist...
CamelBak K.U.D.U. 8L Backpack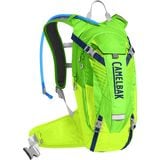 Although it's the lightest and tightest pack in CamelBak's K. U. D. U. collection, the CamelBak K. U. D. U. 8 Hydration Pack still offers the same level of CE-certified back protection as its big brother versions. It's built for aggressive mountain bike riders who want protection on shorter, less...
<< Prev | Back | 1 | 2 | 3 | 4 | 5 | 6 | 7 | 8 | 9 | 10 | More | Next >>