Hydration Packs - Road Bike Shop
Shop
>
Accessories
>
Hydration Packs & Bags
>
Hydration Packs
CamelBak Helena 22 Hydration Backpack - Women's - 1342cu in
CamelBak created the Women's Helena 22 Hydration Pack for three-hour to all-day hikes enabled by three liters of fresh H2O from its Antidote reservoir. S-curved pack straps and a comfortable waist belt, both designed to fit a woman's shape, let you load up this bag's 1160 cubic inches of storage...
CamelBak Hydrobak Hydration Backpack
Head out for a quick after-work run, hike, or bike ride with the minimalist Camelbak Hydrobak Hydration Backpack. This lightweight pack carries a 50-ounce Antidote reservoir to keep your fluid levels up over the course of a 1. 5-hour ride while its external-fill reservoir opens wide, closes with...
CamelBak Lobo Hydration Backpack - 200cu in
You don't necessarily need to carry a ton of gear to head out on a long ride when there's no threat of bad weather. With nutrition bars providing plenty of energy and tubeless tires providing whole seasons of no-flat riding, you pretty much need a phone, a multi-tool, and an energy bar....
CamelBak Luxe Hydration Backpack - Women's - 427cu in
Stay comfortable and hydrated when you're hitting the trail hard with the Camelbak Women's Luxe Hydration Backpack. It has a compact design that won't throw you off balance when you're charging singletrack, and it holds plenty of water to keep you hydrated throughout a hot afternoon. A...
CamelBak Mule NV Hydration Pack - 732cu in
Load up all the water and gear you need for a day of mountain biking with the Camelbak Mule NV Hydration Pack. A three-liter Antidote Reservoir graces the hydration sleeve of this beauty, and it's loaded with features that make it easier to fill, easier to clean, and easier to live with. The NV...
CamelBak Rim Runner Hydration Backpack - 1160cu in
Camelbak's Rim Runner 22 has become a classic among the day hiker/mountain biker crowd, and for good reason. An Air Channel back panel provides soft mesh and numerous air channels that you can rely on during the most strenuous and sweat-inducing aerobic activity. Got gear? Not to worry: an...
CamelBak Rogue Hydration Backpack - 183cu in
Say 'hi' to your new best riding buddy, the CamelBak Rogue Hydration Backpack. As long as you give this guy a piggy-back ride, he'll never leave your side. He's got your back covered and your body hydrated. Your new friend won't smother you though: the Air Channel back panel and air mesh harness...
CamelBak Skyline 10 LR Hydration Backpack - 610cu in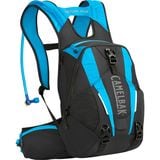 Primed and ready for high-speed action, the Camelbak Skyline 10 LR Hydration Backpack was built to keep up with you when you're tearing up aggressive downhill trails. It has a lumbar design that offers maximum stability when you're sending jumps and banking turns, and it has enough room for a...
CamelBak Spark 10 LR Hydration Pack - Women's - 450cu in
Retail Price:
$108.99
Our Price: $76.29
buy now
Camelbak designed the Women's Spark 10 LR Pack for light and fast rides. When you're hitting the trail for less than 10 miles, you don't need 3 liters of water and 1000 cubic inches of storage. You're probably carrying a couple liters of water, an energy bar, your keys, a spare tube, a multi-tool...
CamelBak Ultra 10 Hydration Vest
The Ultra Trail du Mont Blanc marathon consists of 103 miles with an elevation gain of 30,000 feet, and the CamelBak Ultra 10 Hydration Vest outlasts it all. Designed specifically to meet the UTMB's extensive gear list, the Ultra 10 has more than enough room for food, water bottles, ultralight...
<< Prev | 1 | 2 | 3 | 4 | Next >>