Hydration Packs - Road Bike Shop
Shop
>
Accessories
>
Hydration Packs & Bags
>
Hydration Packs
CamelBak Aurora Hydration Backpack - Women's - 183cu in
Do not underestimate the power of hydration. Carry nature's natural energy booster with CamelBak's Aurora Hydration Backpack for Women and expect to feel results. Designed with a woman's torso in mind, the Aurora features an S-shaped, Air mesh harness with a Velvetex back lining to complement...
CamelBak BlowFish Hydration Backpack - 670-1100cu in
Much like Jekyll and Hyde, the CamelBak Blowfish Hydration Pack changes size and shape for no apparent reason. Well, actually the reasoning is quite sound: you can match your pack to the task at hand. Although it won't have you murdering random people in the streets of London or testing new...
CamelBak Bootlegger Winter Hydration Backpack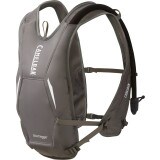 CamelBak's Bootlegger Winter Pack is a lightweight, low-profile pack that won't have you sitting awkwardly on the lift to avoid getting hung up by dangling straps. It's 1. 5 liters of hydration will have you feeling energized and ready for a couple hours of hard riding on the slopes. Your water...
CamelBak Caper 14 Winter Hydration Backpack - 854cu in
Stay properly hydrated on your next backcountry adventure with the Caper 14 Winter Hydration Backpack from CamelBak. The Carve back panel offers great support for medium loads, and with a diagonal ski carry and helmet carry system you can haul your gear, problem free. This pack includes a 100oz...
CamelBak Charm Hydration Backpack - Women's
Stay hydrated on your hike or bike ride with the minimalist Camelbak Women's Charm Hydration Backpack. This women-specific, lightweight pack carries a 50-ounce Antidote reservoir to keep your fluid levels up over the course of a 1. 5-hour ride while its external-fill reservoir opens wide, closes...
CamelBak Circuit Hydration Vest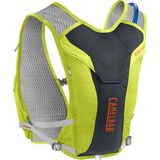 CamelBak designed the Circuit Hydration Vest for minimalist runners who don't want a big pack cramping their style. The included 1. 5L Antidote reservoir features CamelBak's easy-drinking Big Bite valve, HydroGuard antimicrobial technology, and the easy-to-clean PureFlow tube. CamelBak equipped...
CamelBak Classic Hydration Backpack
CamelBak updated its tried-and-true Classic Hydration Pack with a host of new features to ensure that you get the hydration you need when you hit the road or the trail. The minimalist design still leaves some room at the front pocket for one or two trail essentials, e. g. your phone, granola, or...
CamelBak Cloud Walker 18 Hydration Backpack - 975cu in
Cut out the bulk and flair of your everyday backpack and you've got yourself the CamelBak Cloud Walker 18 Hydration Pack, a simple little number designed to get you to the summit and back. Ideal for short in-and-out trips, the two-liter Antidote reservoir keeps you hydrated for about two hours in...
CamelBak Cortez Quick Link Hydration Pack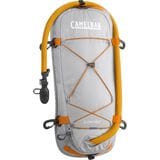 Stay hydrated on the river with the CamelBak Cortex Quick Link Hydration Pack. While it doesn't have shoulder straps, this pack does allow you to secure your drinking water firmly to your kayak. The deck-mounted Antidote reservoir features a Quick Link System, a grippy strip on the backside to...
CamelBak Dart Hydration Pack - 183cu in
The Camlebak Dart is the pack for folks who need water and not much else. The 1. 5 liter reservoir will keep you hydrated for about two hours of intense training, and the 183 cubic inch pocket will carry your keys, wallet, MP3 player, and an energy bar to keep you from bonking.
<< Prev | Back | 1 | 2 | 3 | 4 | 5 | 6 | 7 | 8 | 9 | 10 | More | Next >>