Hydration Packs - Road Bike Shop
Shop
>
Accessories
>
Hydration Packs & Bags
>
Hydration Packs
CamelBak Spark 10 LR Hydration Pack - Women's - 450cu in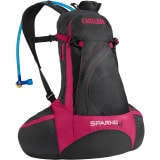 Camelbak designed the Women's Spark 10 LR Pack for light and fast rides. When you're hitting the trail for less than 10 miles, you don't need 3 liters of water and 1000 cubic inches of storage. You're probably carrying a couple liters of water, an energy bar, your keys, a spare tube, a multi-tool...
CamelBak Volt 13 LR Hydration Pack - 600cu in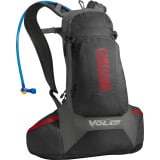 The Volt is one of Camelbak's larger packs with the lumbar reservoir. The comfortable lumbar design along with 600 cubic inches of space makes the Volt perfect for three or four hour rides. The most important design aspect of the Volt 13 LR Pack is its lumbar reservoir system, which keeps your...
DAKINE Amp 18L Hydration Pack - 1100cu in
Retail Price:
$139.95
Our Price: $97.96
buy now
On long rides, you're likely to encounter everything from chilly mornings to sweltering afternoons, punctures to broken chains, gnarly thirst to serious hunger, but you won't have any excuses for unpreparedness with the Dakine Amp 18L Hydration Pack. It comes with a three-lite Shape-Loc reservoir...
DAKINE Amp 24L Hydration Pack - 1475cu in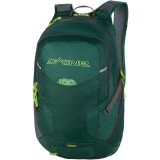 Retail Price:
$124.95
Our Price: $62.48
buy now
You need a boost on those long trail rides, and whether it's from a strategically hidden snack, a quick drink, or a stashed windbreaker, the Dakine Amp 24L Hydration Pack is ready to help you out. No one's actually counted, but we estimate it has six million pockets to hold everything from energy...
DAKINE Drafter Hydration Pack - Women's - 700cu in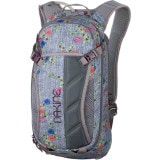 Retail Price:
$109.95
Our Price: $65.97
buy now
Whether you're riding to work or shredding downhill trails, the DAKINE Women's Drafter Hydration Pack gives you enough room to schlep the day's essentials. The Draft keeps you comfortable with a women-specific contoured harness and a suspended Air Mesh molded back panel. Before you ride, stash...
DAKINE Enduro Hip Pack - 570cu in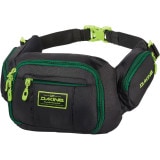 Retail Price:
$49.95
Our Price: $27.47
buy now
Sometimes you don't need a heavy-duty pack for your filthily long trail ride, but it's good procedure to carry a pump, tube, snacks, and assorted gear in the Dakine Enduro Hip Pack, because you never know.
DAKINE Nomad Hydration Pack - 1100cu in
Retail Price:
$124.95
Our Price: $74.97
buy now
Dakine's Nomad Hydration Pack is fully stocked with features for trail and freeride mountain biking, and its three-liter bladder keeps you quenched during all-day rides. Air Channel Ventilation helps prevent sweaty-back-syndrome during long climbsHelmet carrier is compatible with full-face or XC...
DAKINE Shuttle Hydration Pack - Women's - 360cu in
Retail Price:
$64.95
Our Price: $38.97
buy now
70 ounces of water and a snack should be sufficient for any ride up to about 15 miles. That's what makes the DAKINE Shuttle Hydration Bag so useful, it takes care of you on most rides. Anything else is overkill and actually winds up slowing you down. Breathable DriMesh back panel and shoulder...
Evoc FR Enduro Blackline Protector Hydration Pack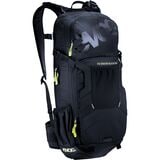 If it's not enough that Evoc set the pack and bike-transport world ablaze with its revolutionary German-engineered, spine-saving FR Protector series of hydration packs, they had to go and up the ante with the FR Enduro Blackline Protector Hydration Pack. So named for its distinct and sleek...
POC VPD 2.0 Spine Pack 16
POC has created two different spine protection packs --Both include a removable VPD spine protector, and both are hydration-compatible. The difference between the two is size. The VPD 2. 0 Spine Pack 16 is the smaller of the two, at 16 liters. Generally speaking, there are two types of body armor...
<< Prev | 1 | 2 | 3 | Next >>