Hydration Packs - Road Bike Shop
Shop
>
Accessories
>
Hydration Packs & Bags
>
Hydration Packs
CamelBak Magic Hydration Backpack - Women's - 122cu in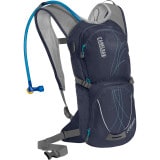 The phrase 'less is more' has been around much longer than mountain biking, but there really isn't another activity to which it better applies. To an extent, the less you pull up the climb with you, the better off you'll be. Weight equals fatigue. While not entirely minimalist, the Camelbak Women...
CamelBak Rain Cover
CamelBak packs work best when the water's on the inside and the outside and cargo are dry. This rain cover fits securely to your CamelBak pack with a Velcro closure and drawstring and will protect it from everything short of a jump in the pond. Use the S/M for the H. A. W. G., Cloud Walker, Trail...
CamelBak Spark 10 LR Hydration Backpack - Women's - 450cu in
Camelbak designed the Women's Spark 10 LR Pack for light and fast rides. When you're hitting the trail for less than 10 miles, you don't need 3 liters of water and 1000 cubic inches of storage. You're probably carrying a couple liters of water, an energy bar, your keys, a spare tube, a multi-tool...
CamelBak Volt 13 LR Hydration Backpack - 600cu in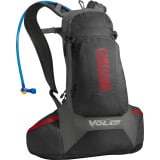 Retail Price:
$124.95
Our Price: $74.97
buy now
The Volt is one of Camelbak's larger packs with the lumbar reservoir. The comfortable lumbar design along with 600 cubic inches of space makes the Volt perfect for three or four hour rides. The most important design aspect of the Volt 13 LR Pack is its lumbar reservoir system, which keeps your...
DAKINE Amp 12L Hydration Pack - 700cu in
Retail Price:
$129.95
Our Price: $84.47
buy now
The Dakine Amp 12L Hydration Pack has room for everything you need for a full day of action on the trails, from the red rock of Utah to the rainforests of British Columbia. In addition to a three-liter Shape-Loc reservoir to keep you hydrated, it has internal organizer pockets to store extra...
DAKINE Amp 18L Hydration Pack - 1100cu in
On long rides, you're likely to encounter everything from chilly mornings to sweltering afternoons, punctures to broken chains, gnarly thirst to serious hunger, but you won't have any excuses for unpreparedness with the Dakine Amp 18L Hydration Pack. It comes with a three-lite Shape-Loc reservoir...
DAKINE Amp 24L Hydration Pack - 1475cu in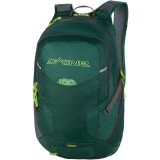 Retail Price:
$124.95
Our Price: $81.22
buy now
You need a boost on those long trail rides, and whether it's from a strategically hidden snack, a quick drink, or a stashed windbreaker, the Dakine Amp 24L Hydration Pack is ready to help you out. No one's actually counted, but we estimate it has six million pockets to hold everything from energy...
DAKINE Apex 26L Hydration Pack - 1600cu in
Huff and puff all you want--the Dakine Apex 26L Hydration Pack will stick with you on the uphills and ride comfortably on the downs, all while keeping your insides as lubed as your chain. It comes with a three-liter Shape Loc hydration reservoir and corresponding sleeve, with a shoulder-strap...
DAKINE Enduro Hip Pack - 570cu in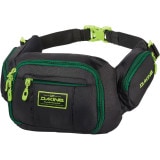 Retail Price:
$49.95
Our Price: $34.96
buy now
Sometimes you don't need a heavy-duty pack for your filthily long trail ride, but it's good procedure to carry a pump, tube, snacks, and assorted gear in the Dakine Enduro Hip Pack, because you never know.
POC VPD 2.0 Spine Pack 15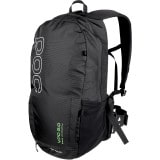 Retail Price:
$175.00
Our Price: $122.50
buy now
The POC VPD 2. 0 Spine Pack 15 gives you ample carrying capacity and exceptional back protection. Plenty of people already appreciate the added spine protection provided by a hydration pack, but POC takes it a step further, by adding its highly refined VPD 2. 0 spine protector into the mix. And...
<< Prev | 1 | 2 | 3 | Next >>