Hydration Packs - Road Bike Shop
Shop
>
Accessories
>
Hydration Packs & Bags
>
Hydration Packs
CamelBak M.U.L.E. Hydration Pack - 671cu in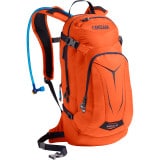 You can bring everything you need on that 3 hour ride that you have planned with the Camelbak M. U. L. E. Hydration Pack. The M. U. L. E. has room for over 600 cubic inches of gear and 3 liters of water, which should get you about three hours up the trail on a really hot day. The M. U. L. E. also...
CamelBak M.U.L.E. NV Hydration Pack - 732cu in
Packing a little less volume than Camelbak's flagship mountain bike hydration pack but every bit as capable, the M. U. L. E. NV Hydration Pack is if you need a lot of water and plenty of storage, but also need to keep an eye on the amount of weight you're carrying. The M. U. L. E. is packing a...
CamelBak Magic Hydration Backpack - Women's - 122cu in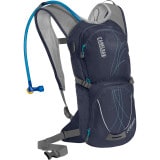 The phrase 'less is more' has been around much longer than mountain biking, but there really isn't another activity to which it better applies. To an extent, the less you pull up the climb with you, the better off you'll be. Weight equals fatigue. While not entirely minimalist, the Camelbak Women...
CamelBak Mini-M.U.L.E. Hydration Backpack - Kids' - 91cu in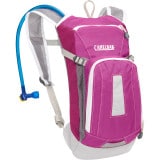 They've waited in the wings, watching their parents rule the trails, for long enough. Now the kids are ready to get out with Mom and Dad, and the CamelBak Kids' Mini-M. U. L. E. Hydration Pack is ready to help them get there with its 1. 5L Omega reservoir and lightweight design.
CamelBak Octane 22 LR Hydration Pack - 1160cu in
Retail Price:
$129.95
Our Price: $84.47
buy now
Camelbak rewrites hydration again with its new lumbar reservoir technology. The Lumbar Reservoir keeps the majority of the pack weight-the water-resting on your hips where you want it. The Octane 22 LR hydration Pack is Camelbak's largest Lumbar pack with over 1100 cubic inches of storage and a 3...
CamelBak Octane LR Hydration Pack - 335cu in
Retail Price:
$99.95
Our Price: $89.95
buy now
The 70 oz. CamelBak Octave LR uses a secure backpack design but places the hydration reservoir in the lumbar region of the pack to fit snugly, put weight where it should be for a runner, and jiggle less. 70 ounce (2L) hydration capacity549 cubic inch (9L) cargo capacityAntidote QuickLink...
CamelBak Rain Cover
Rain Cover
CamelBak Spark 10 LR Hydration Backpack - Women's - 450cu in
Camelbak designed the Women's Spark 10 LR Pack for light and fast rides. When you're hitting the trail for less than 10 miles, you don't need 3 liters of water and 1000 cubic inches of storage. You're probably carrying a couple liters of water, an energy bar, your keys, a spare tube, a multi-tool...
CamelBak Volt 13 LR Hydration Backpack - 600cu in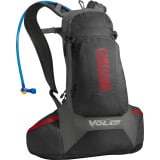 Retail Price:
$124.95
Our Price: $81.22
buy now
The Volt is one of Camelbak's larger packs with the lumbar reservoir. The comfortable lumbar design along with 600 cubic inches of space makes the Volt perfect for three or four hour rides. The most important design aspect of the Volt 13 LR Pack is its lumbar reservoir system, which keeps your...
DAKINE Amp 12L Hydration Pack - 700cu in
Retail Price:
$129.95
Our Price: $103.96
buy now
The Dakine Amp 12L Hydration Pack has room for everything you need for a full day of action on the trails, from the red rock of Utah to the rainforests of British Columbia. In addition to a three-liter Shape-Loc reservoir to keep you hydrated, it has internal organizer pockets to store extra...
<< Prev | 1 | 2 | 3 | 4 | Next >>