Hydration Packs - Road Bike Shop
Shop
>
Accessories
>
Hydration Packs & Bags
>
Hydration Packs
Amphipod RunLite Xtech Trail Plus Hydration Belt
Amphipod's RunLite Xtech Trail Plus is a hydration lumbar pack with the latest innovations, like magnetically attached water bottles. These two SnapFlask Xtech bottles provide perhaps the quickest access to water, and the Jet-Squeeze caps offer easy drinking. Amphipod made the AirStretch belt out...
CamelBak Arc 2 0.3L Lumbar Pack
Train for marathons by running for at least half of the day with CamelBak's Arc 2 Hydration Lumbar Pack holding all the essentials. CamelBak included two 10oz Podium Arc water bottles, positioned to balance on your back perfectly for uninhibited mobility on the roads. Air mesh welded to reverse...
CamelBak Arete 18L Backpack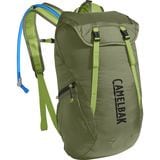 When heading out for a day hike, you're faced with the age-old dilemma--bring a bulky backpack that could be overkill, or just carry a water bottle and hope for the best. Luckily, there's a third option in the CamelBak Arete 18 Hydration Backpack. This ultralight pack is barely noticeable on your...
CamelBak Arete 22L Backpack
Equipped for a multitude of adventures and day hikes, the CamelBak Arete 22 Hydration Backpack keeps you properly hydrated as you trek across ancient ruins in the tropics or misty forests in your backyard. The 2. 5-liter Crux reservoir delivers refreshing H20 as you trek across your favorite...
CamelBak Aurora 2L Backpack - Women's
Whether you're winding through wildflower-strewn mountain meadows or charging down rugged ridges, let the CamelBak Women's Aurora Hydration Backpack take care of your water needs. Designed with a woman's torso in mind, this pack features a shorter back panel and an S-curve harness for a closer,...
CamelBak Caper 14L Backpack
Retail Price:
$114.95
Our Price: $51.73
buy now
Stay properly hydrated on your next backcountry adventure with the Caper 14 Winter Hydration Backpack from CamelBak. The Carve back panel offers great support for medium loads, and with a diagonal ski carry and helmet carry system you can haul your gear, problem free. This pack includes a 100oz...
CamelBak Charm 1.5L Backpack - Women's
Stay hydrated on your hike, trail run, or bike ride with the minimalist CamelBak Women's Charm Hydration Backpack. This women-specific pack carries a 1. 5-liter reservoir to keep your fluid levels up over the course of your ride, run, or trek while its center baffling prevents the reservoir from...
CamelBak Circuit Hydration Vest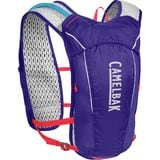 CamelBak designed the Circuit Hydration Vest for minimalist runners who don't want a big pack cramping their stride. Not to mention, the newly updated Circuit is 30% lighter than years' prior and the new reservoir delivers 20% more water per sip. More specifically, the included 1. 5L Crux...
CamelBak Classic 2L Backpack
Whether you prefer the road or the trail, or like to mix it up with a little of both, the CamelBak Classic Hydration Backpack has one goal: to keep you hydrated while you're in the saddle. Designed around the new Crux reservoir, this pack helps keep your fluid levels up so you can enjoy the view...
CamelBak Cleaning Brush Kit
From the residue of yesterday's hydration mix to last week's tap water deposits, your CamelBak Hydration Reservoir needs a helping hand in keeping it clean and free of weird tastes and funky build-up. The CamelBak Cleaning Brush Kit restores your hydration reservoir to virtually new condition,...
<< Prev | Back | 1 | 2 | 3 | 4 | 5 | 6 | 7 | 8 | 9 | 10 | More | Next >>