Time Trial Helmets - Road Bike Shop
Shop
>
Accessories
>
Helmets
>
Time Trial Helmets
Bell Javelin Helmet
Retail Price:
$199.95
Our Price: $99.98
buy now
Is there any accessory item that looks quite so pro as a proper time trial helmet? Nevertheless, none of us want to be so gauche as to wear one during inappropriate situations - like a criterium, for instance. But if you regularly race week-long stage races that feature tests against the clock,...
Catlike Chrono Aero Plus Helmet
Even though it's styled with aerodynamics as its first priority, the Chrono Aero Plus Helmet uses Catlike's Dual Flow technology in order to keep your head cool while you race against the clock. It's a fairly straightforward design -- cool air flows into two wind tunnel shaped ports in the front,...
Catlike Chrono Aero WT Helmet
The Chrono Aero WT Helmet design was developed through extensive wind tunnel testing by Catlike's engineers. While we're starting to see more manufacturers building their time-trial lids with shorter tails and stubbier backsides, Catlike continues to design its TT helmet in accordance with the...
Giro Advantage 2 Helmet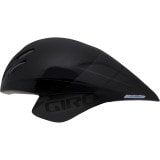 For over a decade, the Giro Advantage 2 has proven to be the pinnacle of aerodynamic performance, with a rich history of wins at the pro level. Giro relies on wind tunnel data to improve even the smallest of details to shave seconds off your times. Though the smooth, teardrop design of the helmet...
Giro Air Attack Shield Helmet
Traditionally, aerodynamic cycling helmets have relied on sloping shapes, minimal venting, and a teardrop tail design to dictate the flow of air in order to overcome aerodynamic drag. However, with Giro's new Air Attack Shield, its engineers had to rethink the shape of this typical design. The...
Giro Selector Helmet
We've come a long way from the Giro 'ice chest' aero helmet that Greg Lemond wore when he rode to a last stage upset of Laurent Fignon in the '89 Tour. In a similar twist of the general classification, Levi Leipheimer overcame a two minute deficit coming into a last stage time trial to leapfrog...
Lazer Tardiz Helmet
It should come as no revelation that over the course of a triathlon, your body will be tested. Simply put, you need every advantage that you can get, and when you've exhausted the channels of apparel and lightweight bicycle components, it's time that you take a look at your aerodynamic position....
Louis Garneau P-09 Helmet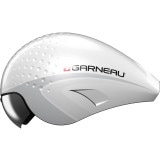 Using the innovative technology of the Vorttice, Louis Garneau's P-09 Helmet features improved aerodynamics, ventilation, and a revised lens system. It's designed to have minimal frontal surface area, making the helmet more compact, and, like the Vorttice, its dimples disturb air just enough to...
Louis Garneau Superleggera Helmet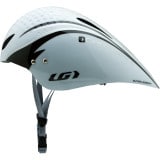 We hear a lot about aerodynamics in helmet design. Few helmets combine flawless design with top of the line technology the way the Louis Garneau Superleggera Helmet does. The teardrop design of the Superleggera Helmet greatly reduces drag when seconds count and the wind is threatening your time....
Louis Garneau Vorttice Black Knight Helmet
Retail Price:
$259.95
Our Price: $207.96
buy now
It was Nietzsche who famously spoke the aphorism: 'Battle not with monsters, lest ye become a monster, and if you gaze into the abyss, the abyss gazes also into you.' But after a mesmerizing stare into the cold, mirrored lens and stealthy black finish of the Louis Garneau Vorttice Black Knight...
<< Prev | 1 | 2 | Next >>