Road Helmets - Road Bike Shop
Shop
>
Accessories
>
Helmets
>
Road Helmets
Giro Saros Helmet
To us, the hallmark of a Giro design are its three central vents. And, not coincidentally, you'll find this feature on the Giro Saros Helmet. It was originally part of the Prolight design, but nearly every subsequent helmet has revolved around the three prominent central holes. To us, this...
Giro Savant Helmet
Retail Price:
$89.95
Our Price: $67.46
buy now
Whether you're a weekend warrior, a power commuter, or just finding your legs with the local cycling club, the 'buy the cheapest helmet that fits well' method isn't exactly podium-worthy advice to ensure happy riding. Luckily for you, the aptly-named Giro Savant carries every drop of Giro's...
Giro Sonnet Helmet - Women's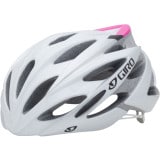 Designed for the rider who appreciates comfort and protection, the Giro Women's Sonnet Helmet has a low-profile design that still packs in excellent ventilation. The Sonnet's In-Mold technology bonds a tough outer polycarbonate shell to an impact-absorbing expanded polystyrene liner. The result...
ICEdot Band
To complement the ICEdot Crash Sensor, the Band is a silicone bracelet with your personal identification number. In the event of an emergency, it allows another person to alert contacts by calling and entering the pin. Then online-stored contacts are alerted via text, phone, or email.
ICEdot Crash Sensor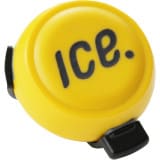 A revolutionary advancement for the dangerous sport of cycling, the ICEdot Crash Sensor mounts to any helmet and detects life-threatening impacts. If an incident happens, it uses a low-energy Bluetooth signal to trigger the ICEdot app running on a smart phone. Before alerting pre-specified...
ICEdot Sensor Mount 2-Pack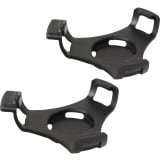 Chances are you have more than one helmet. If that's the case, use the ICEdot Sensor Mount 2-Pack to add mounts to two more helmets. It's constructed from plastic and uses zip ties to attach to virtually any helmet.
Kali Protectives Maraka Road Helmet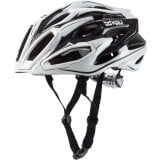 More air forced through frontal vents equals better cooling; the downfall of larger openings is usually weakened overall structure. The Maraka Road Helmet features 25 vents, with five of them using Kali Protectives' Supervent technology to maximize air intake and, most importantly, to easily pass...
Kask 50 Bike Helmet
Tipping the scales at the 260g mark, Kask's 50 Bike Helmet's not only a feathery option, but incredibly capable in the cooling department, too. This comes in the form of 24 intakes within the in-molded polycarbonate and expanded polystyrene shell. For fit, the Kask 50 Bike Helmet uses a hinged...
Kask Bambino Helmet
Wind-tunnel tested, Team Sky approved--the Kask Bambino TT Helmet combines unsurpassed safety, outstanding aerodynamics, and breath-taking Italian styling into one magnificent time-trial helmet. Kask started the Bambino in the wind tunnel. Its innovative bob-tail design delivers ultra-slippery...
Kask Dieci Helmet
The trifecta of the perfect helmet is comfort, fit, and above all, safety. But as we're sure you'll agree, rarely are all three achieved. The Kask Dieci Road Helmet not only goes above and beyond this criteria, it adds a bit of fashion sense with clean, classic lines. The most important of the...
<< Prev | 1 | 2 | 3 | 4 | 5 | 6 | Next >>