Road Helmets - Road Bike Shop
Shop
>
Accessories
>
Helmets
>
Road Helmets
Catlike Whisper Helmet Pads
After a season's worth of heavy riding, the inner lining of your helmet runs the risk of looking (and smelling) like an elementary school science experiment. Since the Catlike Whisper Helmet is in it for the long run, be prepared by stocking up on these Whisper Helmet Pads. These antimicrobial...
Giro Aeon Helmet
In the never-ending quest for helmet lightness, one fact makes us rest easy: Even the most feathery helmets must pass the CPSC safety standard for impact resistance. If, for example, you've ever picked up a Giro Prolight or Aeon helmets, you know why this is a concern. It seems impossible that a...
Giro Air Attack Helmet
The Garmin-Barracuda riders are using them, as well as many other of the peloton's racers. And while it might still be too early to say that we're used to seeing them, the trend among the number of pros who've made the switch is rising. We're talking about those 'odd-looking' round helmets that...
Giro Amare Helmet - Women's
The Giro Amare Women's Helmet pushes ventilation to new levels without sacrificing safety. By using Giro's In-Mold Composite Reinforcement and Roll Cage technology, the designers could provide the Amare with numerous extra-large vents. In-Mold Composite Reinforcement fuses the shell and...
Giro Aspect Helmet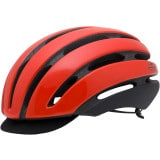 The evolution of helmets has resulted in some interesting variations over the years, some of which are more far fetching then others. The Giro Aspect Helmet, however, takes an approach that tones down the aggressive vents, slats, and wings that dominate the peloton into a shape that's at home on...
Giro Atmos Helmet
Retail Price:
$179.95
Our Price: $134.96
buy now
How much do we love the Giro Atmos Helmet? So much that it's been a permanent fixture in our cycling closets since it first appeared on the scene. Sure, we've flirted with some new, good-looking lids, but we've always come back to our true love, the Atmos. The Atmos was the first helmet that ever...
Giro Atmos Replacement Coolmax Helmet Pads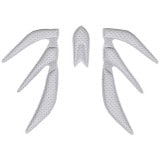 Here's what we know: The Giro Atmos is the undisputed greatest helmet ever made. It's the only one we want to sell because it's so much more comfy and breathable than any other helmet on the market, and its customization of fit is pretty much infinite. In fact, the only issue we've ever had with...
Giro Pneumo Helmet
Retail Price:
$149.95
Our Price: $89.97
buy now
We can never get enough of versatility. Sure, there are some things that are better left dedicated, like time trial helmets, but this still doesn't dispel the excitement of using the same helmet on the road, trail, or commute to work. However, until the Giro Pneumo Helmet, this simply wasn't a...
Giro Reverb Helmet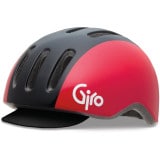 The Giro Reverb Helmet may look as though it just fell out of a faded 1991 Tour de France poster, but if you look closer, you'll find modern re-tooling, and subtle homage to the famed helmet that put a then little-known Giro Sport Design on the map. Gone are the outdated standards of yesteryear,...
Giro Sapphire Helmet - Women's
Giro's In-Mold Composite Reinforcement and Roll Cage technology allows its designers to provide the Sapphire Women's Helmet with cooling ventilation and class leading safety. The In-Mold Composite Reinforcement fuses the shell and impact-absorbing EPS foam into one lightweight structure. In-Mold...
<< Prev | 1 | 2 | 3 | 4 | 5 | 6 | Next >>