Mountain Helmets - Road Bike Shop
Shop
>
Accessories
>
Helmets
>
Mountain Helmets
Azonic Exile Helmet
Retail Price:
$79.99
Our Price: $32.00
buy now
If you're looking to get the most out of your time on the trail, you'll need a comfortable helmet. In other words, you need a helmet like the Azonic Exile Helmet. It has 21 vents that keep you cool, a removable liner for easy cleaning, and a dial-based retention system that allows you to...
Bell Drop Helmet
Retail Price:
$129.95
Our Price: $90.97
buy now
Designed by the same team that brought you the Moto-8 motocross helmet, the Bell Drop Mountain Bike Helmet lets you attack the course head on with a burly ABS plastic shell to protect your braincase. The Drop meets the safety requirements of not only the CPSC, but the ASTM, as well -- a standard...
Bell Faction Helmet
Old-school style and new-school tech come together in the Bell Faction Bike Helmet. Skate-inspired styling with low profile in-mold construction technology and generous venting make the Faction perfect for BMX, mountain biking, and skateboarding.
Bell Full-9
With Bell's long history in motosports, it's not surprising that the new Full-9 was developed with the same expertise gleaned from its motorcycling heritage. Engineers at Bell incorporated many of the advanced design characteristics from its flagship Moto-9 when building the new bike-specific...
Bell Sanction Helmet
Strap into the skrilla-and-brain-saving Bell Sanction Helmet and don't worry about turning into a earth-bound lawn dart. Hand-laminated fiberglass shell allows an optimum weave for the perfect balance of weight and strengthMoto-inspired mouth guard directs objects away from the faceChanneled...
Bell Segment Helmet
Skate helmets have received a lot of love over the past few years in many different sports. They have a clean, classic look, but they don't have the greatest reputation for comfort. That's about to change, though, with the introduction of the Bell Segment Helmet. The reason that skate-style...
Bell Sequence Helmet
Retail Price:
$89.95
Our Price: $67.46
buy now
Bell designed the Sequence Bike Helmet to sit squarely between XC and freeride--in the mysterious land of all-mountain. The Sequence combines the tough, meaty goodness to sustain a big hit while you're hucking yourself with the ventilation to let you climb Puke Hill without your sweat rinsing the...
Bell Stoker Helmet
For half the price of helmets plagued by road-racing influences, the Bell Stoker provides the ventilation and protection that'll please dedicated mountain riders. It's not an overly sculpted, vents-inside-vents ultralight, but a well-equipped helmet that keeps the noggin secure with a...
Bell Super Helmet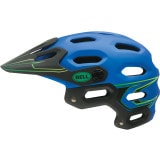 If you look closely, under all that enduro-influenced design, you can see Bell's mid-century motorsport heritage in the Super Helmet. Subtly paying homage to a time when engines were restricted by their creator's ability and leather protective gear was quickly abandoned in favor of the much safer...
Bell Variant Helmet
Retail Price:
$79.95
Our Price: $59.96
buy now
The Bell Variant Bike Helmet deviates from the standard helmet, delivering a host of high-end features in a lightweight, comfortable package. Thanks to Bell's Fusion Microshell construction throughout, the Variant offers a high degree of durability and safety. Internal reinforcements also allow...
<< Prev | 1 | 2 | 3 | 4 | 5 | 6 | 7 | 8 | 9 | 10 | Next >>