Embrocations And Creams - Road Bike Shop
Shop
>
Accessories
>
Embrocations & Creams
>
Embrocations And Creams
Assos Active Wear Cleanser
We know that all who've landed here are true equipe campionissimo and manga. Yio. Or, in non-Assos Speak, Assos fanatics. You've invested in Assos clothing not because of the cost, but because of its unparalleled technical sophistication. And along these lines, you understand that your Assos...
Assos Chamois Cream
Assos Chamois Cream will change your life. It eliminates the abrasive feeling of a sweaty chamois, but it does so without making you feel like you're slipping all over the chamois. You can bid farewell to friction between your body and your shorts, but your favorite shorts will still conform to...
Assos Skin Repair Gel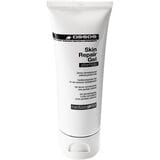 You found the best fitting saddle, you wear top-dollar shorts, and you're a liberal chamois cream user. Yet even with the best preparation, skin irritation is sometimes just a few hours away -- the grit laden spray from wet roads and salty sweat residue are two things that come to mind that can...
Bodyglide Chamois Glide Balm
If you ride daily, you've probably tried a fair share of lotions and potions to keep you free of saddle sores. And, many of those concoctions have more than likely left you feeling like you're wearing a wet diaper. Bodyglide Chamois Glide Balm stops saddle chafing and lasts longer. Bodyglide's...
Bodyglide Her Skin Formula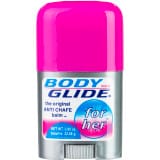 Women swim, ride, and run as hard as men, even if we do have curves. But those curves can lead to chafing: sports bras, waistbands, underarms -- any place that isn't covered with skin-tight fabric is fair game for rubbing and skin damage. Bodyglide Her Skin Formula is an anti-chafe formula...
Bodyglide Original Anti-Chafe Balm
Since 1996, Bodyglide has been creating anti-chafe creams for athletes. These plant-based products protect delicate skin from rubbing by shoes, fabric, wetsuits or anything else that constantly brushes against the skin. The Bodyglide Original Anti-chafe cream is the formula of choice for...
Doc's Skin Care Chafe Stick
In 2010, after working with chemists and pharmacists for four years, cyclist and physician Dr. 'Doc' Joshua Barton, MD, developed the ideal natural cream to form a protective, anti-friction barrier between the skin and chamois. Doc's All-Natural Chamois Cream was the result of his endeavor,...
Doc's Skin Care Massage Elixir
Doc's was founded as a result of Dr. 'Doc' Joshua Barton being unsatisfied with the quality of cycling-specific skin care creams available on the market. As a competitive cyclist himself, Barton worked with both pharmacists and chemists for four years inn order to produce a new line of...
Doc's Skin Care Muscle Balm
You know how important it is to address your body's recovery the minute that you hop off of the bike. This recovery can take many forms, from immediate hydration to consuming the nutrients that were expelled during your race. But, what are you doing about your muscles? In addition to your...
Doc's Skin Care Saddle Sore Ointment
Quick, soothing relief is all that we ask for when afflicted with saddle sores. After all, no matter how careful you are, the effects of heavy training will wreak havoc on sensitive skin. So, in other words, we're all susceptible. It's for this very reason that Doc's Skin Care introduced its new...
<< Prev | 1 | 2 | 3 | 4 | Next >>