Embrocations And Creams - Road Bike Shop
Shop
>
Accessories
>
Embrocations & Creams
>
Embrocations And Creams
DZ Nuts Bald Leg Shaving Lotion
Retail Price:
$15.00
Our Price: $11.25
buy now
Real men shave their legs. No less an authority than Andy Hampsten has been quoted as saying he enthusiastically took up shaving his gams when he realized just how much the ladies like it smooth. Hell, just one look at Dave Z's adorable off-spring will prove to you that his shaved legs earned his...
DZ Nuts Bliss Women's Chamois Cream
Chaffing is chaffing, no matter what your anatomy. Whoever thought that women cyclists don't suffer similar friction issues as their male counterparts? The answer is, nobody even thought about it until now: DZ Nuts Bliss Women's Chamois Cream has arrived, ladies. And now we can all heave a sigh...
DZ Nuts Pro Chamois Cream
Of all the riders in the ProTour peloton, it makes perfect sense that Dave Zabriskie would be the one to formulate and market a new chamois cream. Why Dave Z? We think it's for 2 reasons: (1) For years he's been recognized as the world's most aero TT rider. And, as we all know, it ain't a real TT...
Hammer Nutrition Balm Muscle Cream - 4oz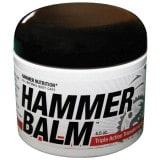 There are two results you want from massage: you want to heat the muscle and increase circulation, and you want to break up muscle spasms and knotted, or very tight muscle contractions. Using a cream like Hammer Balm Triple Action Transdermal Muscle Cream on particularly sore muscles will...
Hammer Nutrition Cool Feet Powder - 2.7oz
If you don't use anti-bacterial and anti-fungal foot powder in that greenhouse of stink known as your cycling shoes, it's way past time you change that bad habit. And beyond the benefit of not having rotting feet, an agent such as Hammer's Cool Feet All Natural Foot Powder has the added pleasing...
Hammer Nutrition Pelle Eccellente Skin Cream - 4oz
You know the dude on the ride whose legs are shaved -- and particles of dead skin are flaking off as he spins out ahead of the group? Buy that man a tube of Hammer Pelle Eccellente Petroleum-Free Ultra-Hydrating Skin Cream immediately! Unless that dude is you, in which case here's the story so...
Mad Alchemy Gentleman's Blend Warming Embrocation
Bike racing is not a genteel pastime. Ergo, it is not for gentlemen. It's a brutal sport and extremes are common. That said, some who engage this hobby need tender care in order to survive and thrive. This is where the Mad Alchemy Gentleman's Blend Warming Embrocation comes to the rescue....
Mad Alchemy Non-Warming Pre-Ride Oil
Retail Price:
$23.95
Our Price: $17.95
buy now
Oiling your legs is one of the oldest ways to keep them warm in cool or wet weather. The idea is simple; the oil covers your skin, thus creating a barrier. When we were new at this, we used mineral oil until we realized it would degrade the materials in our precious shorts. The shorts weren't...
Mad Alchemy Russian Tea Warming Embrocation
Unscrew the cap. Take a whiff. Close your eyes. Gently breathe in. You'll get it -- a citrus bouquet, cinnamon and clove hanging out just underneath. The scents recall winter warmth and comfort, with a hint of freshness. This is the secret of Mad Alchemy's Russian Tea Warming Embrocation. It's...
Morgan Blue Foot Lotion
Retail Price:
$16.00
Our Price: $11.20
buy now
Morgan Blue is a Belgian skin and bicycle maintenance brand that has long been a favorite among European soigneurs and mechanics. The manufacturer has recently begun distributing its products in the US, with an integral part of this collection including its proven skin care line. The Foot Lotion...
<< Prev | 1 | 2 | 3 | 4 | Next >>