Panniers Bags - Road Bike Shop
Shop
>
Accessories
>
Commuting & Touring
>
Panniers & Bags
Arundel Dual Seatbag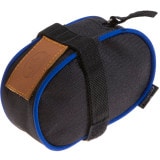 Retail Price:
$17.95
Our Price: $14.36
buy now
Arundel's Dual Seatbag is pretty straightforward -it carries two tubes (thus, 'double'), two CO2 cartridges, an inflator, and tire levers -everything you need to get your bike back up and rolling in the event of a flat. Like everything Arundel makes, though, the devil's in the details. There's a...
Arundel Tubi Seatbag
Designed to fit a single tubular tire but plenty capable of holding a tube, a pump, CO2, or snacks, Arundel's Tubi Seatbag has your butt covered on the road. Made of tough Cordura, it'll withstand all the usual wear and tear and then some. A single strap easily secures it to your seatpost, and a...
Arundel Uno Seatbag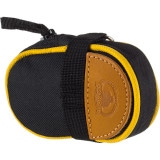 The Arundel Uno Seatbag is the perfect size for carrying a tube, lever, CO2 cartridge and inflator, as well as some extra cash on extended bike tours and epic trail rides alike. Its well-executed design features bold hits of color around the perimeter to match your trusty steed, as well as a...
Blackburn Central Shopper's Pannier
We always appreciate it when companies cleverly match form and function, and the Blackburn Central Shopper's Pannier pulls this off quite well. The classy heather exterior is deceivingly tough, made of 600D ripstop polyester, and the base is molded for stand-up stability and abrasion resistance....
Blackburn Central Trunk Rack Top Bag
When the time comes to load up, a trustworthy rack/bag combo for your bike becomes something you rely on heavily. When something like Blackburn's ingenious Interlock rack system comes along with great accessories like this Blackburn Central Trunk Rack Top Bag, then bike life just got that much...
Blackburn Local Grocery Pannier Bag
We like to think that the true signs of a cycling aficionado aren't necessarily the most expensive parts or the most boutique gear, but the implementation of the smartest and most practical gear that makes bike life more enjoyable. The Blackburn Local Grocery Pannier is such an item. It's a tough...
Blackburn Local Ride Kit Riding Essentials
Blackburn's Local Ride Kit preemptively provides Riding Essentials to address the everyday cycling problems we never think about until we're in the midst of dealing with them. Loose headsets, screw-on light clamps, rattling water bottle cages, and -- of course -- flat tires are all things that...
Blackburn Local Saddle Bags
The market is full of packs and saddlebags with dividers and pockets that help you stay organized but cut down on the amount of stuff you can carry. For its local Saddle Bags, Blackburn decided to go for sheer volume, which is great when you're headed to the grocery store. The Local Saddle Bags'...
Blackburn Local Trunk Rack Top Bag
The Blackburn Local Trunk Rack Top Bag is pretty genius. Sure, it's made of tough, water-resistant 210D ripstop polyester, has a removable shoulder strap, and is compatible with Blackburn's theft-deterring Interlock racks, but the smart part is how it carries such a huge amount of gear. The...
Blackburn Nacelle Hard Shell Saddle Bag
Retail Price:
$37.95
Our Price: $12.00
buy now
The Nacelle Saddle Bag works in conjunction with your Blackburn saddle to keep your tubes, CO2, and other small essentials with you at all times. The semi-rigid shell of the Nacelle was designed from EVA and TPU. The seams have been welded and the fabric received a water-resistant finish to keep...
<< Prev | 1 | 2 | 3 | 4 | 5 | 6 | 7 | 8 | 9 | 10 | Next >>