Panniers Bags - Road Bike Shop
Shop
>
Accessories
>
Commuting & Touring
>
Panniers & Bags
Arundel Dual Seatbag
We've tagged along with enough PRO training rides over the years to definitively notice one trend: They might be obsessive about the cleanliness of their bikes, about the mousse in their hair, about how little they can eat, about their wine collection and the # of V's under the hoods of their...
Arundel Tubi Seatbag
The Tubi seat bag displays both the practical and whimsical side of Arundel. It is named for a cat, but it is also sized for a single tubular tire. While it may be PRO-like to ride with a tubular tire mounted naked under your saddle, with nothing but an Alfredo Binda toe strap holding it in place...
Arundel Uno Seatbag
Although you won't see Team Garmin-Sharp-Barracuda riding with the Arundel Uno Seatbag on race-day, when the support cars are in the garage, its an unmistakable accessory on their saddles -- and for good reason. The Uno is just large enough to carry the bare essentials -- a tube, levers, CO2, and...
Blackburn Central Saddle Bags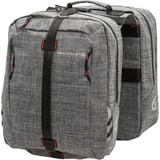 Commuting on a bike has benefits (health, environmental, riding a bike) and drawbacks (safety issues, inclement weather, hills). While we believe the good outweigh the bad, we also recognize that the bicycle's lack of natural cargo space can be a serious deterrent to both aspiring and veteran...
Blackburn Central Shopper's Pannier
We always appreciate it when companies cleverly match form and function, and the Blackburn Central Shopper's Pannier pulls this off quite well. The classy heather exterior is deceivingly tough, made of 600D ripstop polyester, and the base is molded for stand-up stability and abrasion resistance....
Blackburn Central Trunk Rack Top Bag
When the time comes to load up, a trustworthy rack/bag combo for your bike becomes something you rely on heavily. When something like Blackburn's ingenious Interlock rack system comes along with great accessories like this Blackburn Central Trunk Rack Top Bag, then bike life just got that much...
Blackburn Local Cooler Saddlebag Pannier
For picnics, precious beverages, ice cream, or whatever else you may pick up that you want to keep cool, the Blackburn Local Cooler Saddlebag Pannier is here. The bag is entirely insulated, with clever interior mesh pockets to separate utensils, tools, or other stuff you want to keep handy. The...
Blackburn Local Grocery Pannier Bag
We like to think that the true signs of a cycling aficionado aren't necessarily the most expensive parts or the most boutique gear, but the implementation of the smartest and most practical gear that makes bike life more enjoyable. The Blackburn Local Grocery Pannier is such an item. It's a tough...
Blackburn Local Rear Pannier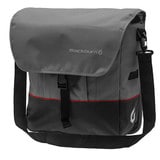 While we love the efficiency and ease of messenger bags and backpacks, we aren't always fans of them sliding around to dangle in front of us or putting undue stress on our backs, respectively. Blackburn designed the Local Rear Pannier to address these concerns by being mountable on any standard...
Blackburn Local Ride Kit Riding Essentials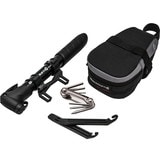 Blackburn's Local Ride Kit preemptively provides Riding Essentials to address the everyday cycling problems we never think about until we're in the midst of dealing with them. Loose headsets, screw-on light clamps, rattling water bottle cages, and -- of course -- flat tires are all things that...
<< Prev | 1 | 2 | 3 | 4 | 5 | 6 | 7 | 8 | 9 | 10 | Next >>