Panniers Bags - Road Bike Shop
Shop
>
Accessories
>
Commuting & Touring
>
Panniers & Bags
Arundel Dual Seatbag
We've tagged along with enough PRO training rides over the years to definitively notice one trend: They might be obsessive about the cleanliness of their bikes, about the mousse in their hair, about how little they can eat, about their wine collection and the # of V's under the hoods of their...
Arundel Tubi Seatbag
The Tubi seat bag displays both the practical and whimsical side of Arundel. It is named for a cat, but it is also sized for a single tubular tire. While it may be PRO-like to ride with a tubular tire mounted naked under your saddle, with nothing but an Alfredo Binda toe strap holding it in place...
Arundel Uno Seatbag
Although you won't see Team Garmin-Sharp-Barracuda riding with the Arundel Uno Seatbag on race-day, when the support cars are in the garage, its an unmistakable accessory on their saddles -- and for good reason. The Uno is just large enough to carry the bare essentials -- a tube, levers, CO2, and...
Blackburn Barrier Small Saddle Bag
Retail Price:
$26.95
Our Price: $20.21
buy now
Never forget to bring along your essential tools or spare tubes -- keep them stashed under your seat with the flyweight Blackburn Barrier Small Saddle Bag. Welded seams and a water-repelling TPU-coated nylon fabric keep everything dry, no matter how muddy that early-spring singletrack gets.
Blackburn Central Saddle Bags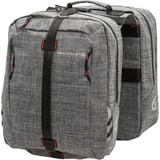 Commuting on a bike has benefits (health, environmental, riding a bike) and drawbacks (safety issues, inclement weather, hills). While we believe the good outweigh the bad, we also recognize that the bicycle's lack of natural cargo space can be a serious deterrent to both aspiring and veteran...
Blackburn Central Trunk Rack Top Bag
When the time comes to load up, a trustworthy rack/bag combo for your bike becomes something you rely on heavily. When something like Blackburn's ingenious Interlock rack system comes along with great accessories like this Blackburn Central Trunk Rack Top Bag, then bike life just got that much...
Blackburn Nacelle Hard Shell Saddle Bag
Retail Price:
$37.95
Our Price: $12.00
buy now
The Nacelle Saddle Bag works in conjunction with your Blackburn saddle to keep your tubes, CO2, and other small essentials with you at all times. The semi-rigid shell of the Nacelle was designed from EVA and TPU. The seams have been welded and the fabric received a water-resistant finish to keep...
Blackburn VIP Zipper Wallet
Retail Price:
$19.95
Our Price: $6.00
buy now
Take care of your phone, keys, money, and music with the Blackburn VIP Zipper Wallet. This water-repellent case undermines the weather's sneaky, underhanded attacks on your valuables with tough 400D fabric. Water repellent to protect your stuffSlim design fits into jersey pocketsHeadphone port...
Blackburn Zayante Large QR Saddle Bag
Retail Price:
$39.95
Our Price: $15.95
buy now
Riding rough roads or trails sometimes means a few more flats than normal. To ensure that you'll have enough spare tubes, and maybe a few extra snacks, make sure you always have your Blackburn Large QR Saddle bag. This bag hold 155 cubic inches, over double the size of the Medium Zayante. It...
Brooks Barbican Leather Messenger
Retail Price:
$500.00
Our Price: $450.00
buy now
Life by two wheels isn't always conveyed as opulent, but when you add vegetable-tanned leather from Europe -- it's quite the opposite. Brooks' Barbican Leather Messenger bag features just that, and with a water-resistant cotton shoulder and waist belt to stabilize loads, this pack is ready for...
<< Prev | 1 | 2 | 3 | 4 | 5 | 6 | 7 | 8 | 9 | Next >>