Panniers Bags - Road Bike Shop
Shop
>
Accessories
>
Commuting & Touring
>
Panniers & Bags
Ibis Ripley Pork Chop Frame Bag For RL2+
Made specifically to work with the Ripley RL2+, the Ibis Pork Chop Frame Bag is a brilliant solution to taking weight off your back by storing gear neatly in the front aperture of the frame. A durable ripstop nylon fabric with padded ballistic nylon side panels holds up against rough and tumble...
Lizard Skins Super Cache Saddle Bag
Carry all the necessary tools for simple repairs alongside energy snacks and riding necessities with the Lizard Skins Super Cache Saddle Bag. This large saddle bag provides ample space for an extra tube, multi-tool, wallet, keys, and snacks when you're riding into remote areas where help is...
PRO Maxi Plus Saddle Bag
If you find yourself heading out for an all-day ride with the pockets of your jersey weighed down to your hips and your saddle pack barely closing, it's probably time to invest in a bigger bag. Preferably something like PRO's Maxi Plus Saddle Bag, which features an expandable compartment that...
SciCon 2nd Bike Roller System 2 Saddle Mount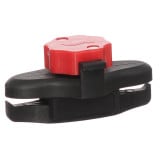 The Sci'Con Roller System 2 is the newest version of their Roller saddle bag mounting apparatus. Like its predecessor, the Roller System 2 is easy to use. This is just the mount, an extra for your spare bike so your repair kit will just be a twist away. You'll only need one saddle pack and repair...
SciCon Compact 430 Saddlebag
Retail Price:
$44.95
Our Price: $40.46
buy now
SciCon might sound like a yearly gathering of cosmically-focused tech nerds, but it's actually way less scary: the company makes bike bags, and only bike bags. Since its focus is so narrow, it's safe to assume it knows what it's talking about, an assumption that's confirmed when you take gear...
SciCon Elan 210 Seat Bag
You searched long and hard and saved thousands of pennies to buy your perfectly apportioned, wind-cheating road bike. Why would you attach just any seat bag to the saddle? SciCon has designed a bag worthy of your bike with its Elan 210. At 210 cubic centimeters, the Elan is just the right size to...
SciCon Elan Seat Bag
Jamming up your sleek saddle and seatpost with a clunky bag is like putting a cargo rack on your hard-top convertible--you could do it, we guess, but really? Show a little restraint. SciCon's Elan Seat Bag is a master of subtlety, with just enough space to hold a tube, tire levers, and multitool...
SciCon Fuel Frame Bag
The Bento box. That phrase that puts shivers in the hearts of roadies everywhere but is essential to the long distance triathlete. Sure, you can "glue" your energy bars to your top tube, but isn't eating clean, dry food just a bit more appetizing? SciCon's Fuel Bag is the perfect size to hold...
SciCon Phantom 230 Roller 2.0 Saddlebag
SciCon is an Italian company; it's only fitting that they make the sleek, minimal Phantom 230 Roller 2. 0 Saddlebag -- that you can still cram everything into. Part of their trick in making this possible is their new Roller 2 mounting system. If you recall the original Roller System (now Roller 1...
SciCon Phone Frame Bag
Retail Price:
$44.95
Our Price: $35.96
buy now
Whether your phone is there for navigation, keeping an eye on your cadence, or for keeping up with your peeps on social media on the go, you need a good spot to mount it that's out of your way, but still visible. The SciCon Phone Frame Bag is the perfect solution to your phone dilemmas. Decked...
<< Prev | Back | 1 | 2 | 3 | 4 | 5 | 6 | 7 | 8 | 9 | 10 | More | Next >>