Panniers Bags - Road Bike Shop
Shop
>
Accessories
>
Commuting & Touring
>
Panniers & Bags
Ergon BX2 Hydration Backpack - 610cu in
Retail Price:
$119.95
Our Price: $71.97
buy now
Sure, you can throw your tube and hex keys into a jersey pocket when you are out on the trails, and use one of the water bottle holders on your bike for hydration. But, then you risk not only losing items if you take a tumble, you risk running out of water for those long, summer rides. Ergon has...
Ergon BX3 Hydration Backpack - 976cu in
Retail Price:
$129.95
Our Price: $103.96
buy now
Wearing a pack on your back while mountain biking sounds uncomfortable. But the alternatives, stuffing your jersey pockets with gear, or going hungry, aren't much better. Ergon has designed a series of hydration-compatible packs that are so comfortable, you won't feel the need to compromise....
Ergon BX4 Hydration Backpack - 1647cu in
Retail Price:
$159.95
Our Price: $109.99
buy now
There are hundreds of hydration packs on the market -- all shapes, sizes, configurations. Yet, each of these bags is basically a small backpack that has been fitted with a bladder. While they function to hydrate you, they are often uncomfortable as the straps bind and twist and weight of the pack...
Evoc Saddle Bag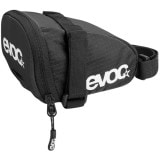 Minimalist and lightweight, the Evoc Saddle Bag is designed for small repair kits and intended for racing bikes. It measures 12 x 4. 5 x 6 cm and is constructed from 210d Nylon that's PU-coated for water resistance The bike quickly and easily attaches to seat rails and posts using hook-and-loop...
Evoc Saddle Bag Race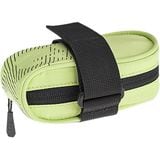 When being streamlined is paramount, use the Evoc Saddle Bag Race to hold all of your ride or race day essentials. The durable, ripstop-nylon bag weighs a mere 40 grams, with a volume of 0. 3 liters. It affixes beneath your saddle with a hook-and-loop fastener and features a reflective zipper...
Evoc Saddle Bag Tour
Evoc's Saddle Bag Tour offers enough room for the gear that won't fit in a jersey pocket. It attaches easily onto a seatpost with secure hook-and-loop straps, has a reflective light clip if you need to ride at night, and is splash-resistant, so your gear won't get ruined if you go for a ride in...
Evoc Team Saddle Bag
The Evoc Team Saddle Bag attaches to seat rails with hook-and-loop straps. It allows you to attach and remove the bag from under the saddle in seconds, and stays securely fastened. It has a volume of 0. 7 liters and measures 12 x 8 x 1. 5cm and is constructed from 210D rip-stop nylon with a mesh...
Fi'zi:k ICS Saddle PA:K
Retail Price:
$25.00
Our Price: $15.99
buy now
Your carbon beauty deserves nothing but the finest accessories. After all, streamlined aesthetics are nearly as important as functionality. Yet, every time that you head out for a ride, a frayed, tenuously anchored bag dangles from your pristine Fi'zi:k saddle. You don't want to leave without the...
Fi'zi:k Saddle Pa:k
Fizik makes our best selling saddles -- the Aliante and the Arione. It makes perfect sense, of course, that they'd show the same artistry and the same balance of style and function in designing a saddle bag. Fizik's bags have sleek, rounded lines that flow flawlessly into the bottom of their...
Green Guru Gear Carbon Cooler Pannier
If you're being all green and responsible with the resources you consume from Mother Earth by riding your bicycle everywhere, why not kick it up a notch by strapping on some panniers made of materials we've already borrowed from her? Former billboards and banner ads join recycled nylon and PETE...
<< Prev | Back | 1 | 2 | 3 | 4 | 5 | 6 | 7 | 8 | 9 | 10 | More | Next >>