Panniers Bags - Road Bike Shop
Shop
>
Accessories
>
Commuting & Touring
>
Panniers & Bags
Chrome Saddle Bag Roll Top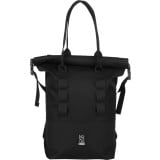 Retail Price:
$160.00
Our Price: $88.00
buy now
Chrome, the mavens of commuting equipment, built the Saddle Bag Rolltop Pannier to keep your essentials protected during your commute. Chrome's unique knurled welded construction makes for an incredibly durable bag that's waterproof, without unnecessary bulk. And that helps to make this a true...
Chrome Urban Ex Rolltop 18L Backpack
Chrome is highly regarded for creating what are arguably the best messenger bags on the market. Experience as messengers and knowing what works well on the street and day-to-day items get hauled around translate into the design of each and every bag. While messenger bags are an iconic symbol of...
Chrome Urban Ex Rolltop 28L Backpack
The Urban Ex Rolltop 28L Backpack is the expanded version of Chrome's hugely popular Urban Ex line. Chrome, purveyors of highly functional and stylish cycling gear, built this rolltop bag to keep your essentials protected during your commute. Its unique construction makes for an incredibly tough...
Chrome Yalta 2.0 Backpack
Hit the streets with the weatherproof protection of the Chrome Yalta 2. 0 Pack. This slick commuter pack is an update to the iconic performance of the original Yalta Pack, with updated color schemes and a wider opening for easy-access. Practically bombproof, the pack's Custom HBT shell fabric...
Evoc Saddle Bag
Minimalist and lightweight, the Evoc Saddle Bag is designed for small repair kits and intended for racing bikes. It measures 12 x 4. 5 x 6 cm and is constructed from 210d Nylon that's PU-coated for water resistance The bike quickly and easily attaches to seat rails and posts using hook-and-loop...
Ibis Mojo Pork Chop Frame Bag For HD3+/M3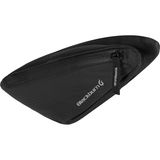 Designed specifically to work with the Mojo HD3, HD4, and M3, the Ibis Pork Chop Frame Bag is an ingenious solution to taking gear off your back by fitting neatly in the front aperture of the frame. A tough-as-nails ripstop nylon fabric with padded ballistic nylon side panels holds up against the...
Lezyne Caddy Saddle Bag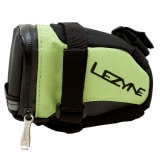 Lezyne made the Caddy Saddle Bag in three sizes to match your riding style and needs. Stash your mountain bike or road tube in the main compartment and put your multi-tool in the external pouch. The large size comes with a slot for your cell phone, just in case you and your mountain bike land in...
Lezyne Energy Caddy
Mounting Lezyne's Energy Caddy on your bike will make sure you're able to hold speed nutrition during race day or bonk-fighting endurance fuel on a century. Hook-and-loop closures securely and simply hold this bento box-style bag in place at the front of your top tube, so retrieval while riding's...
Lizard Skins Cache Saddle Bag
Ride across remote stretches of country with everything you need to perform simple repairs with the Lizard Skins Cache Saddle Bag. This mid-sized saddle bag offers ample room for a spare tube, multi-tool, tire levers, wallet, spare cash, and keys. The zippered main compartment has an internal...
SciCon 2nd Bike Roller System 2 Saddle Mount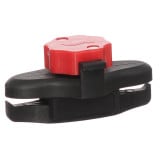 Retail Price:
$14.00
Our Price: $12.60
buy now
The Sci'Con Roller System 2 is the newest version of their Roller saddle bag mounting apparatus. Like its predecessor, the Roller System 2 is easy to use. This is just the mount, an extra for your spare bike so your repair kit will just be a twist away. You'll only need one saddle pack and repair...
<< Prev | Back | 1 | 2 | 3 | 4 | 5 | 6 | 7 | 8 | 9 | 10 | More | Next >>