Panniers Bags - Road Bike Shop
Shop
>
Accessories
>
Commuting & Touring
>
Panniers & Bags
Green Guru Gear High Roller Bike Tube Pannier - 2400cu in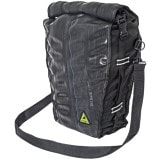 Retail Price:
$99.95
Our Price: $89.95
buy now
Green Guru's High Roller Pannier keeps your gear safe, organized, and securely mounted to just about any rack system. Its lightweight design and recycled materials make for a minimal bag that's just right for all your on-the-move needs. The High Roller was built out of upcycled bike tubes and...
Green Guru Gear Shifter Saddle Bag
A little more spacious than its sibling, the Clutch, Green Guru's Shifter Saddle Bag cleanly resides under the saddle without ever getting in the way. It's made with 100% recycled PETE materials and bicycle inner tubes, which, in addition to keeping planet-friendly values at the forefront, also...
Lezyne Phone Caddy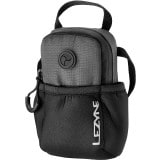 Retail Price:
$19.95
Our Price: $9.00
buy now
If you despise disorganized pockets, the Lezyne Phone Caddy might be right up your alley. Not only does it add a degree of protection to your phone, its zippered pocket allows you to keep the rest of your pocket's contents locked in place. Whether that's cash and ID, or C02 and a tool kit, you'll...
PRO Aerofuel Top Tube Tri Bag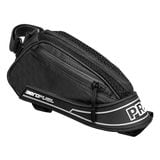 The PRO Aerofuel Top Tube Tri Bag offers an alternative for when stashing stuff in your jersey pockets doesn't cut it. This lightweight and slim bento-style bag attaches right behind your headset to reduce air resistance, and has a springy main opening for easy access without having to worry...
PRO Stradius Saddle Bag
Retail Price:
$49.99
Our Price: $26.99
buy now
Rather keep your jersey pockets empty than stuff them full of snacks, tools, and cash? Tired of forgetting a spare tube? Just strap the PRO Stradius Saddle Bag onto your bike. This small bag hooks easily onto a seatpost and saddle rails, and is made from water-resistant and tough materials that...
Revelate Tangle Bag
Designed with a sleek, rectangular profile that stays out of the way while pedaling, Revelate's Tangle Bag cleanly attaches under your top tube and keeps your gear both protected and close at hand. A durable 400 denier material was used for the construction, along with reinforced panels made from...
SciCon Anatomico Roller Saddlebag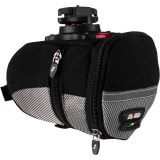 Retail Price:
$39.95
Our Price: $29.95
buy now
You can easily fit two tubes, tire levers, a patch kit, and a multitool, in the Anatomico Roller Saddlebag, but SciCon gives you the option to expand it from 820cc to 1610cc in volume. In its larger form, you can also easily hold energy bars, snacks, a telephone, and other personal items. Its...
SciCon Elan 210 Seat Bag
You searched long and hard and saved thousands of pennies to buy your perfectly apportioned, wind-cheating road bike. Why would you attach just any seat bag to the saddle? SciCon has designed a bag worthy of your bike with its Elan 210. At 210 cubic centimeters, the Elan is just the right size to...
SciCon Fuel Frame Bag
Retail Price:
$21.95
Our Price: $19.99
buy now
The Bento box. That phrase that puts shivers in the hearts of roadies everywhere but is essential to the long distance triathlete. Sure, you can "glue" your energy bars to your top tube, but isn't eating clean, dry food just a bit more appetizing? SciCon's Fuel Bag is the perfect size to hold...
SciCon Hippo 550 Roller 2 Saddlebag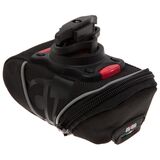 Retail Price:
$39.00
Our Price: $29.00
buy now
Sci'Con's saddle bags are notable for their retention systems. No Velcro straps. The design has been updated to the new Roller 2 mounting system. If you recall the original Roller System (now Roller 1), you start with a plastic cleat that secures to your seat rails with the twist of a knob. Then...
<< Prev | 1 | 2 | 3 | 4 | 5 | 6 | 7 | 8 | 9 | Next >>