Panniers Bags - Road Bike Shop
Shop
>
Accessories
>
Commuting & Touring
>
Panniers & Bags
Louis Garneau Stream R-12 Bag
If you have all your cross-country touring gear ready to go, but this weekend's ride is just across town, attach the Louise Garneau Stream R-12 Bag to your rear rack and streamline your set-up. The Stream R-12 comes with an insulated main compartment for storing food and protecting delicate...
Revelate Tangle Bag
Designed with a sleek, rectangular profile that stays out of the way while pedaling, Revelate's Tangle Bag cleanly attaches under your top tube and keeps your gear both protected and close at hand. A durable 400 denier material was used for the construction, along with reinforced panels made from...
SciCon 2nd Bike Roller System 2 Saddle Mount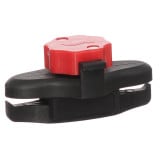 The Sci'Con Roller System 2 is the newest version of their Roller saddle bag mounting apparatus. Like its predecessor, the Roller System 2 is easy to use. This is just the mount, an extra for your spare bike so your repair kit will just be a twist away. You'll only need one saddle pack and repair...
SciCon 2nd Bike Roller System Saddle Mount
Retail Price:
$11.00
Our Price: $8.25
buy now
Sci'Con offers an accessory Roller System attachment to mount any Sci'Con Roller System saddle bag to your second (or third bike) so you can use the same saddlebag on all your bikes. The spare Roller System mount attaches between the seat rails and stays permanently fixed in place. As you move...
SciCon Anatomico Roller Saddlebag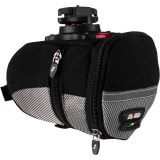 You can easily fit two tubes, tire levers, a patch kit, and a multitool, in the Anatomico Roller Saddlebag, but SciCon gives you the option to expand it from 820cc to 1610cc in volume. In its larger form, you can also easily hold energy bars, snacks, a telephone, and other personal items. Its...
SciCon Compact 430 Saddlebag
Retail Price:
$44.95
Our Price: $33.75
buy now
We don't always have the confidence that the skeleton kit is enough, and we need to carry a bit more. The Sci'Con Compact 430 saddlebag has almost double the interior space of the Phantom, all of which you can put to good use. Here, if you're a good packer, you can squeeze in a second tube, as...
SciCon Elan 210 Seat Bag
You searched long and hard and saved thousands of pennies to buy your perfectly apportioned, wind-cheating road bike. Why would you attach just any seat bag to the saddle? SciCon has designed a bag worthy of your bike with its Elan 210. At 210 cubic centimeters, the Elan is just the right size to...
SciCon Elan Seat Bag
The downside to having a Pro-level bike is finding a seat bag that matches its stylishness. SciCon, long considered a master of saddle bag design, has that covered with the Elan Seat Bag. The Elan attaches to your seat rails through a hook-and-loop closure with a fit so snug under the seat that...
SciCon Fuel Frame Bag
The Bento box. That phrase that puts shivers in the hearts of roadies everywhere but is essential to the long distance triathlete. Sure, you can "glue" your energy bars to your top tube, but isn't eating clean, dry food just a bit more appetizing? SciCon's Fuel Bag is the perfect size to hold...
SciCon Hippo 550 Roller 2 Saddlebag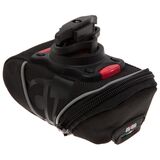 Sci'Con's saddle bags are notable for their retention systems. No Velcro straps. The design has been updated to the new Roller 2 mounting system. If you recall the original Roller System (now Roller 1), you start with a plastic cleat that secures to your seat rails with the twist of a knob. Then...
<< Prev | 1 | 2 | 3 | 4 | 5 | 6 | 7 | 8 | 9 | Next >>