Panniers Bags - Road Bike Shop
Shop
>
Accessories
>
Commuting & Touring
>
Panniers & Bags
Chrome Skarbek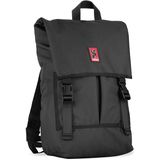 The Chrome Skarbek is an incredibly sleek, streamlined pack that's built to withstand use and abuse from bike commutes, trips to campus, and daily wear. Slimmed-down shoulder straps comfortably carry lighter loads across town. And like most Chrome bags, the Skarbek is made in California with...
Chrome Urban EX Roll Top
Retail Price:
$120.00
Our Price: $94.99
buy now
Chrome's legendary for the durability and utilitarian style of its bags, so you know exactly what you'll get from the Urban EX Roll-Top Backpack. It's an everyday workhorse that's at home on the bike, on foot, or on the train, with a waterproof body made from 600D nylon and a rugged Hypalon base...
Chrome Yalta 2.0
Hit the streets with the weatherproof protection of the Chrome Yalta 2. 0 Pack. This slick commuter pack is an update to the iconic performance of the original Yalta Pack, with updated color schemes and a wider opening for easy-access. Practically bombproof, the pack's Custom HBT shell fabric...
Cogburn Frame Bag
The Cogburn Frame Bag is as heavy-duty as the CB4 frame on which it's designed to be mounted. The primary material used is ultra tough Cordura, which is also highly wind- and water-resistant. The interior of the bag is a bright yellow polyester hardshell fabric to ensure protection of what's...
Evoc Saddle Bag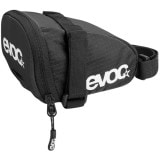 Minimalist and lightweight, the Evoc Saddle Bag is designed for small repair kits and intended for racing bikes. It measures 12 x 4. 5 x 6 cm and is constructed from 210d Nylon that's PU-coated for water resistance The bike quickly and easily attaches to seat rails and posts using hook-and-loop...
Evoc Saddle Bag Race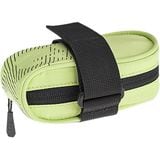 When being streamlined is paramount, use the Evoc Saddle Bag Race to hold all of your ride or race day essentials. The durable, ripstop-nylon bag weighs a mere 40 grams, with a volume of 0. 3 liters. It affixes beneath your saddle with a hook-and-loop fastener and features a reflective zipper...
Evoc Saddle Bag Tour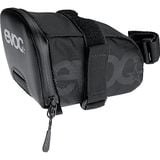 Evoc's Saddle Bag Tour offers enough room for the gear that won't fit in a jersey pocket. It attaches easily onto a seatpost with secure hook-and-loop straps, has a reflective light clip if you need to ride at night, and is splash-resistant, so your gear won't get ruined if you go for a ride in...
Fi'zi:k Saddle Pa:k
Retail Price:
$16.95
Our Price: $13.56
buy now
Fi'zi:k saddles are known for their craftsmanship, so it only makes sense that the same high-quality construction should find its way into the Fi'zi:k Saddle Pa:k. Its rounded lines look great, snd they flow nicely into the bottom of you Fi'zi:k saddle. The Pa:k is water resistant right down to...
Green Guru Gear Carbon Cooler Pannier
Retail Price:
$89.95
Our Price: $80.95
buy now
If you're being all green and responsible with the resources you consume from Mother Earth by riding your bicycle everywhere, why not kick it up a notch by strapping on some panniers made of materials we've already borrowed from her? Former billboards and banner ads join recycled nylon and PETE...
Green Guru Gear Clutch Saddle Bag
Smaller and lighter than its sibling the Shifter, Green Guru's Clutch Saddle Bag cleanly resides under the saddle without getting in the way. It's made with 100% recycled PETE materials and bicycle inner tubes, which, in addition to keeping planet-friendly values at the forefront, also means that...
<< Prev | 1 | 2 | 3 | 4 | 5 | 6 | 7 | 8 | 9 | Next >>