Panniers Bags - Road Bike Shop
Shop
>
Accessories
>
Commuting & Touring
>
Panniers & Bags
Chrome Knurled Welded Gravel Seatbag
Seat bags are great. Allen wrenches, a multi-tool, a tube, and some tire levers right there under your seat when you need them. The problem that we've always found with seat bags, however, is the size. Manufacturers seem to get shy when it comes to making a seat bag that can actually carry a...
Chrome Knurled Welded Handlebar Bag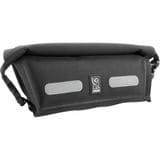 Bike gear takes a pounding from crashes, weather, and general being-out-in-the-world-ness, so Chrome designed the Knurled Welded Handlebar Bag to stand up to a serious thrashing. It's made from 600D polyester, treated with a waterproof PU coating, and has knurled, welded seams that keep out water...
Chrome Knurled Welded Race Seatbag
Like all Chrome products, the Chrome Knurled Welded Race Seatbag is built for life in the big city. As we all know, you have to be tough to survive in the big city. When it comes to this bag, tough is an understatement. Built from PU-coated 600-denier polyester with welded seams, the Race Seatbag...
Chrome Niko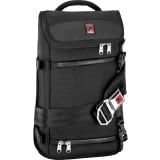 The Chrome Niko Backpack gives photography enthusiasts peace of mind when transporting prized equipment. As any camera bag should, it has a customizable main compartment, to keep your belongings safe. And the waterproof tarpaulin liner ensures that short of throwing this pack into a lake, your...
Chrome Niko Sling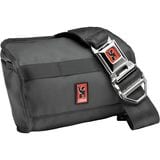 The Chrome Niko Sling is perfect for shooting missions where mobility trumps the need to have a mountain of equipment. The sling design makes it easy to get at your camera in a flash, and the main compartment is water resistant, so you don't have to worry about getting caught out in the rain. It...
Chrome Rustic Cardiel O.R.P. Backpack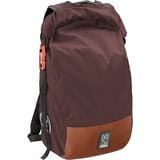 We're not sure exactly what operations Chrome's Rustic Cardiel O. R. P is ready for, but if it involves a bike or skateboard, this pack is probably into it. Chrome teamed up with skate pioneer John Cardiel to create the O. R. P., which takes cues from classic outdoor packs but has a style all its...
Chrome Saddle Bag Roll Top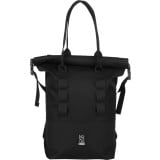 Chrome, the mavens of commuting equipment, built the Saddle Bag Rolltop Pannier to keep your essentials protected during your commute. Chrome's unique knurled welded construction makes for an incredibly durable bag that's waterproof, without unnecessary bulk. And that helps to make this a true...
Chrome Urban EX Roll Top
Retail Price:
$120.00
Our Price: $64.99
buy now
The Chrome Urban EX Rolltop Bag is Chrome's every day weatherproof rolltop backpack. It's built using a unique knurled welded construction, which keeps it bulk-free, without sacrificing the valuable waterproof characteristic that makes this perfect for all-weather commuters. And it's backed by...
Cogburn Frame Bag
The Cogburn Frame Bag is as heavy-duty as the CB4 frame on which it's designed to be mounted. The primary material used is ultra tough Cordura, which is also highly wind- and water-resistant. The interior of the bag is a bright yellow polyester hardshell fabric to ensure protection of what's...
Cogburn Gear Carrier
The Cogburn Gear Carrier was born to accommodate the needs of hunters and fishermen who like to get around the backcountry on fat bikes. Designed to attach to most every rear rack on the market, the Gear Carrier has a specific shape intended to allow backwoodsmen to carry their fishing rods,...
<< Prev | Back | 1 | 2 | 3 | 4 | 5 | 6 | 7 | 8 | 9 | 10 | More | Next >>