Panniers Bags - Road Bike Shop
Shop
>
Accessories
>
Commuting & Touring
>
Panniers & Bags
Brooks Pickwick Day Pack
Retail Price:
$230.00
Our Price: $215.99
buy now
A versatile canvas roll-top, the Pickwick Day Pack reflects the timeless appearance and durability eternally linked to Brooks. Hand constructed in Tuscany from water-resistant cotton and genuine Brooks leather trim, the Pickwick will stand apart without sacrificing functionality. To that point,...
Brooks Victoria Leather Saddlebag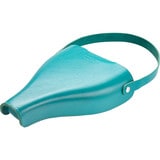 Retail Price:
$185.00
Our Price: $92.50
buy now
The Brooks Victoria Leather Saddlebag may be the coolest piece of genius we've seen for the urban riding set. While it initially looks like a handbag that has been carefully shaped to resemble a bike saddle, a closer look reveals that it is indeed designed to be a bike saddle cover. Renowned for...
Chrome Excursion Roll Top
The Chrome Excursion Rolltop Bag is Chrome's high-capacity answer to keeping your possessions dry and protected. Chrome's unique knurled welded construction reduces bulk to an absolute minimum, and contributes to this bag being completely waterproof. And it's backed by Chrome's legendary lifetime...
Chrome Front Rack Duffle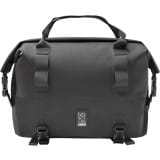 The Chrome Front Rack Duffle Bag is built to add weatherproof carrying capacity to your porteur-style rack. The waterproof roll top construction lets you secure loads of varying size, without worrying about what Mother Nature has in store. And since it's backed by Chrome's lifetime warranty, you...
Chrome Niko
The Chrome Niko Backpack gives photography enthusiasts peace of mind when transporting prized equipment. As any camera bag should, it has a customizable main compartment, to keep your belongings safe. And the waterproof tarpaulin liner ensures that short of throwing this pack into a lake, your...
Chrome Niko Sling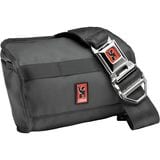 The Chrome Niko Sling is perfect for shooting missions where mobility trumps the need to have a mountain of equipment. The sling design makes it easy to get at your camera in a flash, and the main compartment is water resistant, so you don't have to worry about getting caught out in the rain. It...
Chrome Saddle Bag Roll Top
Chrome, the mavens of commuting equipment, built the Saddle Bag Rolltop Pannier to keep your essentials protected during your commute. Chrome's unique knurled welded construction makes for an incredibly durable bag that's waterproof, without unnecessary bulk. And that helps to make this a true...
Chrome Urban EX Roll Top
The Chrome Urban EX Rolltop Bag is Chrome's every day weatherproof rolltop backpack. It's built using a unique knurled welded construction, which keeps it bulk-free, without sacrificing the valuable waterproof characteristic that makes this perfect for all-weather commuters. And it's backed by...
Ergon BC2 Hydration Backpack - 976cu in
Carrying a pack during long trail rides makes sense, until the weight of the pack and contents shifting throws off your balance. Ergon used its extensive research to design a pack with unencumbered lightness and a proprietary movement system to minimize the weight you feel on your shoulders with...
Ergon BX2 Hydration Backpack - 610cu in
Sure, you can throw your tube and hex keys into a jersey pocket when you are out on the trails, and use one of the water bottle holders on your bike for hydration. But, then you risk not only losing items if you take a tumble, you risk running out of water for those long, summer rides. Ergon has...
<< Prev | 1 | 2 | 3 | 4 | 5 | 6 | 7 | 8 | 9 | Next >>