Panniers Bags - Road Bike Shop
Shop
>
Accessories
>
Commuting & Touring
>
Panniers & Bags
Brooks B1 Saddle Bag
The B1 Saddle Bag is the product of a thoroughly British collaboration between Brooks' saddle factory in Smethwick, England and the Royal College of Art in London. The B1's shape makes it the perfect navigator during days spent in the iconic B17 saddle, as both articles' respective widths...
Brooks Barbican Leather Messenger
Retail Price:
$500.00
Our Price: $474.99
buy now
Life by two wheels isn't always conveyed as opulent, but when you add vegetable-tanned leather from Europe -- it's quite the opposite. Brooks' Barbican Leather Messenger bag features just that, and with a water-resistant cotton shoulder and waist belt to stabilize loads, this pack is ready for...
Brooks Barbican Messenger
Retail Price:
$335.00
Our Price: $305.99
buy now
In a professional atmosphere, seat belt buckles aren't going to cut it quite like soft cotton and vegetable-tanned leather. Brooks' Barbican Messenger is constructed in Italy from just that, for a personal bag that stands out without trying. Its nearly 800 cubic inches of storage is large enough...
Brooks Brick Lane Roll-Up Pannier
When not in use, the 1708 cubic-inch Brooks Brick Lane Roll-Up Pannier is stored out of the way. This means no awkward empty bags bouncing around on your ride. And to ensure durability, Brooks constructs the Brick Lane Roll-Up Pannier out of water-resistant cotton with leather finishing. For...
Brooks Camden Tote Bag
When items you wish to carry in the Hoxton Wire Basket shouldn't be left exposed to the elements, Brooks' Camden Tote Bag will come in handy. Designed to fit in the Hoxton, the Camden Tote Bag is constructed from water-resistant cotton, along with tough leather handles. A zippered top makes...
Brooks Dalston Knapsack
Retail Price:
$190.00
Our Price: $179.99
buy now
Far from another "backcountry epic" hydration pack, or red-light-running messenger bag, the Brooks Dalston Knapsack combines high-end materials and features for the modern urban cyclist. Genuine vegetable-tanned leather matches the lasting appearance and durability linked to Brooks, while...
Brooks Hackney Backpack
Manufactured in Italy from a bluesign-certified waterproof textile and genuine vegetable-tanned leather, Brooks' Hackney Backpack provides the urban rider with a timeless bag. A padded 15in laptop compartment keeps the brain box secure and safe while running around town, while three inner pockets...
Brooks Hampstead Sport Holdall Bag
When a messenger bag won't cut it, Brooks' Hampstead Holdall's nearly cubic foot and a half of storage easily swallows up bulky items. And, its roll-top design means it'll expand to the needed size without leaving excess material and empty space. The Hampstead Holdall is hand constructed in...
Brooks Hoxton Wire Basket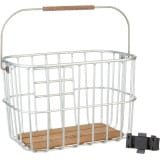 Add a touch of class to your daily cycling routine with Brooks' Hoxton Wire Basket. The sturdy metal structure supports loads with ease, while a wooden bottom and leather handle, constructed from saddle scraps, give the Hoxton undeniable richness. For easy transportation, a KLICKfix handlebar...
Brooks Isle Of Skye Handlebar Bag
Whether you're touring the Hebrides or taking Highway 101 through Olympic National Park, nothing complements your cycling odyssey with the same classic flair as Brooks' Isle of Skye Handlebar Bag. The bag's vintage styling recalls the golden era of design during which the first Brooks workshop...
<< Prev | 1 | 2 | 3 | 4 | 5 | 6 | 7 | 8 | 9 | 10 | Next >>