Fenders Racks - Road Bike Shop
Shop
>
Accessories
>
Commuting & Touring
>
Fenders & Racks
Blackburn Cloudburst Fender Set
The Blackburn Cloudburst Fender Set won't save you from the stuff coming out of the sky, just the stuff that's already on the ground. That can still make the difference between riding all year and hanging up your trusty steed all winter.
Blackburn Dirt Merchant Rear Fender
It doesn't get much more humble than a dirt merchant, but the Blackburn Dirt Merchant Rear Fender gives the profession a great name. Jammed with features like multiple adjustment points to fit almost any bike, and an integrated reflector, it's also lightweight, durable, and requires no tools for...
Blackburn EX-1 Bike Rack
Drop a crate full of groceries on the tough-as-nails Blackburn EX-1 Bike Rack and pedal your goodies home without having to rock a giant backpack. Aircraft-grade aluminum keeps things light, and oversized tubing reinforcement gives this rack added strength. Need to take junior Lance along for the...
Blackburn EX-1 Top Deck Rack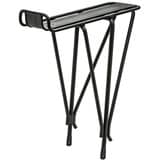 EX-1 Top Deck Rack
Blackburn TRX-2 Ultimate Commuter Rack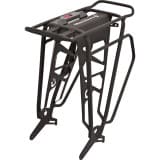 With the Blackburn TRX-2 Ultimate Commuter Rack, your carrying ability is limited only by your imagination. Featuring a versatile array of accessory attachment points, as well as both high and low pannier mounting options, you'll be able to perfectly tailor and balance your traveling load with...
Portland Design Works Excalibur Fender
Retail Price:
$44.00
Our Price: $30.80
buy now
From heavy steel units on classic cruisers to plastic OJ jugs wire-tied to food-delivery bikes, the bicycle fender is an essential accessory. Portland Design Works takes the design to the next level by producing the first quick-release, full aluminum fender -- the Excalibur Fender. The aluminum...
Portland Design Works Full Metal Fender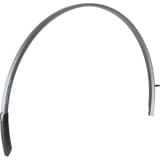 In the past ten years, Portland has turned from a city shadowed by Seattle's vibrant seaside culture to becoming America's cycling sweetheart. It's paved the way for advocacy, it houses countless frame builders, and it's a hub for the two-wheeled culture. And out of this cycling hot spot,...
Portland Design Works Loading Dock Rear Rack
Retail Price:
$95.00
Our Price: $86.00
buy now
As cyclists, we all hit our breaking point of carrying beers, groceries, or books all on our backs. Let's face it -- pointy things hurt, eggs crush easily, and sweat maps of a messenger bag don't look good on anyone's back. It's time to get to some racks, and the Portland Design Works Loading...
Portland Design Works Origami Fender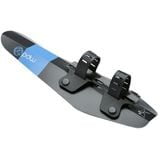 Fenders are a blessing when the roads are wet. But, they can also be bulky, an eyesore, and a brittle, failure-prone accessory. While the cycling community has seen its share of fender innovation, most of these advancements have turned into novelty gimmicks. The lightweight Portland Design Works...
Portland Design Works Payload Rear Rack - Steel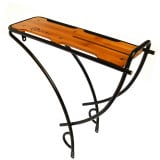 Racks have traditionally been a utilitarian afterthought, aweb of straight, small-diameter tubing forming a simple structure. The PortlandDesign Works Payload Rear Rack parts ways with those uninspiringcargo-carriers, in favor of eye-pleasing organic shapes and a bamboo deck. Its tough steel...
<< Prev | 1 | 2 | 3 | Next >>