Fenders Racks - Road Bike Shop
Shop
>
Accessories
>
Commuting & Touring
>
Fenders & Racks
Blackburn EX-1 Bike Rack
Drop a crate full of groceries on the tough-as-nails Blackburn EX-1 Bike Rack and pedal your goodies home without having to rock a giant backpack. Aircraft-grade aluminum keeps things light, and oversized tubing reinforcement gives this rack added strength. Need to take junior Lance along for the...
Blackburn Ex-1 Disc Rear Rack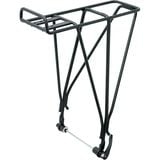 Install a Blackburn Ex-1 Disc Rear Rack on your mountain bike and start haulin'. This rack has the clearance needed for disc brakes so you can use your heavy-duty mountain bike for loaded touring or around-town errands. Clearance for 700c and 26in wheelsCompatible with copilot child seats
Portland Design Works Full Metal Fender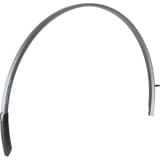 Retail Price:
$120.00
Our Price: $110.00
buy now
In the past ten years, Portland has turned from a city shadowed by Seattle's vibrant seaside culture to becoming America's cycling sweetheart. It's paved the way for advocacy, it houses countless frame builders, and it's a hub for the two-wheeled culture. And out of this cycling hot spot,...
Portland Design Works Origami Fender
Fenders are a blessing when the roads are wet. But, they can also be bulky, an eyesore, and a brittle, failure-prone accessory. While the cycling community has seen its share of fender innovation, most of these advancements have turned into novelty gimmicks. The lightweight Portland Design Works...
Portland Design Works Sodapop Frame Mount Fenders
Sure you could cut up, zip-tie, and epoxy a bunch of empty two-liters together to fashion a makeshift fender. But, unless you're delivering foodaboard a lead-sled, big-box store monstrosity then it's going to look a littleout of place on your beloved bicycle. Not mention, the effort and time...
SKS Raceblade Fender Set
We embrace the concept of owning a backup bike. Call it what you will -- a trainer bike, a rain bike, a beater bike, whatever. But the reality of things is this: When you're in real training mode you're going to ride outside rain or shine, and each day closer you get to your "A" race, the more...
SKS Raceblade Fender Set
When pros train in Belgium they put on fenders like the SKS Raceblade. Why? Because rain or shine they're riding -- and don't want soaked backsides and legs. The Raceblade keeps you dry from road spray, and goes a long way to prevent the bike from getting waterlogged and otherwise trashed. The...
SKS X-Blade II Rear Fender
Not everyone is fortunate enough to live in a place with sunny skies and dry trails year round. So for those of you living in damper climes, the SKS X-Blade II Rear Fender is an excellent option for keeping your backside dry when you're hitting the trails. It's proven to stay put, even on rough...
Topeak Defender XC1 2-Piece Front Fender
Topeak's Defender XC1 2-Piece Front Fender is a two-piece, moto-inspired fender that attaches to suspension fork lowers for a close fit with excellent spray protection. It uses a precision clamp that secures the fender to the lower legs with a special safety feature, which allows it to disengage...