Fenders Racks - Road Bike Shop
Shop
>
Accessories
>
Commuting & Touring
>
Fenders & Racks
Blackburn Dirt Merchant Rear Fender
It doesn't get much more humble than a dirt merchant, but the Blackburn Dirt Merchant Rear Fender gives the profession a great name. Jammed with features like multiple adjustment points to fit almost any bike, and an integrated reflector, it's also lightweight, durable, and requires no tools for...
Blackburn EX-1 Bike Rack
Drop a crate full of groceries on the tough-as-nails Blackburn EX-1 Bike Rack and pedal your goodies home without having to rock a giant backpack. Aircraft-grade aluminum keeps things light, and oversized tubing reinforcement gives this rack added strength. Need to take junior Lance along for the...
Blackburn EX-1 Top Deck Rack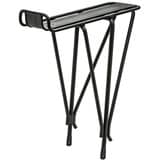 If we found a magic lamp we'd probably be tricked into blowing our first two wishes on things we don't really want. The third wish, though, is a no-brainer: a trunk for bikes. In the meantime, we've got the 45-pound cargo limit of Blackburn's redoubtable EX-1 Top Deck Rack. The EX-1 includes all...
Blackburn Interlock Rear Rack
Blackburn's Interlock Rear Rack is ideal for everything from the mundane adventure of commuting with everything you need for the day or the more exciting adventure of setting out on a weekend bikepacking tour. Whether you have your own pannier or bag or are using Blackburn's Interlock bags, the...
Blackburn Interlock Seatpost Rack
If you consider yourself a light traveler, Blackburn's Interlock Seatpost Rack gives you the option to forgo the frame mounting design employed by most racks in favor of a simple seatpost mounted model. Side rails are included for use with panniers rather than a trunk bag, and the rack's solid...
Blackburn Local Deluxe Front or Rear Rack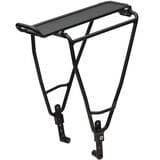 Blackburn Design makes setting up your steel commuter for errands around town easy with its Local Deluxe Front or Rear Rack. The rack adjusts to fit standard wheel sizes, and its simple, user-friendly design is compatible with disc and caliper brake frames. You have the choice of mounting it on...
Blackburn Outpost Fat Bike Rack
When fat bikes became all the rage, a lot more changed than just tire sizes. Accessories changed as well, and if you've been looking for a rack for your fat bike, it's probably been a pretty frustrating search. Blackburn changes that with the Outpost Fat Bike Rack. The Outpost has both height and...
Blackburn Outpost Front World Touring Rack
Pairing the Blackburn Outpost Front World Touring Rack with the rear rack of the same name will increase your carrying capacity by another 45lbs for your next bikepacking trip. The front rack is made of the same lightweight 6061 aluminum as its rear-specific sibling, and it features the same high...
Blackburn Outpost Rear World Touring Rack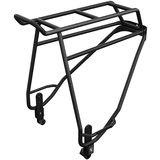 A multi-day bikepacking tour carrying everything you'll need secured to your frame makes for an admirable quest, to be sure, but having to make frequent stops on the sides of road or and trail to adjust panniers and racks can seriously interrupt your adventure montage. Not to mention, you really...
Blackburn Splashboard Fender Combo
The Blackburn Splashboard Fender Combo features more generous width to keep you from getting splashed during your post-rain ride.
<< Prev | 1 | 2 | 3 | Next >>