Fenders Racks - Road Bike Shop
Shop
>
Accessories
>
Commuting & Touring
>
Fenders & Racks
Blackburn Barrier Mud Guard XL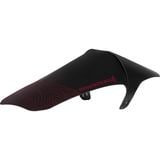 Winterize your fat bike for the colder season by limiting the amount of grit and water that sneaks into your pricey fork with the Blackburn Barrier Mud Guard XL. This 1. 2mm polypropylene fender attaches in seconds with a hook-and-loop design, and it'll loyally guard your chubby frame as it...
Blackburn Cargo Straps
Blackburn's Cargo Strap is in the business of securing loot, and business is good. It combines the security of seatbelt webbing and the functional simplicity of Blackburn's proprietary carabiners to quickly strap down whatever cargo you happen to be transporting. The ends of the strap attach back...
Blackburn Interlock Rear Rack
Blackburn's Interlock Rear Rack is ideal for everything from the mundane adventure of commuting with everything you need for the day or the more exciting adventure of setting out on a weekend bikepacking tour. Whether you have your own pannier or bag or are using Blackburn's Interlock bags, the...
Blackburn Interlock Seatpost Rack
If you consider yourself a light traveler, Blackburn's Interlock Seatpost Rack gives you the option to forgo the frame mounting design employed by most racks in favor of a simple seatpost mounted model. Side rails are included for use with panniers rather than a trunk bag, and the rack's solid...
Blackburn Local Basket
Though it appears humble at first blush, the Blackburn Local Basket is one of the most powerful catalysts in the cycling world. Applying it to the front or rear of a two-wheel machine initiates a chain reaction that turns a mere bicycle into an all-purpose cargo-toting self-propelled conveyance...
Blackburn Local Deluxe Assembled Rack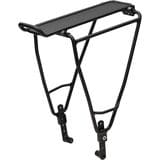 The Blackburn Local Deluxe Assembled Rack combines the versatility of the non-assembled version with the convenience of shipping, well, assembled. The only thing you need to add is your bike. It's a no-questions-asked solution to the cyclist who isn't into fiddling with disparate bits and...
Blackburn Local Deluxe Front or Rear Rack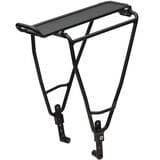 Blackburn Design makes setting up your steel commuter for errands around town easy with its Local Deluxe Front or Rear Rack. The rack adjusts to fit standard wheel sizes, and its simple, user-friendly design is compatible with disc and caliper brake frames. You have the choice of mounting it on...
Blackburn Local Spring Clip Assembled Rack
Local Spring Clip Assembled Rack
Blackburn Local Top Deck Assembled Rack
The uptick in disc-equipped adventure and commuter options has ushered in a new generation of racking systems like the Blackburn Local Top Deck Assembled Rack, which leaves ample room for beefy calipers and disc rotors while securely carrying your cargo. Its adjustable width easily accommodates a...
Blackburn Outpost Fat Bike Rack
When fat bikes became all the rage, a lot more changed than just tire sizes. Accessories changed as well, and if you've been looking for a rack for your fat bike, it's probably been a pretty frustrating search. Blackburn changes that with the Outpost Fat Bike Rack. The Outpost has both height and...
<< Prev | 1 | 2 | Next >>