Fenders Racks - Road Bike Shop
Shop
>
Accessories
>
Commuting & Touring
>
Fenders & Racks
Blackburn Ex-1 Disc Rear Rack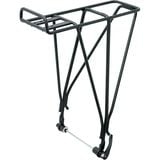 Install a Blackburn Ex-1 Disc Rear Rack on your mountain bike and start haulin'. This rack has the clearance needed for disc brakes so you can use your heavy-duty mountain bike for loaded touring or around-town errands. Clearance for 700c and 26in wheelsCompatible with copilot child seats
Portland Design Works Dave's Mud Shovel Fat Bike Fender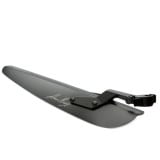 Before Portland Design Works stepped in with Dave's Mud Shovel Fat Bike Fender, options were either constructed from a milk jug or flap stolen from a big rig. Instead of dodging lot lizards and dealing with brittle quick ties, the PDW Mud Shovel is the perfect shape to keep your down tube and...
Portland Design Works Full Metal Fender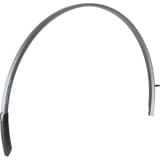 In the past ten years, Portland has turned from a city shadowed by Seattle's vibrant seaside culture to becoming America's cycling sweetheart. It's paved the way for advocacy, it houses countless frame builders, and it's a hub for the two-wheeled culture. And out of this cycling hot spot,...
Portland Design Works Loading Dock Rear Rack
As cyclists, we all hit our breaking point of carrying beers, groceries, or books all on our backs. Let's face it -- pointy things hurt, eggs crush easily, and sweat maps of a messenger bag don't look good on anyone's back. It's time to get to some racks, and the Portland Design Works Loading...
Portland Design Works Origami Fender
Fenders are a blessing when the roads are wet. But, they can also be bulky, an eyesore, and a brittle, failure-prone accessory. While the cycling community has seen its share of fender innovation, most of these advancements have turned into novelty gimmicks. The lightweight Portland Design Works...
Portland Design Works Payload Rear Rack - Steel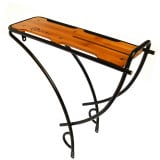 Racks have traditionally been a utilitarian afterthought, aweb of straight, small-diameter tubing forming a simple structure. The PortlandDesign Works Payload Rear Rack parts ways with those uninspiringcargo-carriers, in favor of eye-pleasing organic shapes and a bamboo deck. Its tough steel...
Portland Design Works Sodapop Frame Mount Fenders
Sure you could cut up, zip-tie, and epoxy a bunch of empty two-liters together to fashion a makeshift fender. But, unless you're delivering foodaboard a lead-sled, big-box store monstrosity then it's going to look a littleout of place on your beloved bicycle. Not mention, the effort and time...
Portland Design Works Takeout Handlebar Basket
Front baskets are convenient because of their location. The PortlandDesign Works Takeout Basket easily attaches to 25. 4 through 31. 8mm handlebarswith the included hardware. This makes it compatible with most city bikes, evenones with a suspension fork. The Takeout Basket features an eyelet for...
Saris Cycle Racks Axis Steel 4 Bike Hitch Rack
Retail Price:
$249.99
Our Price: $150.00
buy now
Saris hit a home run with its Bones series of strap-mounted rear car racks, so the company realized the smart move would be to translate the successful platform into a hitch-mounted design. The result is the Axis series, and the Saris Axis Steel 4 Bike Hitch Rack is the biggest and burliest of...
SKS Raceblade Fender Set
When pros train in Belgium they put on fenders like the SKS Raceblade. Why? Because rain or shine they're riding -- and don't want soaked backsides and legs. The Raceblade keeps you dry from road spray, and goes a long way to prevent the bike from getting waterlogged and otherwise trashed. The...
<< Prev | 1 | 2 | Next >>