Fenders Racks - Road Bike Shop
Shop
>
Accessories
>
Commuting & Touring
>
Fenders & Racks
Blackburn Cloudburst Fender Set
The Blackburn Cloudburst Fender Set won't save you from the stuff coming out of the sky, just the stuff that's already on the ground. That can still make the difference between riding all year and hanging up your trusty steed all winter.
Blackburn Dirt Merchant Rear Fender
It doesn't get much more humble than a dirt merchant, but the Blackburn Dirt Merchant Rear Fender gives the profession a great name. Jammed with features like multiple adjustment points to fit almost any bike, and an integrated reflector, it's also lightweight, durable, and requires no tools for...
Blackburn EX-1 Bike Rack
Drop a crate full of groceries on the tough-as-nails Blackburn EX-1 Bike Rack and pedal your goodies home without having to rock a giant backpack. Aircraft-grade aluminum keeps things light, and oversized tubing reinforcement gives this rack added strength. Need to take junior Lance along for the...
Blackburn EX-1 Top Deck Rack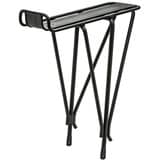 If we found a magic lamp we'd probably be tricked into blowing our first two wishes on things we don't really want. The third wish, though, is a no-brainer: a trunk for bikes. In the meantime, we've got the 45-pound cargo limit of Blackburn's redoubtable EX-1 Top Deck Rack. The EX-1 includes all...
Blackburn Outpost Fat Bike Rack
When fat bikes became all the rage, a lot more changed than just tire sizes. Accessories changed as well, and if you've been looking for a rack for your fat bike, it's probably been a pretty frustrating search. Blackburn changes that with the Outpost Fat Bike Rack. The Outpost has both height and...
Blackburn TRX-2 Ultimate Commuter Rack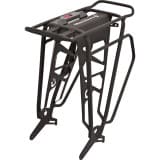 With the Blackburn TRX-2 Ultimate Commuter Rack, your carrying ability is limited only by your imagination. Featuring a versatile array of accessory attachment points, as well as both high and low pannier mounting options, you'll be able to perfectly tailor and balance your traveling load with...
Brooks England Hoxton Wire Basket
Reliable, worry-free, easy, stylish, and meticulously assembled in Italy--the Brooks Heritage Hoxton Wire Basket is ready to carry your goods while you pedal. The stylishly crafted Hoxton uses resilient metal for the basket, a branded wooden base, and a leather grip meticulously composed from...
Fendor Bendor Foldable Fender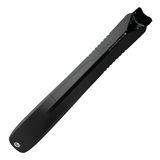 Retail Price:
$16.95
Our Price: $14.95
buy now
Commuting to work in the rain doesn't mean you have to sport a giant skunk stripe of mud, dirt, and water down your back. The Wit Industries Fendor Bendor Foldable Fendor folds into a small package that easily fits in your backpack or bike bag, and it whips out to securely attach to your seatstay...
Portland Design Works Dave's Mud Shovel Fat Bike Fender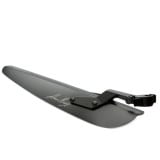 Ideally suited for fat-tire machines with its 5. 5-inch width, the Portland Design Works Dave's Mud Shovel Fat Bike Fender blocks trail grime and mud from caking your bike and spraying you. Its durable plastic design uses adjustable rubber mounting straps for easy installation along the down tube...
Portland Design Works Full Metal Fender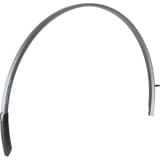 In the past ten years, Portland has turned from a city shadowed by Seattle's vibrant seaside culture to becoming America's cycling sweetheart. It's paved the way for advocacy, it houses countless frame builders, and it's a hub for the two-wheeled culture. And out of this cycling hot spot,...
<< Prev | 1 | 2 | 3 | Next >>