Truck Bed Racks - Road Bike Shop
Shop
>
Accessories
>
Car Racks
>
Truck Bed Racks
DAKINE Pick-Up Pad
Your buddies always make sure you drive to the trailhead--not because they enjoy your company, but because you have a truck. Unfortunately, your truck is taking a beating from all the bikes slung across the tailgate. The Dakine Pick-Up Pad is the best defense against chips and dings. Resting on...
Kuat Dirtbag Truck Bed Mount
Retail Price:
$13.00
Our Price: $11.99
buy now
You and your two great loves (your truck and your bike) are off on another adventure, during which you will undoubtedly tear up the landscape by day and discuss intimate feelings by night. The Kuat Dirtbag Truck Bed Mount readily clamps down on your bike fork to keep half of your loves from...
Thule Bed Rider Truck Mount
Give your bikes the best seat in the house with the Thule Bed Rider Truck Mount. Carry up to two bikes securely in the bed of your pickup by bolting them into the 9mm quick-release fork mounts. The fork mount carrier fits most sizes of pickup beds and bed liners, and attaches to the bed without...
Thule Gate Mate Tailgate Pad
You may hit the road with a bunch of trail-mates, but your favorite one is bound to be the durable Thule Gate Mate Tailgate Pad. Heavy-duty vinyl and extra padding is what helps keep your truck and everybody's bikes looking good. Durable, waterproof vinyl throughout protects both your truck's...
Thule Insta-Gator Truck Mount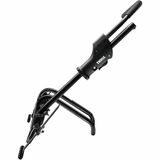 Thule made the Insta-Gater Bike Rack because they know you don't want your expensive bike sliding around in the back of your pickup. Thule's Insta-Gater quickly installs in most pick-up beds without any drilling or bolting. The Ratcheting Quick Load System holds the front wheel securely holds the...
Thule Locking Bed-Rider Add-On Block
The Thule Locking Bed-Rider Add-On Block will enhance your Thule 822 Bed-Rider and allow it to carry one more bike--say, if you pick up a hitch-hiking biker or something. The simple design lets your friend easily clip the fork of his bike to the fitting. It also includes a lock to secure it to...
Thule Locking Low-Rider Truck Mount
Mount a couple of the Thule Locking Low Rider Truck Mounts to any flat surface on your bed, and ditch the towel-over-the-tailgate method of carrying your downhill bikes to the trailhead. There's no need to awkwardly let your bike slide around in the bed, or even hang your front wheel over the...
Thule Low-Rider Bike Mount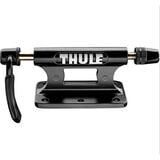 The Thule Low Rider is simultaneously the most basic and most versatile piece of bike mounting hardware in existence. The Low Rider is a fork-mounting block that can be attached to any flat surface. This means beds, walls, floors, caps, camper tops, random pieces of wood, boat decks, roofs, and...
Thule Xsporter Adapters
The Xsporter Adapters allow you to mount your favorite Thule rack parts and accessories on your Xsporter pickup rack. Editor's note: Check the sizing chart to determine which adapter is needed for your rack mount.
Thule Xsporter Pro Aluminum Truck Rack with Load Stops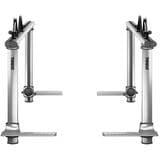 With the Thule Xsporter Pro Aluminum Rack mounted on your truck, you can carry pretty much any large doodad, thingy, geegaw, or whatsit that you have in your garage: kayaks, canoes, surfboards, SUPs, ladders, building supplies, giants. It doesn't require any drilling or cutting to mount, has an...
<< Prev | 1 | 2 | Next >>