Roof Racks Parts - Road Bike Shop
Shop
>
Accessories
>
Car Racks
>
Roof Racks & Parts
Thule Sprint XT T-Track Fork Mount Carrier
When you want to escape the constant stream of cars on your usual weekday rides, head out of town for the weekend with the Thule Sprint XT T-Track Fork Mount Carrier securing your two-wheeled getaway vehicle. Whether you're driving an hour into the country or further afield, this simple but solid...
Thule SR2910 Fat Bike Accessory Strap
Those big-bellied beasts that your fat bike rolls around on are too much for typical rack straps to handle, but the SR2910 Fat Bike Accessory Strap adds a bigger belt to Thule racks, letting them put on their big boy pants to cart around a fat bike.
Thule Thru-Axle Adapter
Unfortunately, your 20mm thru-axle won't mount on your QR-mount bike rack. The Thule Thru-Axle Fork adapter solves the problem quickly, easily, and inexpensively. The Thru-Axle Adapter works on any QR-mount bike rack, regardless of brand.
Thule ThruRide 9mm Skewer Accessory Kit
Thule's ThruRide 9mm Skewer Accessory Kit is a simple tool for a simple job. It slides through the fork mount head on your Thule 535 ThruRide sled in order to lock your 9mm quick-release dropout fork into place. Your road bike may not be as heavy as your thru-axle enduro sled, but that doesn't...
Thule ThruRide Fork Mount Carrier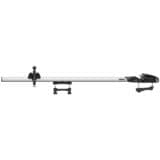 Whether you work the grind to get out on the open road during the weekends, or you carve out little rides each day, the Thule ThruRide Fork Mount Carrier is there to help you towards your riding goals. This premium thru-axle fork mount bike carrier makes it easy for you to grab 'n' go. There's...
Thule Trail Cargo Basket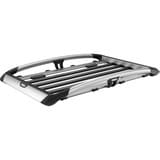 Retail Price:
$499.95
Our Price: $324.97
buy now
There's hardly any room in the car as it is and Jimmy has been yammering on about wanting to ride on the roof anyway, so strap the Thule Trail Cargo Basket on, make sure Jimmy's seated securely, and head off on vacation. Kidding. Keep your children inside the car, but take all your other gear --...
Thule Trail XT Cargo Basket
With all your mountain bikes packed in the hatch, there's barely room in your car for people, much less all the camping gear you need to keep things on the cheap and avoid hotel costs. So strap on the Thule XT Cargo Basket and bring along all your gear--tents, sleeping bags, marshmallows, and...
Thule Transporter Combination Hitch Cargo Carrier
Leave the rooftop shenanigans to Mr. Griswold. Thule's Transporter Combination Hitch Cargo Carrier attaches to your vehicle's hitch and offers you the most convenient way to transport up to 150 pounds of luggage and camping gear. The cargo box features a tilt-down design to offer you easy access...
Thule Traverse Fit Kit
The Thule Traverse Fit Kit pairs with the Thule Traverse Foot Pack, working to attach Thule's performance crossbars to your vehicle for a wide variety of recreational and transport uses. Please note that the Traverse Fit Kit is only compatible with Thule's Traverse 480 and 480R Feet.
Thule Traverse Foot Pack
Latch on the Thule Traverse Foot Pack and rest assured that the gear attached to your roof will be safe and sounds when you reach your destination. The Traverse's simple design and super-secure attachment mechanism make it a solid choice for hassle-free racking. Select your compatible 480 Fit Kit...
<< Prev | Back | 1 | 2 | 3 | 4 | 5 | 6 | 7 | 8 | 9 | 10 | More | Next >>