Roof Racks Parts - Road Bike Shop
Shop
>
Accessories
>
Car Racks
>
Roof Racks & Parts
Thule Load Straps - 2 Pack
Keep a pair of Thule Load Straps around for securing small loads like a surfboard, paddleboard, or kayak to your roof rack. (It's also useful for strapping unruly passengers on the outside of your vehicle.) Wrap these synthetic straps around your load bars, feed the tail end back through the...
Thule Lock Cylinders
Thule Lock Cylinders are arguably the most important part of your rack, that is, the part that keeps all your gear safe and secure on the rack. Thule Lock Cylinders are designed in one size to fit many Thule rack parts, so if a situation necessitates new locks, you can buy one package of Lock...
Thule Locking Strap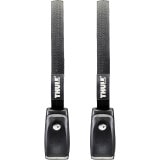 The Thule Locking Strap is a heavy-duty tie down strap you can use to secure your gear to your roof, rack, or trailer and keep it protected from sticky-fingered thieves. This strap features an innocuous looking nylon outer sleeve that's reinforced with a steel cable inside. Just wrap this strap...
Thule Outbound Cargo Bag
The Thule Outbound Cargo Bag packs a full load of gear for when you're driving far away and space is a concern. The test-proven, weather-resistant fabric protects your gear from anything you might come across on the road, and PVC-free means the bag is environmentally friendly. Compression straps...
Thule Paceline Fork Mount Carrier
Preparing for a bike trip can be more complicated than you'd think--at least the Thule Paceline Fork Mount Carrier lets you strap your bicycle to the roof of your car without a hassle. Thule made this carrier out of a lightweight aluminum that's resistant to corrosion, and it has an aerodynamic...
Thule Podium Fit Kit
You bought a Thule Podium Rack and now you need to match the feet to the roof of your car; don't sweat it. The Thule Podium Fit Kit arms you with the four pebax-coated, car-specific brackets and custom-fitted, rubberized footpads you need to mate the feet of your Podium rack with the roof of your...
Thule Podium Foot Half Pack with Kit 3101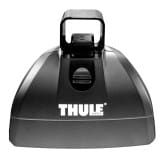 Attach a sport rack to the roof of a vehicle that has pre-installed mounting points with this Thule Kit. The Podium Foot Half Pack with 3101 Kit includes two Podium feet (half of the mounting kit) and two end caps. Why would you ever want only two feet? Maybe you broke one of your others and you...
Thule Podium Foot Packs
Thule created the Podium Foot Packs for newer cars with pre-installed attachment points for load carriers. These Fixpoints allow you to attach your rack without any of the usual hooked-under-the-rain-gutter stuff. Podium Foot Packs come in two options. One works with regular square bars and the...
Thule Prologue Bike Mount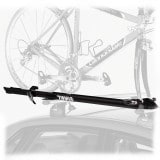 Tote your ride to and from the trailhead without breaking the bank thanks to the Thule Prologue Bike Mount. This fork-mounting rack features a super-secure, dual-lock mechanism that locks both the bike to the carrier and the carrier to your rack. The sleek design enhances aerodynamics, and the...
Thule Pulse Alpine Cargo Box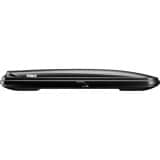 Instead of making your friends ride with gear piled high on their laps, mount up the Thule Pulse Alpine Cargo Box. The box is made from burly ABS material for years of reliable use, and the Tool-Free Quick-Grip mounting system allows you to secure the box to your rack in less than five minutes.
<< Prev | Back | 1 | 2 | 3 | 4 | 5 | 6 | 7 | 8 | 9 | 10 | More | Next >>