Roof Racks Parts - Road Bike Shop
Shop
>
Accessories
>
Car Racks
>
Roof Racks & Parts
Thule Podium Foot Half Pack with Kit 3101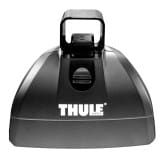 Attach a sport rack to the roof of a vehicle that has pre-installed mounting points with this Thule Kit. The Podium Foot Half Pack with 3101 Kit includes two Podium feet (half of the mounting kit) and two end caps. Why would you ever want only two feet? Maybe you broke one of your others and you...
Thule Podium Foot Packs
Thule created the Podium Foot Packs for newer cars with pre-installed attachment points for load carriers. These Fixpoints allow you to attach your rack without any of the usual hooked-under-the-rain-gutter stuff. Podium Foot Packs come in two options. One works with regular square bars and the...
Thule Prologue Bike Mount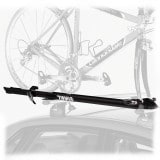 Thule's Prologue Bike Mount offers you an affordable and safe way to transport your bike, so you can invest that extra cash into your two-wheeled toy. The Prologue features a sleek, fork-mounting design with a dual-lock mechanism to secure your bike to the carrier and the carrier to your vehicle....
Thule Pulse Alpine Cargo Box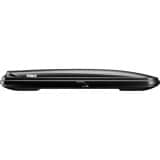 Instead of making your friends ride with gear piled high on their laps, mount up the Thule Pulse Alpine Cargo Box. The box is made from burly ABS material for years of reliable use, and the Tool-Free Quick-Grip mounting system allows you to secure the box to your rack in less than five minutes.
Thule Pulse Cargo Box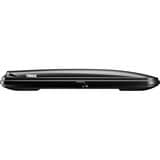 Thule designed the Pulse Cargo Box for the budget-minded driver with a serious outdoor addiction. Available in three sizes, the durable Pulse Cargo Box adds much-needed space to your car and separates your wet, muddy toys from your car's clean interior on the ride home. Easy-Grip mounting...
Thule Rapid Crossroad Railing Foot Pack
The Rapid Crossroad Railing Foot Pack lets you build a Thule roof rack system on your vehicle's factory-installed roof rack rails. With adjustment tools built into the feet, the Crossroad Railing Foot Pack attaches to your vehicle with ease and pairs with separately sold Thule Rapid Load Bars and...
Thule Round Trip Case Rack Mounting Kit
The Thule Round Trip Case Rack Mounting Kit allows you to attach your Thule Round Trip Bike Travel Case to your vehicle's roof rack system. Line the Round Trip Case with the protective weather stripping and then strap it to your roof using the two heavy duty nylon straps.
Thule Short Roofline Fit Kit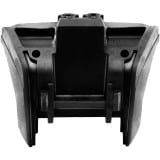 Retail Price:
$39.95
Our Price: $23.97
buy now
Turn your car into a weekend warrior with the help of the Thule Short Roofline Fit Kit. This part enables you to attach a Thule roof rack system to any vehicle with a short or curved roof line. It is compatible with the new Traverse feet and both Thule Rapid Aero and square load bars.
Thule Sidearm Universal Bike Mount
The Thule Sidearm will accommodate bikes with wheels between 20 and 29 inches, with tires up to three inches in diameter. This means you can take your new 29+ rig to the trailhead alongside Junior's new 24-inch kid bike, and use the same rack for both. The Sidearm attaches your bike to your rack...
Thule Sidekick Cargo Box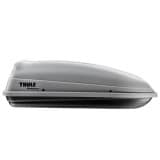 The Thule Side Kick is the smallest rooftop cargo box that Thule makes. This clamshell style box's shape and size make it perfect for carrying golf clubs and camping gear without monopolizing your roof space. The Side Kick is made of impact resistant polyurethane, and keeps your gear safe and...
<< Prev | Back | 1 | 2 | 3 | 4 | 5 | 6 | 7 | 8 | 9 | 10 | More | Next >>