Roof Racks Parts - Road Bike Shop
Shop
>
Accessories
>
Car Racks
>
Roof Racks & Parts
Thule Podium Direct Mount - Sheet Metal Applications
The Thule Podium Direct Mount Towers are made to mount directly to the factory-installed mount points (also called fixed points) on your rack for a super-clean factory look. Just add the correct fit kit and a pair of load bars, and you're in business.
Thule Podium Fit Kit
You bought a Thule Podium Rack and now you need to match the feet to the roof of your car; don't sweat it. The Thule Podium Fit Kit arms you with the four pebax-coated, car-specific brackets and custom-fitted, rubberized footpads you need to mate the feet of your Podium rack with the roof of your...
Thule Podium Foot Half Pack with Kit 3101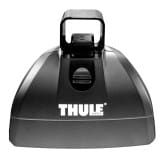 Attach a sport rack to the roof of a vehicle that has pre-installed mounting points with this Thule Kit. The Podium Foot Half Pack with 3101 Kit includes two Podium feet (half of the mounting kit) and two end caps. Why would you ever want only two feet? Maybe you broke one of your others and you...
Thule Podium Foot Packs
Thule created the Podium Foot Packs for newer cars with pre-installed attachment points for load carriers. These Fixpoints allow you to attach your rack without any of the usual hooked-under-the-rain-gutter stuff. Podium Foot Packs come in two options. One works with regular square bars and the...
Thule Prologue Bike Mount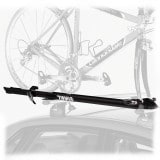 Tote your ride to and from the trailhead without breaking the bank thanks to the Thule Prologue Bike Mount. This fork-mounting rack features a super-secure, dual-lock mechanism that locks both the bike to the carrier and the carrier to your rack. The sleek design enhances aerodynamics, and the...
Thule Pulse Alpine Cargo Box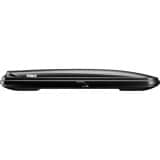 Instead of making your friends ride with gear piled high on their laps, mount up the Thule Pulse Alpine Cargo Box. The box is made from burly ABS material for years of reliable use, and the Tool-Free Quick-Grip mounting system allows you to secure the box to your rack in less than five minutes.
Thule Pulse Cargo Box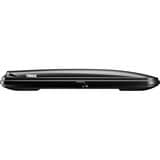 Thule designed the Pulse Cargo Box for the budget-minded driver with a serious outdoor addiction. Available in three sizes, the durable Pulse Cargo Box adds much-needed space to your car and separates your wet, muddy toys from your car's clean interior on the ride home. Available in 3 sizes to...
Thule Rapid Traverse Foot Pack
The Thule Rapid Traverse Foot Pack takes the hassle out of roof-racking your gear thanks to its simple design and quick, easy installation. Designed for use with Thule's Aero bars, this foot pack helps simplify and secure your gear storage solution. Select your compatible 480 Fit Kit, toss on a...
Thule Round Trip Case Rack Mounting Kit
The Thule Round Trip Case Rack Mounting Kit allows you to attach your Thule Round Trip Bike Travel Case to your vehicle's roof rack system. Line the Round Trip Case with the protective weather stripping and then strap it to your roof using the two heavy duty nylon straps.
Thule Short Roofline Fit Kit
Turn your car into a weekend warrior with the help of the Thule Short Roofline Fit Kit. This part enables you to attach a Thule roof rack system to any vehicle with a short or curved roof line. It is compatible with the new Traverse feet and both Thule Rapid Aero and square load bars.
<< Prev | Back | 1 | 2 | 3 | 4 | 5 | 6 | 7 | 8 | 9 | 10 | More | Next >>