Roof Racks Parts - Road Bike Shop
Shop
>
Accessories
>
Car Racks
>
Roof Racks & Parts
Thule Hyper XL Cargo Box
Retail Price:
$959.95
Our Price: $766.95
buy now
17 cubic feet. That's as much as many cars and small SUVs can hold, and you can relocate all the stuff you've been cramming into your car into the Thule Hyper XL Cargo Box. The Hyper XL includes intelligent features like an integrated light to help you see what's inside the box, aerodynamic...
Thule Interstate Cargo Bag
Retail Price:
$199.95
Our Price: $158.95
buy now
When you throw all of your road-trip extras and essentials in most cargo bags, you either hope for good weather or you head to the driest national parks. The Thule Interstate Cargo Bag is a game changer, though. It's Thule's most weather-resistant cargo bag, which has been IP-test-verified for...
Thule Load Bar Pair
If you want a rack that will outlast your car, Thule is the company to turn to. Once you've added the appropriate mounting feet for your vehicle, the Thule Load Bars are your best bet to hold your precious cargo. They are available in four lengths to provide a variety of options for gear mounts....
Thule Load Stops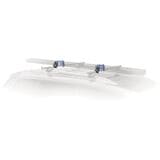 Retail Price:
$74.95
Our Price: $58.95
buy now
The Thule Load Stops hold gear on your roof rack like bookends hold up all those rows of books in the library. With quick installation, you can get on the road with lumber, ladders, small boats, or any other big gear you need to haul. As an addition, the separately sold Thule Load Straps can pass...
Thule Load Straps - 2 Pack
Retail Price:
$34.95
Our Price: $26.95
buy now
Keep a pair of Thule Load Straps around for securing small loads like a surfboard, paddleboard, or kayak to your roof rack. (It's also useful for strapping unruly passengers on the outside of your vehicle.) Wrap these synthetic straps around your load bars, feed the tail end back through the...
Thule Lock Cylinders
Retail Price:
$59.95
Our Price: $46.95
buy now
Protect your stuff and make sure it stays on the rack with Thule Lock Cylinders. They're made in one size that works with all sorts of different Thule rack parts so you can get a package of Lock Cylinders and lock everything up with just a single key to keep track of.
Thule Locking Strap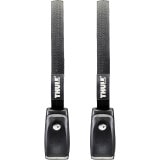 Retail Price:
$69.95
Our Price: $54.95
buy now
The Thule Locking Strap is a heavy-duty tie down strap you can use to secure your gear to your roof, rack, or trailer and keep it protected from sticky-fingered thieves. This strap features an innocuous looking nylon outer sleeve that's reinforced with a steel cable inside. Just wrap this strap...
Thule Outbound Cargo Bag
The Thule Outbound Cargo Bag packs a full load of gear for when you're driving far away and space is a concern. The test-proven, weather-resistant fabric protects your gear from anything you might come across on the road, and PVC-free means the bag is environmentally friendly. Compression straps...
Thule Pivoting Tandem Carrier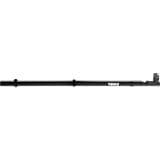 Retail Price:
$439.95
Our Price: $350.95
buy now
Thule's Pivoting Tandem Carrier enables one person to load a tandem bike on the roof of their car. Thule designed the Tandem Carrier to be easy to mount to either square or round load bars so that you don't have to leave the bike carrier on your vehicle all the time. When you can't find someone...
Thule Podium Fit Kit
Retail Price:
$94.95
Our Price: $74.95
buy now
Your new Thule Podium Rack is perfectly compatible with your car, you just need the Podium Fit Kit to push the deal through. The Fit Kit is car-specific, so you'll need to find the right kit for your car. Check out the Thule Configurator before ordering.
<< Prev | Back | 1 | 2 | 3 | 4 | 5 | 6 | 7 | 8 | 9 | 10 | More | Next >>