Roof Racks Parts - Road Bike Shop
Shop
>
Accessories
>
Car Racks
>
Roof Racks & Parts
Thule AeroBlade Load Bar Pair
Round and square cross bars make the same amount of noise. Precisely measured, it's a lot. Thule AeroBlade Load Bars are specially designed to reduce wind noise, so your modern, aerodynamic sedan doesn't sound like a dump truck breaking the sound barrier.
Thule Big Mouth Bike Mount
Your bike ain't goin' nowhere! says the Thule Big Mouth bike rack. The Big Mouth's titular Big Mouth is a clamp that securely grabs your bike's frame to hold it in place without you having to remove the front wheel. With this secure bike carrier, all you do is put your wheels in the track,...
Thule Circuit Fork Mount Carrier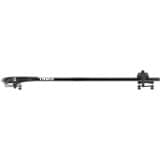 Aerodynamic and lightweight, the Thule Circuit Fork Mount Carrier is a simple solution to carrying your bike on the roof of your car. This system uses an aluminum tray that installs easily and locks to your existing crossbars. Just remove your front wheel, strap your rear wheel into the wheel...
Thule Complete CrossRoad System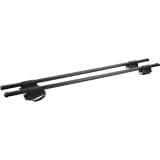 If you've ever wondered what to do with those goofy bars running front to back on your car, then the Thule Complete CrossRoad System will help turn those raised factory side rails into a multi-purpose gear-carrying machine. Four adjustable feet conform to your current side rails, and two square...
Thule Dynamic 900 - Chrome Limited Edition Cargo Box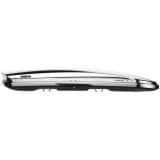 Retail Price:
$1999.95
Our Price: $1599.99
buy now
Transport your gear in rocket-ship style and aerodynamic efficiency in the super-deluxe Thule Dynamic 900 Chrome Limited Edition Cargo Box. This box is made from thermoformed ABS plastic with acrylic cap and UV package for bomber durability and performance. It's finished in high-gloss chrome for...
Thule Evolution 1600XT Cargo Box
Retail Price:
$450.00
Our Price: $200.00
buy now
Rather than spending 16 hours playing trunk Tetris with two children, one dog, and 17 million pieces of gear, just throw the Thule Evolution 1600XT Cargo Box on the roof, toss what you need inside, and set off for a week in the woods or a day on the slopes. With 16 cubic feet of storage space,...
Thule Fairings
The Thule Fairing cuts down on the drag and wind noise that your Thule bars make when you're blasting down the highway on your way to parts unknown with a roof full of gear. Thule Fairings are cake to install, and use rubber bumpers and anti-scuff film to protect your vehicle's finish. Editors...
Thule Force Alpine Cargo Box
Thanks to its Tool-Free Quick-Grip Mounting system, you can have the Thule Force Alpine Cargo Box secured on your rack in less than five minutes. Which means you'll spend your Saturday making turns instead of fussing over a complicated mounting procedure. The SecureLock ensures you won't drive...
Thule Force Cargo Box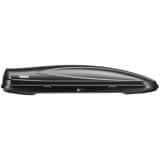 Your gear gets wet, muddy, smelly, and covered in snow. Keep it out of your car with the Thule Force Cargo Box. The Force is available in three different sizes to accommodate your needs according to the size of your car, your family, and your habit. The Force also opens and locks from either side...
Thule Gutter Foot Pack
The Thule Gutter Foot Pack includes four Gutter Feet to affix your Thule rack system to your car. As their name suggest, the Gutter Foot is designed to mount to vehicles with rain gutters. Editors Note: Call for assistance if you aren't sure about fitting your rack.
<< Prev | Back | 1 | 2 | 3 | 4 | 5 | 6 | 7 | 8 | 9 | 10 | More | Next >>