Roof Racks Parts - Road Bike Shop
Shop
>
Accessories
>
Car Racks
>
Roof Racks & Parts
Thule Canyon Cargo Basket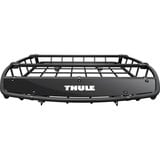 Retail Price:
$299.95
Our Price: $239.96
buy now
No matter how much room you have in your car, it always seems to fill up, especially on camping trips and road trips. The way home is even worse--cramped and stinky. Thule hears your pain. The Canyon Cargo Basket adds a whopping 12 square feet of cargo space to your car. Even better, the...
Thule Circuit Fork Mount Carrier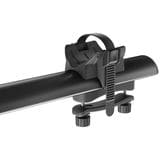 Retail Price:
$159.95
Our Price: $126.95
buy now
Aerodynamic and lightweight, the Thule Circuit Fork Mount Carrier makes a simple, reliable solution for carrying your bike on the roof of your car. Weekend trips and early morning race departures will involve fewer arguments and less stress with this user-friendly system, whose ease of use is...
Thule Complete CrossRoad System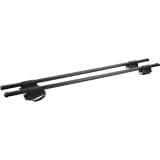 Retail Price:
$349.95
Our Price: $278.95
buy now
If you've ever wondered what to do with those goofy bars running front to back on your car, then the Thule Complete CrossRoad System will help turn those raised factory side rails into a multi-purpose gear-carrying machine. Four adjustable feet conform to your current side rails, and two square...
Thule Complete Raised Rail Roof Rack System
The last thing you want when you head out on the open road, windows down, alt rock blasting from the speakers, is to realize you left a crucial piece of gear behind at home. Whether you're winding along dirt roads in your early-2000's SUV or hitting the highway in your fuel-savvy hatchback,...
Thule Criterium Bike Mount

Retail Price:
$189.95
Our Price: $150.95
buy now
The Thule Criterium bike carrier will save you substantial amounts of fumbling time getting your bike onto the roof. The clamp adjustment dial is down at roof level, since most of us aren't 8 feet tall, and the rubberized clamp will baby your bike's frame. When you reach your destination, Thule...
Thule Crossroad Railing Foot Pack
The Thule Crossroad Railing Foot pack makes installing your cross bars to your car's factory side rails easy. And, because the system uses flexible clamp straps, it installs to just about any factory side rails.
Thule Force Cargo Box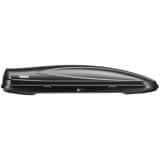 Retail Price:
$529.95
Our Price: $422.95
buy now
There's plenty of wet, muddy, and smelly stuff in your life--skis, clothes, tents, dogs, and small children--but the Thule Force Cargo Box has enough room to carry it all, so the inside of your car stays clean (note: putting living things in the Force is not actually recommended.) Thule made it...
Thule Gutter Foot Pack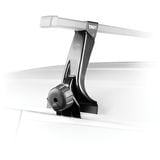 Retail Price:
$219.95
Our Price: $158.95
buy now
The Thule Gutter Foot Pack includes four Gutter Feet to affix your Thule rack system to your car. As their name suggest, the Gutter Foot is designed to mount to vehicles with rain gutters. Editors Note: Call for assistance if you aren't sure about fitting your rack.
Thule Hood Loop Strap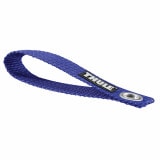 Retail Price:
$14.95
Our Price: $10.95
buy now
If you've ever put a canoe or kayak onto your roof rack and then realized that you didn't have anywhere to attach the bow line underneath the front of your car, then you need the Thule Hood Loop Strap. This strap attaches to any available bolt heads under the hood of your vehicle to create an...
Thule Interstate Cargo Bag
When you throw all of your road-trip extras and essentials in most cargo bags, you either hope for good weather or you head to the driest national parks. The Thule Interstate Cargo Bag is a game changer, though. It's Thule's most weather-resistant cargo bag, which has been IP-test-verified for...
<< Prev | Back | 1 | 2 | 3 | 4 | 5 | 6 | 7 | 8 | 9 | 10 | More | Next >>