Roof Racks Parts - Road Bike Shop
Shop
>
Accessories
>
Car Racks
>
Roof Racks & Parts
Thule Locking Strap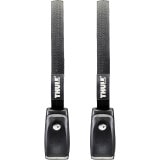 The Thule Locking Strap is a heavy-duty tie down strap you can use to secure your gear to your roof, rack, or trailer and keep it protected from sticky-fingered thieves. This strap features an innocuous looking nylon outer sleeve that's reinforced with a steel cable inside. Just wrap this strap...
Thule M.O.A.B. Basket
It's called the Mother Of All Baskets for a reason--the Thule M. O. A. B. Basket securely transports your gear and your toys, freeing up a ton of interior vehicle space (for a four-legged friend, perhaps). Thanks to its heavy-duty, smooth black construction, it also imparts a dash of rugged,...
Thule M.O.A.B. Extension
The Thule M. O. A. B. Basket Extension increases the Moab basket's length by 18in. It's easy to install and makes the most of roof space on larger 4x4s, vans, and SUVs. Plus, it helps contain larger items, so you don't have to leave your couch at home when you go camping.
Thule Outbound Cargo Bag
The Thule Outbound Cargo Bag packs a full load of gear for when you're driving far away and space is a concern. The test-proven, weather-resistant fabric protects your gear from anything you might come across on the road, and PVC-free means the bag is environmentally friendly. Compression straps...
Thule Paceline Fork Mount Carrier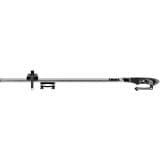 Preparing for a bike trip can be more complicated than you'd think--at least the Thule Paceline Fork Mount Carrier lets you strap your bicycle to the roof of your car without a hassle. Thule made this carrier out of a lightweight aluminum that's resistant to corrosion, and it has an aerodynamic...
Thule Pivoting Tandem Carrier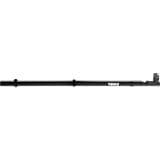 Thule's Pivoting Tandem Carrier enables one person to load a tandem bike on the roof of their car. Thule designed the Tandem Carrier to be easy to mount to either square or round load bars so that you don't have to leave the bike carrier on your vehicle all the time. When you can't find someone...
Thule Podium Direct Mount - Fiberglass Applications
When you're ready to add a roof rack to your car or truck's fiberglass roof, don't use duct tape, use the Thule Podium Direct Mount as a base for your ultimate gear-hauling super structure. This kit comes with four strong steel mounts to drill and secure to your truck, car, or camper's fiberglass...
Thule Podium Direct Mount - Sheet Metal Applications
The Thule Podium Direct Mount Towers are made to mount directly to the factory-installed mount points (also called fixed points) on your rack for a super-clean factory look. Just add the correct fit kit and a pair of load bars, and you're in business.
Thule Podium Fit Kit
You bought a Thule Podium Rack and now you need to match the feet to the roof of your car; don't sweat it. The Thule Podium Fit Kit arms you with the four pebax-coated, car-specific brackets and custom-fitted, rubberized footpads you need to mate the feet of your Podium rack with the roof of your...
Thule Podium Foot Half Pack with Kit 3101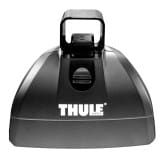 Attach a sport rack to the roof of a vehicle that has pre-installed mounting points with this Thule Kit. The Podium Foot Half Pack with 3101 Kit includes two Podium feet (half of the mounting kit) and two end caps. Why would you ever want only two feet? Maybe you broke one of your others and you...
<< Prev | Back | 1 | 2 | 3 | 4 | 5 | 6 | 7 | 8 | 9 | 10 | More | Next >>