Roof Racks Parts - Road Bike Shop
Shop
>
Accessories
>
Car Racks
>
Roof Racks & Parts
RockyMounts Euro Pitchfork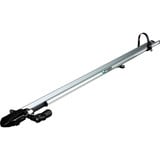 Though its name conjures images of crazed townsfolk in search of a misunderstood monster, RockyMounts' Euro Pitchfork is the singular, thoughtful solution to the compatibility issues that plague modular bicycle racks. It slots on to most stock and aftermarket aerodynamic roof racks, and it fits...
RockyMounts Ouray Crossbar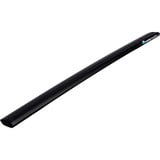 After years of only making rack systems to adapt to other rack companies' crossbars, RockyMounts is stepping into the ring with its own, the Ouray Crossbars. The Ouray bars are made from what it calls "thick wall" aluminum that is 20% thicker than most of the competition, upping the bars'...
RockyMounts PitchFork Bike Mount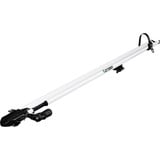 Whether you're gearing up for a weekend bike adventure or getting run out of town by a mob of angry locals, RockyMounts' Pitchfork Bike Mount is your solution for easy, secure bike transportation. The clamp head is compatible with all standard road and mountain quick-release forks, and the rear...
RockyMounts Tandem Tailpipe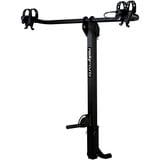 Think carrying a bike on a rack sounds like a hassle? Try carrying a double-sized bike. Tandems present their own particular logistical challenges when you're trying to transport them long distances. The RockyMounts Tandem Tailpipe Bike Rack makes life with a tandem a bit easier, however. Widely...
RockyMounts The Fattie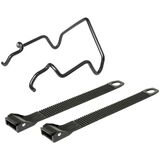 The Fattie
RockyMounts TieRod Bike Mount
You might have thought ahead and ordered the factory crossbars for your car's roof rack only to realize that the frustration of trying to find a secure bike mount to fit the bars far outweighs any initial convenience. RockyMounts' TieRod puts the simplicity back into the process with its...
Thule Aero Fit Kit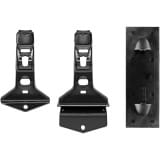 You bought a Thule Aero Rack and now you need to match the feet to the roof of your car; don't sweat it. The Thule Aero Fit Kit arms you with the four pebax-coated, car-specific brackets and custom-fitted, rubberized footpads you need to mate the feet of your Aero rack with the roof of your...
Thule AeroBlade Edge Flush Mount Load Bar - 1 Bar
If you've ever opened your sunroof with your roof rack installed, you know it sounds like a dump truck full of blow dryers in a wind tunnel. For the past few years, roof rack manufacturers have been developing bars that cut down on drag and wind noise, and nobody's doing it better than Thule. The...
Thule AeroBlade Edge Raised Rail Load Bar - 1 Bar
With the AeroBlade Edge Raised Rail Load Bar, it's clear that Thule isn't playing around with the security of roof rack cargo systems. Thule goes so far as to claim that the Box Beam Load Structure makes the AeroBlade the strongest aftermarket bar in the industry. Since we've never had reason to...
Thule AeroBlade Load Bar Pair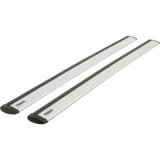 The wind noise from a roof rack may not seem like a big deal, but try listening to it for six months, or six years. Eventually it's just maddening, especially if you like to open your sunroof. The Thule AeroBlade Load Bars are specifically designed to eliminate wind noise, so you can open that...
<< Prev | Back | 1 | 2 | 3 | 4 | 5 | 6 | 7 | 8 | 9 | 10 | More | Next >>