Roof Racks Parts - Road Bike Shop
Shop
>
Accessories
>
Car Racks
>
Roof Racks & Parts
Rhino-Rack XTray Large Roof Mount Cargo Basket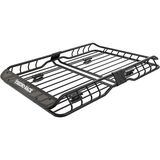 Retail Price:
$398.95
Our Price: $349.00
buy now
Whether you're heading out with friends on a gear-intensive expedition, making the big move cross-country, or simply going on a family vacation, expand your carrying capacity with the Rhino-Rack XTray Large Roof Mount Cargo Basket. It frees up roughly twenty square feet of floor space in the car...
RockyMounts 14er Cargo Basket
Named for Colorado's beloved "14ers" -- the 53ish different 14,000+ feet peaks strewn across the state -- the RockyMounts 14er Cargo Basket is more than ready to tote whatever you need to make it to the top. Made of tough, corrosion-resistant, powder-coated steel, the 14er can carry up to 150lbs...
RockyMounts BrassKnuckles Upright Mount
Quickly mount your road or mountain bike to your car without having to remove your front wheel with the RockyMounts BrassKnuckles Upright Mount. The from-fitting mounting hardware is universally compatible with any crossbar, while the wheels-on bike mount accommodates 20-29 inch wheels. The...
RockyMounts Euro Pitchfork
To an avid traveling cyclist, the roof is the most important part of the car. Sure, you could make arguments that other parts, like the engine, or the steering wheel, are somewhat important, as well, but let's be honest: engines and steering wheels rarely carry bikes. Roof racks can get...
RockyMounts Lock Core Pack
It's bad enough that you have to put your beloved steed on top of your car instead of in a nice crushed velvet cocoon on the passenger seat. The Rocky Mounts Lock Core Pack keeps your ride safe and secure. The cores are compatible with all Rocky Mounts racks, and each pack is keyed alike, so you...
RockyMounts Ouray Crossbar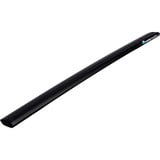 After years of only making rack systems to adapt to other rack companies' crossbars, RockyMounts is stepping into the ring with its own, the Ouray Crossbars. The Ouray bars are made from what it calls "thick wall" aluminum that is 20% thicker than most of the competition, upping the bars'...
RockyMounts PitchFork Bike Mount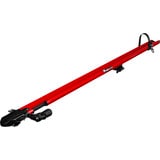 Whoever decided that bikes should be carried on your roof was a genius. We appreciate the fact that what was originally just a waste of space is turned into the very most important part of the car with a simple, clamp-on apparatus. You could make arguments that other parts of the car, like the...
RockyMounts Tandem Tailpipe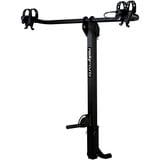 Think carrying a bike on a rack sounds like a hassle? Try carrying a double-sized bike. Tandems present their own particular logistical challenges when you're trying to transport them long distances. The RockyMounts Tandem Tailpipe Bike Rack makes life with a tandem a bit easier, however. Widely...
RockyMounts The Fattie
The Fattie
RockyMounts TieRod Bike Mount
You might have thought ahead and ordered the factory crossbars for your car's roof rack only to realize that the frustration of trying to find a secure bike mount to fit the bars far outweighs any initial convenience. RockyMounts' TieRod puts the simplicity back into the process with its...
<< Prev | Back | 1 | 2 | 3 | 4 | 5 | 6 | 7 | 8 | 9 | 10 | More | Next >>