Roof Racks Parts - Road Bike Shop
Shop
>
Accessories
>
Car Racks
>
Roof Racks & Parts
RockyMounts Switch Hitter Bike Mount
Retail Price:
$189.95
Our Price: $179.95
buy now
The RockyMount Switch Hitter Bike Mount is a versatile fork-mounted bike carrier, attaching to virtually any crossbar system with its universal mounting hardware. T-track hardware is included for slotted bars. Lightweight cast aluminum construction is robust and non-corrosive, with a sleek...
RockyMounts The Fattie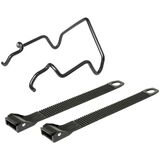 Retail Price:
$19.95
Our Price: $17.95
buy now
The Fattie
RockyMounts TieRod Bike Mount
You might have thought ahead and ordered the factory crossbars for your car's roof rack only to realize that the frustration of trying to find a secure bike mount to fit the bars far outweighs any initial convenience. RockyMounts' TieRod puts the simplicity back into the process with its...
Thule Accessory Strap Kit - 4-Pack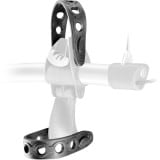 Avoid those nasty surprises when you look in the rear view mirror and secure your bike with the Thule Accessory Strap Kit. This set of four straps replaces any lost or broken rubber stretchable straps on Thule or other brand rack cradles (the kind with protruding attachment knobs on the sides).
Thule Aero Fit Kit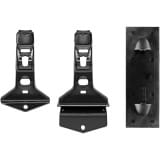 Retail Price:
$99.95
Our Price: $54.97
buy now
You bought a Thule Aero Rack and now you need to match the feet to the roof of your car; don't sweat it. The Thule Aero Fit Kit arms you with the four pebax-coated, car-specific brackets and custom-fitted, rubberized footpads you need to mate the feet of your Aero rack with the roof of your...
Thule AeroBlade Edge Flush Mount Load Bar - 1 Bar
If you've ever opened your sunroof with your roof rack installed, you know it sounds like a dump truck full of blow dryers in a wind tunnel. For the past few years, roof rack manufacturers have been developing bars that cut down on drag and wind noise, and nobody's doing it better than Thule. The...
Thule AeroBlade Edge Raised Rail Load Bar - 1 Bar
With the AeroBlade Edge Raised Rail Load Bar, it's clear that Thule isn't playing around with the security of roof rack cargo systems. Thule goes so far as to claim that the Box Beam Load Structure makes the AeroBlade the strongest aftermarket bar in the industry. Since we've never had reason to...
Thule AeroBlade Load Bar Pair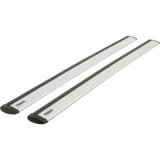 The wind noise from a roof rack may not seem like a big deal, but try listening to it for six months, or six years. Eventually it's just maddening, especially if you like to open your sunroof. The Thule AeroBlade Load Bars are specifically designed to eliminate wind noise, so you can open that...
Thule AirScreen
The Thule AirScreen softens disturbing noise by redirecting airflow around your roof rack system, especially when you're driving through strong headwinds at highway speeds. It's fully compatible with Thule's AeroBlade, AeroBlade Edge, and SquareBar racks, with the SquareBar system requiring the...
Thule Board Shuttle
As chairman of the local Surf 'n' SUP committee, it's up to you demonstrate the awesomeness of the Thule Board Shuttle to your constituents. It's pretty easy, though--all you have to do is show up at the beach with the Shuttle screwed onto your car's crossbars (the FlipFit bracket is compatible...
<< Prev | Back | 1 | 2 | 3 | 4 | 5 | 6 | 7 | 8 | 9 | 10 | More | Next >>