Roof Racks Parts - Road Bike Shop
Shop
>
Accessories
>
Car Racks
>
Roof Racks & Parts
Wasatch Powder Monkeys Yakima Viper Fork Mount Adapter Kit
Instead of spending minutes or hours wrestling your bike mount off, rely on the Wasatch Powder Monkeys Yakima Viper Fork Mount Adapter Kit to help simplify your life. This nifty adapter kit attaches to your Yakima Viper Fork Mount and then easily slides on and off the Switchblade Crossbars sports...
Yakima 86 Inch Round Bar - 1 Pair
Please the river rats when you fix a pair of the Yakima 86 Inch Round Bars to your rig. These bars attach to your car or truck's roof with a Yakima tower system (sold separately), and give you a seven-foot-wide platform to stack and tie-down boats when you and your wild whitewater friends shuttle...
Yakima 9 Ft SKS Cable
Retail Price:
$39.00
Our Price: $30.99
buy now
Deter theft, and secure your boat, bike, snowboard, or nearly anything else that fits on your roof rack with the Yakima SKS Cable. Yakima designed this nine-foot cable so you can adjust its length to fit wide or narrow objects. Because this cable is SKS-compatible, you can use the same key to...
Yakima BasketCase Stretch Net
Retail Price:
$30.00
Our Price: $23.99
buy now
The oh-so-accommodating Yakima BasketCase Stretch Net conforms to your load and prevents roadside yard sales and desperately dodging traffic to retrieve rogue gear. Yakima designed this net specifically for your roof-mount BasketCase for a perfect and secure fit to hold wet or dirty gear out of...
Yakima Boa Bike Mount
Retail Price:
$69.00
Our Price: $54.99
buy now
The Yakima Boa Bike Mount fits a wider range of crossbar spreads(32"-50") with a roataing wheel tray. The Boa provides great stability with it's sleek fork design, and attaches quickly with a locking Long Throw Skewer. Mounts equally well to round or square crossbars. Lockable with SKS cores-sold...
Yakima Fork Lift Bike Carrier
The Fork Lift Bike Carrier represents Yakima's first ever direct-to-factory-crossbar fork mount bike rack. Easy to install and compatible with almost any fork with disc-brakes, the Fork Lift comes ready to work. The sleek design sits low on your factory rack and looks hot on top of your whip....
Yakima GetOut Bag
Retail Price:
$99.00
Our Price: $45.00
buy now
If cruising around everywhere with one of those bulbous plastic clamshell cases on your roof isn't quite your style, but you do occasionally need some extra space for junk that won't fit in the trunk, a practical rescue comes in the form of the roof-ready Yakima GetOut Bag. The GetOut is a...
Yakima HighRoller Upright Bike Mount
Retail Price:
$199.00
Our Price: $158.99
buy now
You know what isn't any fun at all? Taking your bike apart so you can load it on your car. You know what else isn't any fun? Driving away without your bike's front wheel because you had to take it off when you loaded your bike up. Yakima calls the HighRoller 'the finest bike rack mount in the...
Yakima Horizontal Mighty Mount - Set of 4
Retail Price:
$34.00
Our Price: $16.99
buy now
Yakima Horizontal Mighty Mounts are simple attachments that convert popular factory racks into a multi-sport system instead of having to buy a separate basic Yakima rack. They are a quick and easy, economical way to attach Yakima bike mounts, baskets, and water accessories to your factory rack....
Yakima Landing Pad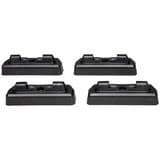 Retail Price:
$39.00
Our Price: $14.99
buy now
Yakima Landing Pads work in conjunction with Control Towers as a quick 'n' easy-to-install rack. Landing Pads fit a broad range of factory tracks, and can also be applied directly to the vehicle roof with plusnut hardware.
<< Prev | Back | 11 | 12 | 13 | 14 | 15 | 16 | 17 | More | Next >>