Roof Racks Parts - Road Bike Shop
Shop
>
Accessories
>
Car Racks
>
Roof Racks & Parts
Yakima WB701 Aero Mid-Size Cargo Carrier
Yakima's Whispbar collection focuses on making cargo boxes stylish as well as functional, and the Aero Mid-Size Cargo Carrier is one of Whispbar's finest creations. Its aerodynamic aesthetic complements most mid-sized vehicles in terms of storage and style, and a premium automotive finish helps...
Yakima Whispbar Fitting Kit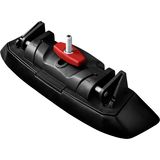 Now that you've invested in the ultra sleek, noise- and wind-reducing Yakima Whispbar crossbars to help transport your toys, you'll need to attach them to your ride. Based on your vehicle model, you may need the Yakima Whispbar Fitting Kit to attach the suitable Smartfoot System to the roof rails.
Yakima Whispbar Flush Bar Rack Kit
Yakima's Whispbar Flush Bar Rack Kit is designed to reduce the profile of the bars on your roof, which means less air hits them, which means that air makes less noise as it moves around your racks. The aerofoil shape is based on an airplane wing, which won't make your car fly, but it will cut...
Yakima Whispbar Heavy Duty Bar Rack Kit
It doesn't matter if you transport a posse of skiers, a gang of mountain bikers, or a gaggle of boaters from your home base to every good spot known to man, the Yakima Whispbar Heavy Duty Bar Rack Kit can handle the load. Heavy-duty Whispbars offer significantly reduced drag and noise while...
Yakima Whispbar MightyMount - 4-Pack
Expand your rack's horizons with the ultra-accommodating Yakima Whispbar MightyMount, compatible with your Whispbar Flush or Whispbar HD. Don't let your Whispbar roof rack ride around naked and lonely; pair it up with gear-carrying accessories and take it out biking, boating, or whatever other...
Yakima Whispbar Rail Bar Rack Kit
While your car may already be equipped with sidebars, the Yakima Whispbar Bar Rack Kit will add immeasurable usability to your roof. And while older crossbars require drilling and other permanent attachments to your automobile, the Whispbar Rail Bars only need the towers that match with your...
Yakima Whispbar Through Bar Rack Kit
The new Yakima Whispbar Through Bar Rack Kit features a pass-through tower design to give you a few extra (crucial) inches to maximize your gear load. When winter tricks you with spring-like conditions, attach your bike racks to the wind-reducing, fuel-economy-increasing Whispbars and head south....
<< Prev | Back | 11 | 12 | 13 | More | Next >>