Roof Racks Parts - Road Bike Shop
Shop
>
Accessories
>
Car Racks
>
Roof Racks & Parts
Yakima SkyBox 18 Carbonite Cargo Box
Slap the Yakima SkyBox 18 Carbonite Cargo Box on your vehicle's roof and go to the Grand Canyon, or Grand Targhee, or Grandmother's house; the point is, with 18 cubic feet of storage space, you'll have plenty of room for about four people's worth of hiking gear, skis, or extra cat food. Yakima's...
Yakima SkyBox 21 Carbonite Cargo Box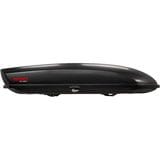 Five people's about the maximum number you can fit in a car, and if you have to stuff gear in there too? You might as well stay at home and watch re-runs. Throw the Yakima SkyBox Carbonite 21 Cargo Box on the roof of your vehicle, though, and your road trip will seem like a first-glass luxury...
Yakima SkyBox Lo Carbonite Cargo Box
For secure rooftop cargo transportation, it's hard to see past Yakima's SkyBox Lo Carbonite Cargo Box. Actually, it's really easy to see past it because of its low-profile, aero design, which equates to mounting an extra trunk on your roof without the drag tax of boxier models. Internal lid...
Yakima SkyBox Pro 12 Cargo Box
With 12 cubic feet of storage space, the Yakima SkyBox Pro 12 Cargo Box eliminates car-interior clutter on road trips. The box can be conveniently opened from either side, the internal gear net and cargo pad prevent your gear from sliding around on winding canyon roads, and the slim design leaves...
Yakima SoftTop
Super-affordable and easy to use, the Yakima SoftTop secures to vehicles with and without roof racks, instantly adding 12 cubic feet of storage for weekend excursions and long-distance road trips. Its naked roof straps attach directly onto the roof of your vehicle, meaning you can use this...
Yakima Sprocket Rocket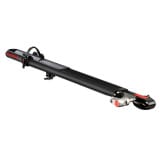 When the ride is over and it's time to get back, cramming your wet, muddy bike in the back of your car can be a real hassle. That's why Yakima built the SprocketRocket Bike Carrier for your roof rack. The SprocketRocket's sleek skewer installs easily--you don't need tools--and fits both fat and...
Yakima Tracks - 42 w/ PlusNuts
The Yakima 42-inch Tracks w/PlusNuts provides an exceptionally strong attachment point for Yakima Control Towers and Yakima LandingPad 1. The low-profile design is hardly perceptible on your vehicles roof when the Control Towers and LandingPads are removed.
Yakima WB201 Frame Mount Bicycle Carrier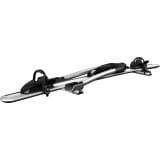 Carrying your bike on your rooftop crossbars has never been easier. Yakima's Whispbar WB201allows you to securely place your bike on either its Whispcar crossbars or other round or square crossbars without removing the front wheel. The WB201 utilizes Quickdock mounts, which slip the tray into...
Yakima WB700 Aero Compact Cargo Carrier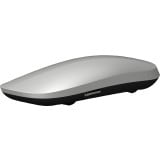 Not only does Yakima's Whispbar Aero Compact Cargo Carrier fit on your small car, it looks good doing it too. Its sleek design also makes it more aerodynamic, and it includes a premium automotive finish that looks every bit as classy as your car, or classier if you drive a beater. A dual sided...
Yakima WB701 Aero Mid-Size Cargo Carrier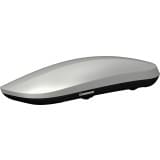 Yakima's Whispbar collection focuses on making cargo boxes stylish as well as functional, and the Aero Mid-Size Cargo Carrier is one of Whispbar's finest creations. Its aerodynamic aesthetic complements most mid-sized vehicles in terms of storage and style, and a premium automotive finish helps...
<< Prev | Back | 11 | 12 | 13 | More | Next >>