Roof Racks Parts - Road Bike Shop
Shop
>
Accessories
>
Car Racks
>
Roof Racks & Parts
Yakima SkyBox 16 Carbonite Cargo Box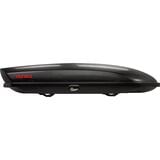 It's not recommended that you go around picking up roadkill for your neighborhood BBQs, but if you insist on doing it, the Yakima SkyBox 16 Carbonite Cargo Box has all the room you're likely to need. Besides, Yakima's Carbonite material is 80% recycled and extra-lightweight, so you can carry more...
Yakima SkyBox 18 Carbonite Cargo Box
Slap the Yakima SkyBox 18 Carbonite Cargo Box on your vehicle's roof and go to the Grand Canyon, or Grand Targhee, or Grandmother's house; the point is, with 18 cubic feet of storage space, you'll have plenty of room for about four people's worth of hiking gear, skis, or extra cat food. Yakima's...
Yakima SkyBox 21 Carbonite Cargo Box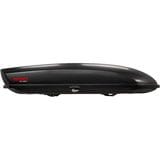 Five people's about the maximum number you can fit in a car, and if you have to stuff gear in there too? You might as well stay at home and watch re-runs. Throw the Yakima SkyBox Carbonite 21 Cargo Box on the roof of your vehicle, though, and your road trip will seem like a first-glass luxury...
Yakima SkyBox Lo Carbonite Cargo Box
If you're an internationally renowned pancake chef, you'll know why the flatness of the Yakima SkyBox Lo Carbonite Cargo Box is so sweet, and the same's true if you're a skier or snowboarder. The Lo has a slimmer profile than Yakima's other boxes--perfect for skis and boards--and the Carbonite...
Yakima SkyBox Pro 12 Cargo Box
With 12 cubic feet of storage space, the Yakima SkyBox Pro 12 Cargo Box eliminates car-interior clutter on road trips. The box can be conveniently opened from either side, the internal gear net and cargo pad prevent your gear from sliding around on winding canyon roads, and the slim design leaves...
Yakima SoftTop
Super-affordable and easy to use, the Yakima SoftTop secures to vehicles with and without roof racks, instantly adding 12 cubic feet of storage for weekend excursions and long-distance road trips. Its naked roof straps attach directly onto the roof of your vehicle, meaning you can use this...
Yakima Sprocket Rocket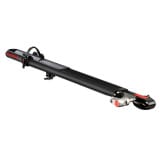 When the ride is over and it's time to get back, cramming your wet, muddy bike in the back of your car can be a real hassle. That's why Yakima built the SprocketRocket Bike Carrier for your roof rack. The SprocketRocket's sleek skewer installs easily--you don't need tools--and fits both fat and...
Yakima Tracks - 42 w/ PlusNuts
The Yakima 42-inch Tracks w/PlusNuts provides an exceptionally strong attachment point for Yakima Control Towers and Yakima LandingPad 1. The low-profile design is hardly perceptible on your vehicles roof when the Control Towers and LandingPads are removed.
Yakima Universal Mighty Mount - Set of 4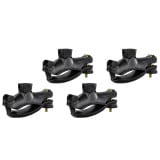 The Yakima Universal Mighty Mount will fit almost any existing factory installed roof rack. Cars that come with factory installed luggage holders can now be fitted with Yakima accessories. Just hook up the Universal Mighty Mounts to your cross bars and then attach the Yakima accessories that suit...
Yakima WB200 Rooftop Fork Bike Mount
Having to buy separate racks for your road and mountain bikes is more than just annoying, it's expensive. Avoid the costly situation with The Yakima WB200 Rooftop Fork Bike Mount. The versatile SmartMount system is compatible with road or mountain bikes, standard or through-axle forks, and with...
<< Prev | Back | 11 | 12 | 13 | More | Next >>