Roof Racks Parts - Road Bike Shop
Shop
>
Accessories
>
Car Racks
>
Roof Racks & Parts
Yakima Boa Bike Mount
The Yakima Boa Bike Mount fits a wider range of crossbar spreads(32"-50") with a roataing wheel tray. The Boa provides great stability with it's sleek fork design, and attaches quickly with a locking Long Throw Skewer. Mounts equally well to round or square crossbars. Lockable with SKS cores-sold...
Yakima Fork Adapter 15mm T Axle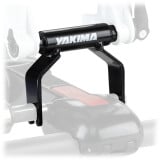 With the Yakima Fork Adapter 15mm T Axle, you can transport your mountain bike on your fork mounted bike rack. Compatible with forks that fit 15mm axles up to 110mm wide.
Yakima Fork Lift Bike Carrier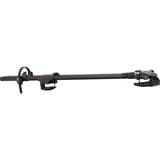 The Fork Lift Bike Carrier represents Yakima's first ever direct-to-factory-crossbar fork mount bike rack. Easy to install and compatible with almost any fork with disc-brakes, the Fork Lift comes ready to work. The sleek design sits low on your factory rack and looks hot on top of your whip....
Yakima Frontloader Bike Mount
When you're ready to ride, all you want to do is ride. You don't want to spend time pulling tires on and off, adjusting your suspension or brakes, or messing with crazy adapters. The Yakima Frontloader Bike Mount makes transporting your bike simple so all you have to do it throw it on, strap it...
Yakima GetOut Bag
Retail Price:
$99.00
Our Price: $45.00
buy now
If cruising around everywhere with one of those bulbous plastic clamshell cases on your roof isn't quite your style, but you do occasionally need some extra space for junk that won't fit in the trunk, a practical rescue comes in the form of the roof-ready Yakima GetOut Bag. The GetOut is a...
Yakima HighRoller Upright Bike Mount
You know what isn't any fun at all? Taking your bike apart so you can load it on your car. You know what else isn't any fun? Driving away without your bike's front wheel because you had to take it off when you loaded your bike up. Yakima calls the HighRoller 'the finest bike rack mount in the...
Yakima Horizontal Mighty Mount - Set of 4
Retail Price:
$34.00
Our Price: $16.99
buy now
Yakima Horizontal Mighty Mounts are simple attachments that convert popular factory racks into a multi-sport system instead of having to buy a separate basic Yakima rack. They are a quick and easy, economical way to attach Yakima bike mounts, baskets, and water accessories to your factory rack....
Yakima Landing Pad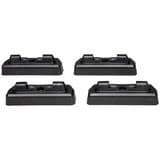 Retail Price:
$39.00
Our Price: $14.99
buy now
Yakima Landing Pads work in conjunction with Control Towers as a quick 'n' easy-to-install rack. Landing Pads fit a broad range of factory tracks, and can also be applied directly to the vehicle roof with plusnut hardware.
Yakima Rail Grab Tower - Pair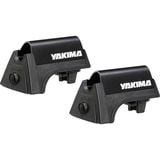 From raised factory rail to flushed side rail, the Yakima Rail Grab Tower keeps your Yakima crossbar from shifting in flight--no matter how many G's you think your little sportscar can produce. Installation is simple, just grab the supplied wrench, and give a quick lever turn to secure your setup...
Yakima RailGrab Tower
The Yakima RailGrab Tower does exactly what its name implies--it latches onto your factory side rails and doesn't let go until you say so. No matter what kind of rails you have, this set of four towers installs in seconds and is easily removable. The low-profile design gives your racking system a...
<< Prev | Back | 11 | 12 | 13 | 14 | 15 | 16 | More | Next >>