Rear Mount Racks - Road Bike Shop
Shop
>
Accessories
>
Car Racks
>
Rear Mount Racks
Yakima Quick Back 2 Bike Rack
Yakima armed the Quick Back 2 Bike Rack with a labeled strap system, narrow arm design, fold-down arms, and an anti-sway system. Simply attach this rack to your trunk using the labeled straps, padded metal buckles, and tri-padded feet. Then load two bikes on and secure them in the SwitchBlade...
Yakima Quick Back 3 Bike Rack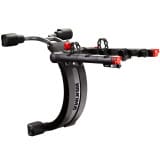 The narrow arms on the Yakima Quick Back 3 Bike Rack fit a wide variety of bikes and easily fold down when you go bike-less and don't have time to take the rack off. The SwitchBlade anti-sway cradle mechanisms prevent the three bikes from knocking into each other and the knob makes it easy to...
Yakima SuperJoe Pro 2 Bike Mount
Yakima has made the SuperJoe Pro 2 to deliver two bicycles safely to the trailhead. Trunk mounted racks are easy to get to and offer an affordable alternative to roof rack systems. The SuperJoe Pro 2 holds two bicycles to the tail end of almost any vehicle. Yakima Stable Cradles secure each bike...
<< Prev | 1 | 2 | Next >>