Rear Mount Racks - Road Bike Shop
Shop
>
Accessories
>
Car Racks
>
Rear Mount Racks
Yakima King Joe 2 Bike Rack
Tired of jurying up some combination of bungies, webbing straps, and duct tape to get your bike to and from the trailhead? It turns out you can get a solid rack without having to smash open your piggy bank to afford it, after all. Yakima's King Joe 2 Bike Rack is a super-solid hatch-mounted rack...
Yakima King Joe 3 Bike Rack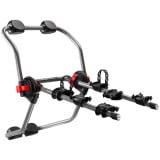 Bring friends and family along to local trailheads and epic riding spots with the Yakima King Joe 3 Bike Rack. Integrated StableCradles secure road, cruiser, and most mountain bikes, provided there's sufficient clearance with rear-suspension mountain bikes. And for bikes with sloping or...
Yakima KingJoe Pro 2 Bike Rack
Retail Price:
$165.00
Our Price: $131.93
buy now
Forget hauling bikes in a truck bed or hitch-mounted rack with the sleekly designed Yakima KingJoe Pro 2 Bike Rack. This trunk/hatch-mounted rack features a QuickTrigger II hub system for easy installation and fitment with a wide variety of vehicles, ranging from sedans to hatchbacks and SUVs....
Yakima KingJoe Pro 3 Bike Rack
Retail Price:
$185.00
Our Price: $138.75
buy now
The KingJoe Pro 3 is Yakima's burliest strap-mount bike rack yet. KingJoe the Third, the rear-mounting rack, didn't gain his title by inheritance. He earned it with his six-strap system and ability to fit a vast range of vehicle trunks. In fact, the KingJoe Pro 3 fits more trunks than any other...
Yakima SuperJoe Pro 2 Bike Mount
Retail Price:
$129.00
Our Price: $96.75
buy now
Yakima has made the SuperJoe Pro 2 to deliver two bicycles safely to the trailhead. Trunk mounted racks are easy to get to and offer an affordable alternative to roof rack systems. The SuperJoe Pro 2 holds two bicycles to the tail end of almost any vehicle. Yakima Stable Cradles secure each bike...
<< Prev | 1 | 2 | Next >>