Rear Mount Racks - Road Bike Shop
Shop
>
Accessories
>
Car Racks
>
Rear Mount Racks
Yakima King Joe 2 Bike Rack
Tired of jurying up some combination of bungies, webbing straps, and duct tape to get your bike to and from the trailhead? It turns out you can get a solid rack without having to smash open your piggy bank to afford it, after all. Yakima's King Joe 2 Bike Rack is a super-solid hatch-mounted rack...
Yakima King Joe 3 Bike Rack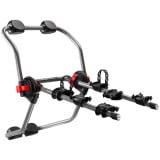 Bring friends and family along to local trailheads and epic riding spots with the Yakima King Joe 3 Bike Rack. Integrated StableCradles secure road, cruiser, and most mountain bikes, provided there's sufficient clearance with rear-suspension mountain bikes. And for bikes with sloping or...
Yakima KingJoe Pro 3 Bike Rack
The KingJoe Pro 3 is Yakima's burliest strap-mount bike rack yet. KingJoe the Third, the rear-mounting rack, didn't gain his title by inheritance. He earned it with his six-strap system and ability to fit a vast range of vehicle trunks. In fact, the KingJoe Pro 3 fits more trunks than any other...
Yakima SuperJoe Pro 2 Bike Mount
Yakima has made the SuperJoe Pro 2 to deliver two bicycles safely to the trailhead. Trunk mounted racks are easy to get to and offer an affordable alternative to roof rack systems. The SuperJoe Pro 2 holds two bicycles to the tail end of almost any vehicle. Yakima Stable Cradles secure each bike...
Yakima SuperJoe Pro 3 Bike Mount
You don't have to spend big money on a fancy rack system when Yakima makes the SuperJoe Pro 3 Bike Mount for your trunk. It'll fit on the tail end of almost any vehicle, with the Quick Trigger Hub System making it easy to put on or take off. Yakima's Stable cradles secure each of the three bikes...
<< Prev | 1 | 2 | Next >>