Hitch Racks Parts - Road Bike Shop
Shop
>
Accessories
>
Car Racks
>
Hitch Racks & Parts
Kuat Beta 2.0 Bike Rack
Bike rack installation and loading doesn't need to be a game of chess. And it shouldn't; you want to hit the road and get riding. The Kuat Beta 2. 0 Bike Rack asks that you simply hand tighten the cam system to install to your hitch, secure the bikes on the mounts and spend more time riding. You...
Kuat Hitch Adapter
You're happily connecting your new bike rack to your ride when, to your horror, you realize that your bike rack is designed for a 1. 25-inch hitch, and your trusty vehicle has a 2-inch receiver. Unless you're prepared to do some kind of welding wizardry to make the rack a permanent fixture, use...
Kuat Locking Hitch Pin
You just dropped some serious coin for your brand new Kuat bike rack--now lock that sucker to the hitch using the Locking Hitch Pin. This pin works with a 1-1/4-inch rack in a 2-inch receiver and is compatible with a range of Kuat racks. The Locking Hitch Pin is available in either a 1-1/4 or 2in...
Kuat NV 2.0 Bike Hitch Rack
Kuat spent the last 3 years overhauling its NV 2. 0 Bike Hitch Rack and fine-tuning it to perfection, so you'd better believe that it's ready to shuttle your treasured two-wheeled baby to and from the trailhead safely. Kuat managed to find room to improve just about every feature of the NV 2. 0,...
Kuat NV 2.0 Bike Hitch Rack Add-On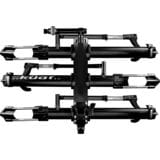 Increase the carrying capacity of your do-it-all NV 2. 0 Rack by grabbing the NV 2. 0 Bike Hitch Rack Add-On. Whether you're riding with friends or are growing your own stable of bikes, the Add-On works with the 2-inch NV 2. 0 and holds two extra bikes in the same way. It won't inhibit your...
Kuat NV Base 2.0 2 Bike Add On
When you're packing bags and planning logistics for a four-person, cross-country trip to a storied desert trail system, there's a whole lot of snack money to be saved by expanding your rack's carrying capacity with Kuat's NV Base 2. 0 2 Bike Add On to accommodate everyone instead of shelling out...
Kuat NV Base 2.0 Bike Hitch Rack
After years of perfecting the practiced puzzle of stuffing your muddy bikes into the confined cargo space of your hatchback, you've finally had enough and added a hitch to your ride. Now all you need is Kuat's NV Base 2. 0 Bike Hitch Rack and you'll be heading out on adventures with less packing...
Kuat Sherpa 2.0 Bike Rack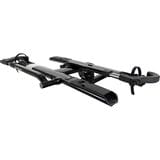 Carrying your bikes to the trailhead shouldn't inspire sighs of dread ahead of a weekend about to be spent on world class singletrack. If it does, you're doing something wrong. Load your line-slaying babies onto the Kuat Sherpa 2. 0 Bike Rack and simplify your packing routine so you can get to...
Kuat Trail Doc Kit - NV Base 2.0
Kuat's Trail Doc Kit pops onto the NV Base 2. 0 to turn your hitch-mount rack into an emergency work stand. Maybe an errant branch caught your bike, maybe you didn't take the time to check your cockpit before loading up in the morning, or maybe you plan on setting up a wrench-for-hire operation...
Kuat Transfer 2 Bike Rack
Sticking your bike--or worse, a pair of steeds--into the trunk involves painstakingly puzzle-piecing your disassembled rides and all of your gear together without damaging anything or getting chain grease everywhere, Fortunately for those of us who aren't puzzle masters, the Kuat Transfer 2 Bike...
<< Prev | 1 | 2 | 3 | 4 | 5 | 6 | 7 | Next >>