Hitch Racks Parts - Road Bike Shop
Shop
>
Accessories
>
Car Racks
>
Hitch Racks & Parts
Inno Racks Tire Hold Hitch Rack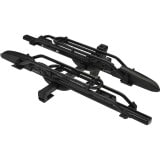 No need to risk scratching up your frame or damaging your brakes on the way to your next riding destination--the Inno Racks Tire Hold Hitch Rack secures your bike holding only the front and rear tires, without touching the frame or cable brake systems, so you can have peace of mind next time you...
Inno Racks Universal Multi Fork Rack
The love affair between you and two-wheeled objects started long before you lost your first tooth. Now you have a full set of choppers, and you love to ride more than ever. The Inno Racks Universal Multi Fork Rack gives your bike a first-class seat to the next adventure. Take your mountain bike...
Kuat Alpha-3 Bike Rack
Retail Price:
$295.00
Our Price: $279.00
buy now
Loading bikes for road trips shouldn't be so laborious that it takes away from your riding mojo. The lightweight Kuat Alpha-3 Bike Rack ensures you don't throw your back out when loading up for a long weekend in Moab. Compatible with two-inch receivers (trailer hitches), this 13-pound rack...
Kuat Hitch Adapter
You're happily connecting your new bike rack to your ride when, to your horror, you realize that your bike rack is designed for a 1. 25-inch hitch, and your trusty vehicle has a 2-inch receiver. Unless you're prepared to do some kind of welding wizardry to make the rack a permanent fixture, use...
Kuat Hitch Mount Strap Extension
Fatbikes may have a devoted following, but it's taken rack makers awhile to catch on. Thankfully, Kuat is on board with the fat revolution, which is where the Hitch Mount Strap Extension enters the picture. It's pretty simple -- it's a longer strap for your Kuat hitch-mounted rack, so you can...
Kuat Locking Hitch Pin
You just dropped some serious coin for your brand new Kuat bike rack--now lock that sucker to the hitch using the Locking Hitch Pin. This pin works with a 1-1/4-inch rack in a 2-inch receiver and is compatible with a range of Kuat racks. The Locking Hitch Pin is available in either a 1-1/4 or 2in...
Kuat NV 2 Bike Rack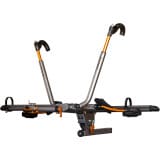 Retail Price:
$549.00
Our Price: $529.00
buy now
Transporting your big rigs requires a beefy rack like the Kuat NV 2 Bike Rack. This burly bike rack hold them in place as you speed through several states toward dirty downhill freedom. The front and back tire-ratcheting design secures 20- to 29-inch wheels and leaves 13 inches between bikes to...
Kuat Sherpa 2 Bike Rack
Retail Price:
$449.00
Our Price: $429.00
buy now
The best singletrack you've ever seen is a day's drive away, and with the Kuat Sherpa 2 Bike Rack, you can get there without filling your tiny trunk and back seat with a impenetrable pretzel of bike parts. Best suited for mountain bikes, this rack easily secures two bikes weighing up to 40 pounds...
Rack Stash Rack Stash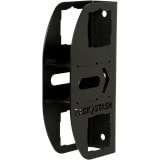 The family bike trip was a success, but that bulky rack isn't exactly conducive to easy parking. Mount the Rack Stash in your garage and keep your handy bike-carrier ready for adventure. A simple installation process leaves the Stash at attention whenever you need to stow the rack for the week.
Thule Apex Bike Rack - 4 Bike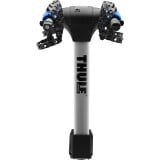 The Thule Apex Bike Rack features an improved design that not only looks better with your car's design but allows faster loading and unloading and increased clearance from the ground and bumper. Improved Hitch-Switch design allows the bike carrier arms to fold down as well as the entire carrier...
<< Prev | 1 | 2 | 3 | 4 | Next >>