Hitch Racks Parts - Road Bike Shop
Shop
>
Accessories
>
Car Racks
>
Hitch Racks & Parts
Kuat Beta 2.0 Bike Rack
Getting to your favorite singletrack or strip of scenic pavement will be easier than ever now that you have the Kuat Beta 2. 0 Bike Rack. At a seriously sleek 12lbs (the 1. 25in hitch option weighs 2lbs more), the Beta 2. 0 carries two bikes of up to 80lbs total in secure, anti-sway carriages, so...
Kuat Hitch Adapter
You're happily connecting your new bike rack to your ride when, to your horror, you realize that your bike rack is designed for a 1. 25-inch hitch, and your trusty vehicle has a 2-inch receiver. Unless you're prepared to do some kind of welding wizardry to make the rack a permanent fixture, use...
Kuat Hitch Mount Strap Extension
Fatbikes may have a devoted following, but it's taken rack makers awhile to catch on. Thankfully, Kuat is on board with the fat revolution, which is where the Hitch Mount Strap Extension enters the picture. It's pretty simple -- it's a longer strap for your Kuat hitch-mounted rack, so you can...
Kuat Locking Hitch Pin
You just dropped some serious coin for your brand new Kuat bike rack--now lock that sucker to the hitch using the Locking Hitch Pin. This pin works with a 1-1/4-inch rack in a 2-inch receiver and is compatible with a range of Kuat racks. The Locking Hitch Pin is available in either a 1-1/4 or 2in...
Kuat NV 2 Bike Add On
If you have a Kuat NV 2 Bike Rack with a two-inch receiver, and you need to carry four bikes, this Add On is just the ticket. It'll fit normal-width, 20-29-inch wheels, and, when added to your NV 2, you'll be able to carry four, forty pound bikes with ten inches between them, so scratched frames...
Kuat NV 2 Bike Rack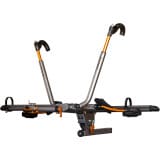 If you're ferrying around different bikes all the time, theKuat NV 2 Bike Rack is just the ticket. This tray-style rack accommodateseverything short of a full-on fatbike, and doesn't require straight top tubes.On top of that, with 13 inches between the two trays, those brakelever-to-saddle gouges...
Kuat Transfer 2 Bike Rack
Sticking your bike--or worse, a pair of steeds--into the trunk involves painstakingly puzzle-piecing your disassembled rides and all of your gear together without damaging anything or getting chain grease everywhere, Fortunately for those of us who aren't puzzle masters, the Kuat Transfer 2 Bike...
Kuat Transfer 3 Bike Rack
The Kuat Transfer 3 Bike Rack is a versatile rack that will keep your bikes safe and sound on the road, and here's the best bit--with the Transfer's hitch-mounted design, there won't be any more disassembling bikes to squish them in the trunk or perching awkwardly on an SUV's foot rails to mount...
Kuat Ubar - Bike Frame Adapter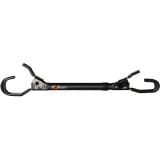 It's true, some bikes fit on racks better than others, but frankly, you should choose your ride based on what works for you, not on ease of transport. So if you're scratching your head, trying to figure out how you're going to fit your new dream machine onto your hanging Alpha or Beta rack, the...
Rhino-Rack Premium Hitch Mount 2 Bike Carrier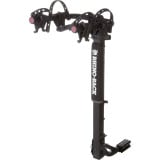 Rhino Rack gives you an easy way to haul your bikes to your next trail ride or road race. The Premium Hitch Mount 2 Carrier is ideal if your vehicle has a 1. 25- or 2-inch hitch mount receiver. The steel design features a top-loading arm that folds down when it's not in use. Additionally, the...
<< Prev | 1 | 2 | 3 | 4 | 5 | 6 | Next >>