Hitch Racks Parts - Road Bike Shop
Shop
>
Accessories
>
Car Racks
>
Hitch Racks & Parts
Kuat Beta 2.0 Bike Rack
Getting to your favorite singletrack or strip of scenic pavement will be easier than ever now that you have the Kuat Beta 2. 0 Bike Rack. At a seriously sleek 12lbs (the 1. 25in hitch option weighs 2lbs more), the Beta 2. 0 carries two bikes of up to 80lbs total in secure, anti-sway carriages, so...
Kuat Hitch Adapter
You're happily connecting your new bike rack to your ride when, to your horror, you realize that your bike rack is designed for a 1. 25-inch hitch, and your trusty vehicle has a 2-inch receiver. Unless you're prepared to do some kind of welding wizardry to make the rack a permanent fixture, use...
Kuat Locking Hitch Pin
You just dropped some serious coin for your brand new Kuat bike rack--now lock that sucker to the hitch using the Locking Hitch Pin. This pin works with a 1-1/4-inch rack in a 2-inch receiver and is compatible with a range of Kuat racks. The Locking Hitch Pin is available in either a 1-1/4 or 2in...
Kuat NV 2 Bike Add On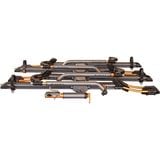 Retail Price:
$245.00
Our Price: $159.25
buy now
If you have a Kuat NV 2 Bike Rack with a two-inch receiver, and you need to carry four bikes, this Add On is just the ticket. It'll fit normal-width, 20-29-inch wheels, and, when added to your NV 2, you'll be able to carry four, forty pound bikes with ten inches between them, so scratched frames...
Kuat NV 2.0 Bike Hitch Rack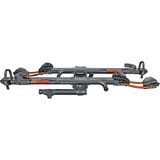 Kuat spent the last 3 years overhauling its NV 2. 0 Bike Hitch Rack and fine-tuning it to perfection, so you'd better believe that it's ready to shuttle your treasured two-wheeled baby to and from the trailhead safely. Kuat managed to find room to improve just about every feature of the NV 2. 0,...
Kuat NV 2.0 Bike Hitch Rack Add-On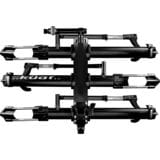 Increase the carrying capacity of your do-it-all NV 2. 0 Rack by grabbing the NV 2. 0 Bike Hitch Rack Add-On. Whether you're riding with friends or are growing your own stable of bikes, the Add-On works with the 2-inch NV 2. 0 and holds two extra bikes in the same way. It won't inhibit your...
Kuat NV Base 2.0 2 Bike Add On
When you're packing bags and planning logistics for a four-person, cross-country trip to a storied desert trail system, there's a whole lot of snack money to be saved by expanding your rack's carrying capacity with Kuat's NV Base 2. 0 2 Bike Add On to accommodate everyone instead of shelling out...
Kuat NV Base 2.0 Bike Hitch Rack
After years of perfecting the practiced puzzle of stuffing your muddy bikes into the confined cargo space of your hatchback, you've finally had enough and added a hitch to your ride. Now all you need is Kuat's NV Base 2. 0 Bike Hitch Rack and you'll be heading out on adventures with less packing...
Kuat NV Bike Rack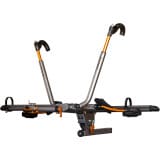 Retail Price:
$549.00
Our Price: $356.85
buy now
If you're ferrying around different bikes all the time, theKuat NV Bike Rack is just the ticket. This tray-style rack accommodateseverything short of a full-on fatbike, and doesn't require straight top tubes.On top of that, with 13 inches between the two trays, those brakelever-to-saddle gouges...
Kuat Sherpa 2.0 Bike Rack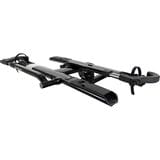 Carrying your bikes to the trailhead shouldn't inspire sighs of dread ahead of a weekend about to be spent on world class singletrack. If it does, you're doing something wrong. Load your line-slaying babies onto the Kuat Sherpa 2. 0 Bike Rack and simplify your packing routine so you can get to...
<< Prev | 1 | 2 | 3 | 4 | 5 | 6 | 7 | Next >>