Hitch Racks Parts - Road Bike Shop
Shop
>
Accessories
>
Car Racks
>
Hitch Racks & Parts
Thule Snug Tite Lock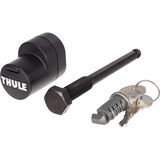 Slapping all your bikes onto your rack is necessary but occasionally nerve wracking, but Thule's Snug Tite Lock takes some of the worry out of your trip with a bomber construction that helps secure your Hitch Post Pro rack to your hitch. It also makes it significantly harder for someone to lift...
Thule T2 Classic - 2 Bike Hitch Rack
Full-squish trail rigs and fat tire bruisers have a reputation for toughness, but deep down inside they're actually big softies, especially the carbon ones. Realizing this, the Thule T2 Classic 2 Bike Hitch Rack safely transports your favorite enduro sleds, fat tire steeds, and even road bikes....
Thule T2 Classic - 2-Bike Hitch Rack Add-On
If you love your Thule T2 Classic Bike Rack, but wish it had a little more capacity, upgrade it with the Thule T2 Classic Two-Bike Hitch Rack Add-On. It attaches to your existing T2 Classic and holds two bikes of virtually any size with its ratcheting rear-wheel strap and front-wheel ratchet arm.
Thule T2 Pro - 2 Bike Hitch Rack Add On
When Friday afternoon rolls around, all you can think about is packing up and getting on the road as fast as possible. Whether you're traveling to a big race or heading to a cabin in the mountains for a weekend of trail riding, you don't want to waste time wrestling with a bike rack before you...
Thule T2 Pro - 2-Bike Hitch Rack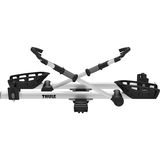 Sure, there's cheaper, bulkier hitch-mounted racks on the market, but you didn't invest your hard-earned dough on your favorite bikes to have them bouncing and clunking around on an inferior rack. The Thule T2 Pro 2-Bike Hitch Rack transports your lust-worthy carbon bikes, fat tire bruisers, and...
Thule Vertex Bike Rack - 2 Bike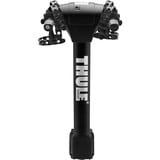 The Thule Vertex Bike Rack makes transporting your whips safer and more convenient than ever before. The Vertex's unique arc design allows for easy loading, provides better ground clearance, and offers more space between your bikes. Thule's Anti-Sway Cages prevent bike-to-bike and bike-to-car...
Thule Vertex Bike Rack - 4 Bike
Thule's Vertex Bike Rack offers you a convenient and quiet way of transporting your bikes to the trailhead. To ensure that your bikes don't bang into each other, the Vertex uses a unique arc design to provide more space between your bikes and the hitch and the hatch. The rack can safely carry up...
Yakima ArmLock
Retail Price:
$35.00
Our Price: $19.95
buy now
The Yakima ArmLock secures your precious two-wheeler to your DoubleDown Ace rack, so you can enjoy a post-ride pint without keeping one eye on your beer and the other car, and you can have peace of mind during pit stops or hotel stays on your next road trip. The cable conveniently stows in the...
Yakima DeadLock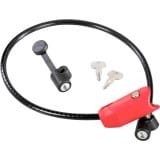 The Yakima Deadlock is a must-have hitch mounting rack accessory. With one key, you can securely lock your bikes to your rack, and your rack to your vehicle. The Deadlock locks the furthest bike on the arms of your rack. With this bike locked, it's impossible to remove the inner bikes or the rack...
Yakima DoubleDown 4 Bike Rack
Retail Price:
$219.00
Our Price: $197.99
buy now
Gather your friends and head out on a cycling adventure with the Yakima DoubleDown 4 Bike Rack. It'll hold up to four bikes with SwitchBlade anti-sway cradles that keep everything securely in place and eliminate any worries about bikes bumping and scratching along the way. The DoubleDown folds...
<< Prev | 1 | 2 | 3 | 4 | 5 | 6 | 7 | Next >>