Hitch Racks Parts - Road Bike Shop
Shop
>
Accessories
>
Car Racks
>
Hitch Racks & Parts
Thule Passive Lock Strap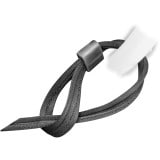 The Thule Passive Lock Strap offers a simple solution to secure your bicycle strap rack to your vehicle without the pains of adding another key to your ring or having to remember some obscure number for the rest of your life. Just loop the round puck around the rack and place it in the trunk or...
Thule Project Tram Hitch Ski Carrier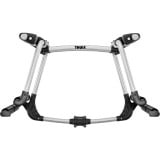 Attach the Thule 9033 Project Tram Hitch Ski Carrier to your Thule Hitch Rack or Thule Spare Me Transport to get up to six pairs of skis or four snowboards to the mountain safely and without trashing the inside of your car. Two-inch Class 2 Receiver will carry up to 6 pairs of skis or 4...
Thule Raceway Pro Platform Rack - 2 Bike
Designed to keep your bike frame pristine and your car's paint clean, the Thule Raceway Pro Platform 2 Bike Rack makes transporting your carbon steeds easy. Thule's FitDial system ensures a secure fit with your sedan or hatchback, while molded rubber pads grab hold without scratching your car at...
Thule Raceway Pro Rack - 2 Bike
Load the bikes up and go without impulsively checking your rearview mirror every 2. 5 seconds with the Thule Raceway Pro 2 Bike Rack. SureTight ratcheting cables ensure a solid fit with your sedan or hatchback, and are lockable for added security. The two bike cradles feature Thule's...
Thule Raceway Pro Rack - 3 Bike
Take the neck pain out of transporting your two-wheeled whips with the Thule 3 Bike Raceway Pro Rack. Thule pulled out all the stops to keep your rack, bikes, and car's and bike's paint jobs clean when you're driving to and from your ride. SureTight ratcheting locking cables ensure a secure...
Thule Transport T2 Bike Add-On
Now you can take three other friends mountain biking or to the time trial races by extending your Thule TranSport T2 Two-Bike Rack to a four-bike rack with the Thule TranSport T2 Bike Add-On. The TranSport Add-On works only if you have a 2in receiver hitch. SecureHook latches onto the front wheel...
Thule Transport T2 with STL2 Lock - 2 Bike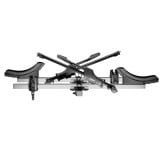 It's quick and easy to take your bikes on and off the Thule Transport T2 with STL2 Lock. This two-bike carrier holds your bikes on a trailer-hitch-mounted platform that requires a minimal amount of bike-lifting (no more heaving and sweating while packing). SecureHook holds bikes securely by the...
Thule Vertex Bike Rack - 2 Bike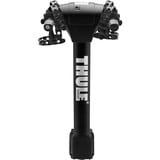 Free some space in your trunk for a cooler full of beer, a tent, and your XL grill when you strap two bikes onto the Thule Vertex Bike Hitch Rack. The extra trunk space will be much appreciated, and your bikes will be just as safe in the rugged Hold-Fast Cradles as they are locked away in the...
Thule Vertex Swing Away Bike Rack - 4 Bike
A long road trip necessitates trunk access, but most hitch racks make it nigh or impossible to open up your hatch when bikes are attached. Thule's Vertex Swing Away Four-Bike Rack, on the other hand, uses an ingenious pivoting lower arm to let you grab snacks, clothes, and car-camping gear...
Yakima ArmLock
Retail Price:
$35.00
Our Price: $25.00
buy now
The Yakima ArmLock secures your precious two-wheeler to your DoubleDown Ace rack, so you can enjoy a post-ride pint without keeping one eye on your beer and the other car, and you can have peace of mind during pit stops or hotel stays on your next road trip. The cable conveniently stows in the...
<< Prev | 1 | 2 | 3 | 4 | 5 | 6 | Next >>