Hitch Racks Parts - Road Bike Shop
Shop
>
Accessories
>
Car Racks
>
Hitch Racks & Parts
Thule T2 Classic - 2-Bike Hitch Rack Add-On
If you love your Thule T2 Classic Bike Rack, but wish it had a little more capacity, upgrade it with the Thule T2 Classic Two-Bike Hitch Rack Add-On. It attaches to your existing T2 Classic and holds two bikes of virtually any size with its ratcheting rear-wheel strap and front-wheel ratchet arm.
Thule T2 Pro - 2 Bike Hitch Rack Add On
When Friday afternoon rolls around, all you can think about is packing up and getting on the road as fast as possible. Whether you're traveling to a big race or heading to a cabin in the mountains for a weekend of trail riding, you don't want to waste time wrestling with a bike rack before you...
Thule T2 Pro - 2-Bike Hitch Rack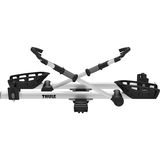 Sure, there's cheaper, bulkier hitch-mounted racks on the market, but you didn't invest your hard-earned dough on your favorite bikes to have them bouncing and clunking around on an inferior rack. The Thule T2 Pro 2-Bike Hitch Rack transports your lust-worthy carbon bikes, fat tire bruisers, and...
Thule T2 Pro XT - 2 Bike Hitch Rack
If you've had enough of taking off your front wheel and stuffing your bike into your trunk, only to lose your quick-release skewer, then find it rolling around under the passenger seat, the Thule T2 Pro XT wants to make your life easier. When you just want to get your bike to the trailhead and go...
Thule T2 Pro XT - 2 Bike Hitch Rack Add On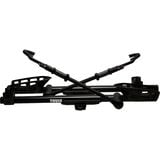 When you got your Thule T2 Pro XT rack a few years ago, carrying two bikes seemed like plenty, but after you picked up a better half and a quiver of bikes, things began to feel a bit cramped. Double the capacity of your T2 Pro XT with the 2 Bike Hitch Rack Add-On. Designed for use with 2-inch...
Thule Vertex Bike Rack - 2 Bike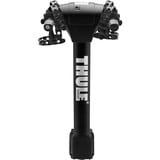 The Thule Vertex Bike Rack makes transporting your whips safer and more convenient than ever before. The Vertex's unique arc design allows for easy loading, provides better ground clearance, and offers more space between your bikes. Thule's Anti-Sway Cages prevent bike-to-bike and bike-to-car...
Thule Vertex Bike Rack - 4 Bike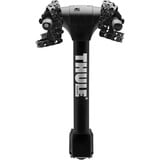 Thule's Vertex Bike Rack offers you a convenient and quiet way of transporting your bikes to the trailhead. To ensure that your bikes don't bang into each other, the Vertex uses a unique arc design to provide more space between your bikes and the hitch and the hatch. The rack can safely carry up...
Thule Vertex Bike Rack - 5 Bike
Whether you're driving your dirt-shredding companions to Moab for the weekend or bringing your family to the mountains for vacation, the Thule Vertex Bike Rack securely holds five of your favorite road and mountain bikes. It secures to two-inch trailer receivers, ensuring a robust connection for...
Thule Vertex Swing Away Bike Rack - 4 Bike
The age-old problem with hitch racks is lack of access to your stuff on the other side of the hatch once the bikes are all loaded. This works if you're trying to save a cookie stash for later, but not if you forget to pack that crucial cooler of tasty beverages. Thule solves this dilemma with the...
Yakima DeadLock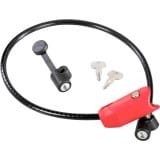 The Yakima Deadlock is a must-have hitch mounting rack accessory. With one key, you can securely lock your bikes to your rack, and your rack to your vehicle. The Deadlock locks the furthest bike on the arms of your rack. With this bike locked, it's impossible to remove the inner bikes or the rack...
<< Prev | 1 | 2 | 3 | 4 | 5 | 6 | 7 | Next >>