Hitch Racks Parts - Road Bike Shop
Shop
>
Accessories
>
Car Racks
>
Hitch Racks & Parts
Thule Passive Lock Strap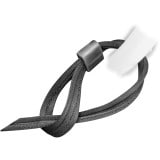 The Thule Passive Lock Strap offers a simple solution to secure your bicycle strap rack to your vehicle without the pains of adding another key to your ring or having to remember some obscure number for the rest of your life. Just loop the round puck around the rack and place it in the trunk or...
Thule Transport T2 Bike Add-On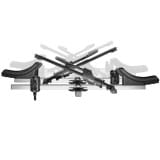 Now you can take three other friends mountain biking or to the time trial races by extending your Thule TranSport T2 Two-Bike Rack to a four-bike rack with the Thule TranSport T2 Bike Add-On. The TranSport Add-On works only if you have a 2in receiver hitch. SecureHook latches onto the front wheel...
Thule Vertex Bike Rack - 2 Bike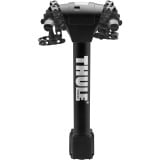 Free some space in your trunk for a cooler full of beer and a tent when you secure up to two bikes to the Thule Vertex Bike Hitch Rack. That way you don't have to sleep in the sand with the snakes and scorpions. Easily install this folding rack onto your 2-inch or 1. 25-inch hitch and then attach...
Thule Vertex Bike Rack - 4 Bike
Instead of turning up the tunes on your long drive to the trailhead, attach the four-bike Thule Vertex Bike Rack to your hitch and get a real solution to the constant banging of bike and bumper. Secure up to four bikes with this new design that fits both 2-inch and 1. 25-inch hitches, which also...
Thule Vertex Bike Rack - 5 Bike
Your race team has to drive through a few states to get to the race, so you install the five-bike Thule Vertex Bike Rack onto your two-inch hitch and deliver the team and their super-light two-wheelers to certain victory. This newly designed hitch rack secures up to five precisely tuned bikes and...
Thule Vertex Swing Away Bike Rack - 4 Bike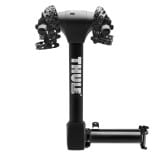 A long road trip necessitates trunk access (for undies, booze, etc). The four-bike Thule Vertex Swing Away Bike Rack lets you get into your trunk or hatch without removing your bikes or reaching over the back seat. Once you install this hitch rack into your auto's two-inch receiver and secure up...
Yakima ArmLock
The Yakima ArmLock secures your precious two-wheeler to your DoubleDown Ace rack, so you can enjoy a post-ride pint without keeping one eye on your beer and the other car, and you can have peace of mind during pit stops or hotel stays on your next road trip. The cable conveniently stows in the...
Yakima Chain Strap
The Yakima Chain Straps stretch to secure your bike to its mount. The Chain Straps are compatible with hitch-mount bike racks that feature the SwitchBlade cradle, including the FullSwing, SlickRoc, BackSwing, and Kingpin series hitch-mount racks. Compatible with 2003 Yakima hitch mount racks as...
Yakima DeadLock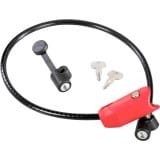 The Yakima Deadlock is a must-have hitch mounting rack accessory. With one key, you can securely lock your bikes to your rack, and your rack to your vehicle. The Deadlock locks the furthest bike on the arms of your rack. With this bike locked, it's impossible to remove the inner bikes or the rack...
Yakima Highlite Bike Rack - 2 Bike
When you've finally amassed enough vacation time to take your bikes on a great adventure to Whistler (via Moab, St. George, Jackson, and Bend), then use the Yakima Highlight Bike Rack 2 Bike for safe and secure transport. Lightweight aluminum construction is slim and weighs under 20 pounds so you...
<< Prev | 1 | 2 | 3 | 4 | Next >>