Hitch Racks Parts - Road Bike Shop
Shop
>
Accessories
>
Car Racks
>
Hitch Racks & Parts
Thule Helium Aero Bike Rack - 2 Bike
Thule makes the Helium Aero Bike Rack from aluminum, which reduces its weight to roughly half that of comparable hitch racks. Not only is this easier on your car when you're hauling bikes around, but it's a lot easier on you when you're taking the rack off or putting it on in between hauling...
Thule Helium Aero Bike Rack - 3 Bike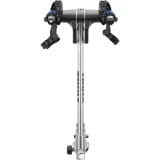 Thule's Helium Aero Bike Rack hides your bikes from the wind, saving you the added fuel-consumption associated with three bicycle-shaped parachutes on top of your car during long road trips. It's also as lightweight as its name implies, which -- combined with the AutoAttach feature -- makes the...
Thule No-Sway Cage Accessory - 2-Pack
If you transport bikes on a spare- or hitch-mount Thule rack, the No-Sway Cage Accessory is the key to keep up to tow bikes from swaying at highway speed or on bumpy roads. The two accessories are crucial to your peace of mind whether the trip takes you to a favorite evening trail or on a cross...
Thule Parkway Hitch Bike Carrier - 4 Bike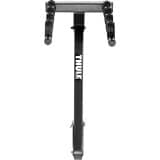 The Thule Parkway Hitch is a simple bike carrier that safely and conveniently transports up to four bikes. This bike rack hooks right into your vehicle's hitch to make getting your bicycles to the trailhead simple and worry-free. This bike rack features Thule's classic cradles, which secure and...
Thule Parkway Hitch Carrier - 2 Bike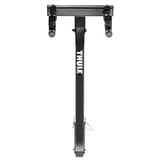 You shouldn't have to spend as much on your rack as your did on your bike--at least that's the way Thule sees it. The Parkway Hitch Carrier is simple to install and simple to use. The Parkway uses Thule's classic cradles, which secure and protect your bikes' frames during transport. And, because...
Thule Passive Lock Strap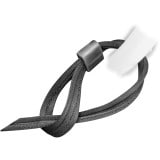 The Thule Passive Lock Strap offers a simple solution to secure your bicycle strap rack to your vehicle without the pains of adding another key to your ring or having to remember some obscure number for the rest of your life. Just loop the round puck around the rack and place it in the trunk or...
Thule Project Tram Hitch Ski Carrier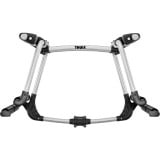 Attach the Thule 9033 Project Tram Hitch Ski Carrier to your Thule Hitch Rack or Thule Spare Me Transport to get up to six pairs of skis or four snowboards to the mountain safely and without trashing the inside of your car. Two-inch Class 2 Receiver will carry up to 6 pairs of skis or 4...
Thule Snug Tite Lock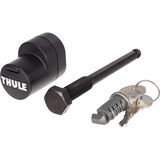 Slapping all your bikes onto your rack is necessary but occasionally nerve wracking, but Thule's Snug Tite Lock takes some of the worry out of your trip with a bomber construction that helps secure your Hitch Post Pro rack to your hitch. It also makes it significantly harder for someone to lift...
Thule T2 Classic - 2 Bike Hitch Rack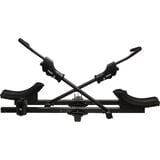 Full-squish trail rigs and fat tire bruisers have a reputation for toughness, but deep down inside they're actually big softies, especially the carbon ones. Realizing this, the Thule T2 Classic 2 Bike Hitch Rack safely transports your favorite enduro sleds, fat tire steeds, and even road bikes....
Thule T2 Classic - 2-Bike Hitch Rack Add-On
If you love your Thule T2 Classic Bike Rack, but wish it had a little more capacity, upgrade it with the Thule T2 Classic Two-Bike Hitch Rack Add-On. It attaches to your existing T2 Classic and holds two bikes of virtually any size with its ratcheting rear-wheel strap and front-wheel ratchet arm.
<< Prev | 1 | 2 | 3 | 4 | 5 | 6 | 7 | Next >>