Hitch Racks Parts - Road Bike Shop
Shop
>
Accessories
>
Car Racks
>
Hitch Racks & Parts
Thule Doubletrack 2 Bike Hitch Carrier with STL2 Lock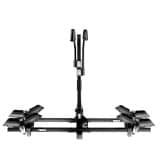 While we typically prefer to ride our bikes to the trailhead or mouth of the canyon, such a practice can be prohibitively difficult if the trailhead or canyon happens to be several hundred miles away from home. In that case, the Thule Doubletrack 2 Bike Hitch Carrier with STL2 Lock provides...
Thule EasyFold Bike Carrier
Thule's EasyFold Bike Carrier offers a fully foldable, and removable, two bike hitch rack that is as convenient as it is sturdy. The EasyFold features Snug-Tite, which secures the hitch rack to the vehicle and virtually eliminates rack movement. The rack comes with a pair of repositionable frame...
Thule Fat Tire Kit for T2
The Thule Fat Tire Kit for T2 lets you bring your fat tire bike along on your next bike trip to Fruita. This upgrade kit features front and rear wheel holders to accommodate fat tires up to 5in wide, but is optimized to hold tires of any width. The spring-loaded buckle and extra-long wheel straps...
Thule Frame Adapter For Strap/Hitch Carriers
The Thule Frame Adapter For Strap/Hitch Carriers work with hanging-style hitch-mount racks to hold BMX frames, downhill frames, women-specific frames, and other oddball-shaped frames securely to your rack and vehicle. The Frame Adaptor uses a telescoping push-button system that clamps onto a bike...
Thule GoalPost
Thule's Goal Post hitch mount gives you a rear load bar on any vehicle with a 2" hitch mount. Because the Goal Post is mounted so far back, it makes an ideal unit for carrying long kayaks and canoes. The Goal Post includes two load stops and an anti-wobble device for load stability. A telescoping...
Thule Helium Aero Bike Rack - 2 Bike
Thule makes the Helium Aero Bike Rack from aluminum, which reduces its weight to roughly half that of comparable hitch racks. Not only is this easier on your car when you're hauling bikes around, but it's a lot easier on you when you're taking the rack off or putting it on in between hauling...
Thule Helium Aero Bike Rack - 3 Bike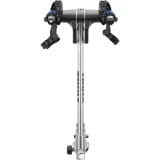 Thule's Helium Aero Bike Rack hides your bikes from the wind, saving you the added fuel-consumption associated with three bicycle-shaped parachutes on top of your car during long road trips. It's also as lightweight as its name implies, which -- combined with the AutoAttach feature -- makes the...
Thule No-Sway Cage Accessory - 2-Pack
If you transport bikes on a spare- or hitch-mount Thule rack, the No-Sway Cage Accessory is the key to keep up to tow bikes from swaying at highway speed or on bumpy roads. The two accessories are crucial to your peace of mind whether the trip takes you to a favorite evening trail or on a cross...
Thule Parkway Hitch Bike Carrier - 4 Bike
The Thule Parkway Hitch is a simple bike carrier that safely and conveniently transports up to four bikes. This bike rack hooks right into your vehicle's hitch to make getting your bicycles to the trailhead simple and worry-free. This bike rack features Thule's classic cradles, which secure and...
Thule Parkway Hitch Carrier - 2 Bike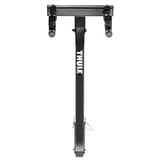 You shouldn't have to spend as much on your rack as your did on your bike--at least that's the way Thule sees it. The Parkway Hitch Carrier is simple to install and simple to use. The Parkway uses Thule's classic cradles, which secure and protect your bikes' frames during transport. And, because...
<< Prev | 1 | 2 | 3 | 4 | 5 | 6 | 7 | Next >>