Hitch Racks Parts - Road Bike Shop
Shop
>
Accessories
>
Car Racks
>
Hitch Racks & Parts
Kuat Trail Doc Kit - NV Base 2.0
Kuat's Trail Doc Kit pops onto the NV Base 2. 0 to turn your hitch-mount rack into an emergency work stand. Maybe an errant branch caught your bike, maybe you didn't take the time to check your cockpit before loading up in the morning, or maybe you plan on setting up a wrench-for-hire operation...
Kuat Transfer 3 Bike Rack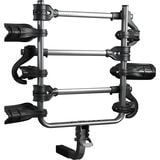 The Kuat Transfer 3 Bike Rack is a versatile rack that will keep your bikes safe and sound on the road, and here's the best bit--with the Transfer's hitch-mounted design, there won't be any more disassembling bikes to squish them in the trunk or perching awkwardly on an SUV's foot rails to mount...
Kuat Transfer Cable Lock Kit with Locking Hitch Pin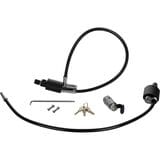 Things happen, and instead of making you relive that particular incident, we'll just say that you can replace those broken lock cables on your two- or three-bike capacity Transfer rack with Kuat's Transfer Cable Lock Kit with Locking Hitch Pin. Each kit comes complete with a locking cable for...
Kuat Tri Doc
While the NV 2. 0 rack's Trail Doc is one of the most useful rack accessories we've seen to turn a bike rack into a work stand, sometimes you need just a little bit more room to spread out and get your bike dialed in. The Kuat Tri Doc pairs with your Trail Doc to function as a standalone work...
Rhino-Rack Cable Lock w/ Locking Hitch Pin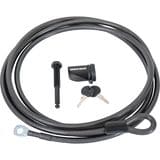 You can't always be with your bump-devouring babies, even when you're traveling with them. If you've got Rhino Rack's Hitch Mount bike rack hooked up to your hatchback, bring along the companion Cable Lock w/ Locking Hitch Pin before you head out of town for the weekend. Designed to work...
Rhino-Rack Cable Lock with Locking Pin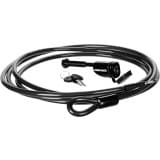 The Rhino-Rack Cable Lock with Locking Pin is long enough for your bike and your significant other's bike. Rhino-Rack included two keys so you can both have one.
Rhino-Rack Dual Trekker Platform 2-Bike Hitch Carrier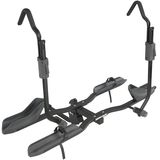 You've used the same faithful trunk rack to carry your road frame to and from group rides and races for the last few years, but now that you're upgrading to a cushy dual-suspension trail bike, you're not so sure you want to be loading up multiple bikes on your minimal rack. Give yourself some...
Rhino-Rack Locking Hitch Pin Accessory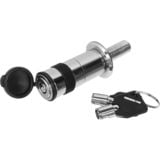 The Rhino Rack locking Hitch Pin Accessory locks your 2 inch receiver bike rack to your vehicle to deter theft.
Rhino-Rack Premium Hitch Mount 2 Bike Carrier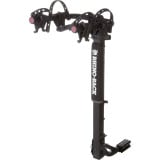 Rhino Rack gives you an easy way to haul your bikes to your next trail ride or road race. The Premium Hitch Mount 2 Carrier is ideal if your vehicle has a 1. 25- or 2-inch hitch mount receiver. The steel design features a top-loading arm that folds down when it's not in use. Additionally, the...
RockyMounts SplitRail 2-Bike Hitch Rack
If pressed, we'd have to admit that mounting our bikes onto a hitch rack like RockyMounts SplitRail 2-Bike Hitch Rack gives us a sense of security few other racks can match. Our feathery carbon race builds are pretty easy to lock down on just about anything, but our burly enduro beasts carry a...
<< Prev | 1 | 2 | 3 | 4 | 5 | 6 | 7 | Next >>