Hitch Racks Parts - Road Bike Shop
Shop
>
Accessories
>
Car Racks
>
Hitch Racks & Parts
Kuat Tri Doc
While the NV 2. 0 rack's Trail Doc is one of the most useful rack accessories we've seen to turn a bike rack into a work stand, sometimes you need just a little bit more room to spread out and get your bike dialed in. The Kuat Tri Doc pairs with your Trail Doc to function as a standalone work...
Kuat Ubar - Bike Frame Adapter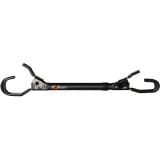 It's true, some bikes fit on racks better than others, but frankly, you should choose your ride based on what works for you, not on ease of transport. So if you're scratching your head, trying to figure out how you're going to fit your new dream machine onto your hanging Alpha or Beta rack, the...
RockyMounts SplitRail 2-Bike Hitch Rack
If pressed, we'd have to admit that mounting our bikes onto a hitch rack like RockyMounts SplitRail 2-Bike Hitch Rack gives us a sense of security few other racks can match. Our feathery carbon race builds are pretty easy to lock down on just about anything, but our burly enduro beasts carry a...
Thule Apex Bike Rack - 5 Bike
Thule's sleek redesign for the Apex Bike Rack provides improved ground and bumper clearance, and makes loading and unloading your bikes easier than ever before. Thule's EasyMount system with the Receiver Lock Knob allows for easy and secure installation without tools. The Apex's new arched bike...
Thule Apex Swing Away Bike Rack - 4 bike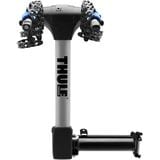 Thule's racks are trusted the world over, but the Apex Swing Away Four-Bike Rack is even awesomer than the company's numerous other offerings. Sure, it has the same Soft Touch anti-sway bike cages, Thule Road Dampening Technology, and integrated locking cable as many other Thule racks, but those...
Thule Cable Lock 6ft One-Key System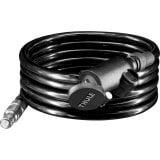 Bikes, boats, and other toys can be lifted off your car when you're grabbing a post-ride beer or stopping to pick up some forgotten camping gear, but Thule's Cable Lock One-Key System helps secure your gear to your rack to prevent theft. At six feet long it can lock down four bikes, two boats, or...
Thule DoubleTrack Pro - 2 Bike Hitch Carrier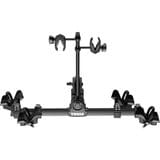 If the thought of traveling without your bikes in tow is enough to make you cringe, then the Thule DoubleTrack Pro - 2 Bike Hitch Carrier is the solution to your cycle-less travel anxiety. This rack attaches to either 1. 5- or 2-inch receiver hitches and carries two bikes, so you can bring a...
Thule EasyFold Bike Carrier
Thule's EasyFold Bike Carrier offers a fully foldable, and removable, two bike hitch rack that is as convenient as it is sturdy. The EasyFold features Snug-Tite, which secures the hitch rack to the vehicle and virtually eliminates rack movement. The rack comes with a pair of repositionable frame...
Thule Fat Tire Kit for T2
The Thule Fat Tire Kit for T2 lets you bring your fat tire bike along on your next bike trip to Fruita. This upgrade kit features front and rear wheel holders to accommodate fat tires up to 5in wide, but is optimized to hold tires of any width. The spring-loaded buckle and extra-long wheel straps...
Thule Frame Adapter For Strap/Hitch Carriers
The Thule Frame Adapter For Strap/Hitch Carriers work with hanging-style hitch-mount racks to hold BMX frames, downhill frames, women-specific frames, and other oddball-shaped frames securely to your rack and vehicle. The Frame Adaptor uses a telescoping push-button system that clamps onto a bike...
<< Prev | 1 | 2 | 3 | 4 | 5 | 6 | Next >>