Hitch Racks Parts - Road Bike Shop
Shop
>
Accessories
>
Car Racks
>
Hitch Racks & Parts
Thule Apex Bike Rack - 5 Bike
The new Thule Apex 5-Bike Rack got a complete makeover this year for improved looks and function. Not only does the Apex look better, but the new design makes it easier to load and unload your bikes and improves ground and bumper clearance. Improved Hitch-Switch design allows the bike carrier...
Thule Apex Swing Away Bike Rack - 4 bike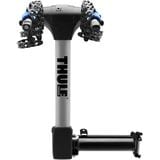 The Thule Apex Swing Away Bike Rack was already trusted by serious road and mountain bike enthusiasts the world over, and now it sports new designs as well as improved features. Now, not only can you bring three friends, your spouse and two kids, your parents and uncle, or any triple-combo of...
Thule Cable Lock 6ft One-Key System
Rest assured knowing your gear is under the protection of the Thule Cable Lock 6ft One-Key System. Whether it's a bike, kayak, or canoe, lock it up before heading back to camp or the pub and don't worry about coming back to find you're missing some equipment. Durable plastic coating prevents...
Thule Doubletrack 2 Bike Hitch Carrier with STL2 Lock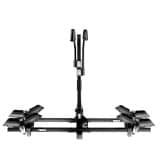 Whether you have an ultralight road racer or a balloon-tire cruiser, carry either (or both!) easily and securely with the Thule Doubletrack carrier. This two-bike carrier provides a hitch-mounted platform that you can attach and load in a snap. Locks are included for maximum security while you...
Thule Fat Tire Kit for T2
The Thule Fat Tire Kit for T2 lets you bring your fat tire bike along on your next bike trip to Fruita. This upgrade kit features front and rear wheel holders to accommodate fat tires up to 5in wide, but is optimized to hold tires of any width. The spring-loaded buckle and extra-long wheel straps...
Thule GoalPost
Thule's Goal Post hitch mount gives you a rear load bar on any vehicle with a 2" hitch mount. Because the Goal Post is mounted so far back, it makes an ideal unit for carrying long kayaks and canoes. The Goal Post includes two load stops and an anti-wobble device for load stability. A telescoping...
Thule Helium Aero Bike Rack - 2 Bike
Take the fuss out of transporting your bikes by attaching the hitch-mounted Thule Helium Aero Bike Rack. The Hold Fast Cradles and no-sway cages securely hold two bikes in place, prevent the bikes from contacting each other, and utilize RDT technology to absorb the shock of rough roads....
Thule Helium Aero Bike Rack - 3 Bike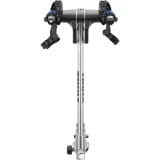 In life you can do things the easy way or the hard way, and when it comes to transporting bikes, the Thule Helium Aero 3-Bike Bike Rack is the easy way. Made from lightweight aluminum, the Helium Aero weighs half as much as standard hitch racks and can be quickly attached or removed from your...
Thule No-Sway Cage Accessory - 2-Pack
If you transport bikes on a spare- or hitch-mount Thule rack, the No-Sway Cage Accessory is the key to keep up to tow bikes from swaying at highway speed or on bumpy roads. The two accessories are crucial to your peace of mind whether the trip takes you to a favorite evening trail or on a cross...
Thule Parkway Hitch Bike Carrier - 4 Bike
The Thule Parkway Hitch is a simple bike carrier that safely and conveniently transports up to four bikes. This bike rack hooks right into your vehicle's hitch to make getting your bicycles to the trailhead simple and worry-free. This bike rack features Thule's classic cradles, which secure and...
<< Prev | 1 | 2 | 3 | 4 | Next >>