Hitch Racks Parts - Road Bike Shop
Shop
>
Accessories
>
Car Racks
>
Hitch Racks & Parts
Rhino-Rack Premium Hitch Mount 4 Bike Carrier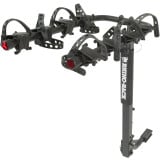 Retail Price:
$224.95
Our Price: $202.45
buy now
Offering an ideal solution for hauling your family's bikes or giving your buddies a lift to the trail, the Rhino-Rack Premium Hitch Mount 4 Bike Carrier is an ultra-efficient way to carry four road or mountain bikes if you already have a 1. 25 or 2-inch receiver on your vehicle. This four-bike...
RockyMounts SouthPark 2-Bike Hitch Rack
We understand the desire to ride your bike everywhere, but sometimes it's best to stick it on your car and head someplace new, which is why Rocky Mounts' SouthPark 2-Bike Hitch Rack is so key. It's one of the most versatile racks on the market, with a tube that fits both 1. 25in and 2in hitches,...
Thule Apex Bike Rack - 4 Bike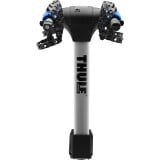 The Thule Apex Bike Rack features an improved design that not only looks better with your car's design but allows faster loading and unloading and increased clearance from the ground and bumper. Improved Hitch-Switch design allows the bike carrier arms to fold down as well as the entire carrier...
Thule Apex Bike Rack - 5 Bike
Thule's sleek redesign for the Apex Bike Rack provides improved ground and bumper clearance, and makes loading and unloading your bikes easier than ever before. Thule's EasyMount system with the Receiver Lock Knob allows for easy and secure installation without tools. The Apex's new arched bike...
Thule Apex Swing Away Bike Rack - 4 bike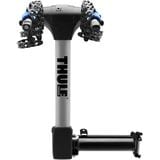 Thule's racks are trusted the world over, but the Apex Swing Away Four-Bike Rack is even awesomer than the company's numerous other offerings. Sure, it has the same Soft Touch anti-sway bike cages, Thule Road Dampening Technology, and integrated locking cable as many other Thule racks, but those...
Thule Cable Lock 6ft One-Key System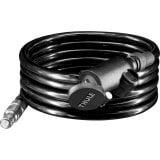 Rest assured knowing your gear is under the protection of the Thule Cable Lock 6ft One-Key System. Whether it's a bike, kayak, or canoe, lock it up before heading back to camp or the pub and don't worry about coming back to find you're missing some equipment. Durable plastic coating prevents...
Thule Doubletrack 2 Bike Hitch Carrier with STL2 Lock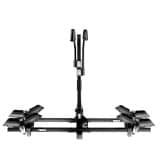 While we typically prefer to ride our bikes to the trailhead or mouth of the canyon, such a practice can be prohibitively difficult if the trailhead or canyon happens to be several hundred miles away from home. In that case, the Thule Doubletrack 2 Bike Hitch Carrier with STL2 Lock provides...
Thule EasyFold Bike Carrier
Thule's EasyFold Bike Carrier offers a fully foldable, and removable, two bike hitch rack that is as convenient as it is sturdy. The EasyFold features Snug-Tite, which secures the hitch rack to the vehicle and virtually eliminates rack movement. The rack comes with a pair of repositionable frame...
Thule Fat Tire Kit for T2
The Thule Fat Tire Kit for T2 lets you bring your fat tire bike along on your next bike trip to Fruita. This upgrade kit features front and rear wheel holders to accommodate fat tires up to 5in wide, but is optimized to hold tires of any width. The spring-loaded buckle and extra-long wheel straps...
Thule GoalPost
Thule's Goal Post hitch mount gives you a rear load bar on any vehicle with a 2" hitch mount. Because the Goal Post is mounted so far back, it makes an ideal unit for carrying long kayaks and canoes. The Goal Post includes two load stops and an anti-wobble device for load stability. A telescoping...
<< Prev | 1 | 2 | 3 | 4 | 5 | Next >>