Camera Accessories Mounts - Road Bike Shop
Shop
>
Accessories
>
Cameras
>
Camera Accessories & Mounts
Chrome Niko Pack
More often than not, camera bags are designed with the sort of style that makes you a target for thieves. Thankfully, the crew at Chrome understands the hassles of the city, so they gave the Niko Pack a more subtle, subdued style that looks clean but blends in just enough to keep your gear on the...
DAKINE POV Micro Mount
Ditch the selfie stick and free up your hands while filming on the mountain with the Dakine POV Micro Mount. This mount fits the GoPro Hero camera and can be fastened to various locations with its adjustable, secure strap.
GoPro Battery BacPac
Retail Price:
$49.99
Our Price: $20.00
buy now
Attach the GroPro Battery BacPac to your Hero3+, Hero3, or HD Hero2 camera when you're not planning on stopping and don't want to miss a second of the jaw-clenching, palm-sweating, synapse-sizzling action. (It's also perfect for long motorcycle cruises, boat trips, and other,...
GoPro Gooseneck
Retail Price:
$19.99
Our Price: $14.96
buy now
Peek around corners, grab a bird's-eye view, or get some extra extension on those selfies with the GoPro Gooseneck, which offers 8 inches of flexible adjustability and can be joined with other Goosenecks if you need more length. You can use it with any quick-release GoPro mount, or just as a...
GoPro Handler Floating Hand Grip
Who would have thought that a little stick could make such a difference? The GoPro Handler Floating Hand Grip is damn near genius in both its simplicity and the quality and creativity of the shots it allows you to take. Whether going for a selfie, or point-of-view perspective, or just trying to...
GoPro Head Strap Mount + QuickClip
Give others a glimpse into your latest adventure with the GoPro Head Strap Mount + QuickClip. Two different mounts allow for a first-person view that shows exactly what you're seeing when you're skiing exposed lines, rafting rivers through towering canyons, or mountain biking your favorite trail....
GoPro NVG Mount
When night turns to day, and your NVG (night vision goggle) plate is naked, dress it with your GoPro HD Hero or Hero2 camera and get some sick, high-octane footage with the securing NVG Mount, including mounting plate and thumb knob. Cover your head and all the action. NVG mounting plate and...
GoPro Standard Housing BacPac Backdoor Kit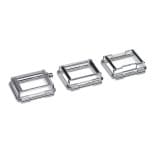 Retail Price:
$9.99
Our Price: $4.00
buy now
Protect your GoPro's LCD Touch BacPac or Battery BacPac with the Standard Housing BacPac Backdoor Kit, which provides three snap-on options to keep your camera safe while you're sticking a toe over the line between having fun and scaring yourself silly. The Standard Backdoor is super-waterproof...
GoPro Suction Cup Mount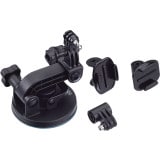 Shoot the most obscure angles possible when you use the GoPro Suction Cup Mount to attach your GoPro HD Hero camera to your boat, car, or motorcycle. An industrial-strength suction cup (think British spy gear) and easily adjustable mounting system allow you to safely secure your camera to any...
GoPro The Tool Thumb Screw Wrench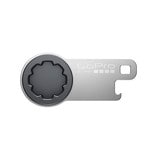 GoPro's copious use of thumb screws makes its cameras and related mounting hardware especially user friendly, but sometimes we need a bit more. For high-impact, high-speed, and high-vibration activities, you want more torque on those screws and bolts, so grab the GoPro Tool Thumb Screw Wrench. It...