Camera Accessories Mounts - Road Bike Shop
Shop
>
Accessories
>
Cameras
>
Camera Accessories & Mounts
Chrome Niko Pack
More often than not, camera bags are designed with the sort of style that makes you a target for thieves. Thankfully, the crew at Chrome understands the hassles of the city, so they gave the Niko Pack a more subtle, subdued style that looks clean but blends in just enough to keep your gear on the...
Contour Motorsports Mounts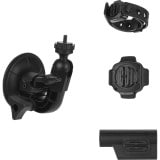 Retail Price:
$99.99
Our Price: $64.99
buy now
Contour's Motorsports Mounts kit includes four versatile and highly durable mounts that can be used to easily attach your Contour camera to your bike, motorcycle, or car. Rather than purchasing each of these mounts individually, save some cash by purchasing everything together and get the perfect...
GoPro 3.5mm Mic Adapter (HERO3/HERO3+ only)
For enhanced audio quality of your GoPro Hero3 or Hero3+ camera, attach any external 3. 5mm microphone with the help of the 3. 5mm Mic Adapter.
GoPro 3D Glasses (5-pack)
Retail Price:
$4.99
Our Price: $3.49
buy now
When it comes time for friends and family to enjoy the masterpiece you've created with the GoPro 3D Hero System, have everyone put on a pair of GoPro 3D Glasses before pushing play. The glasses provide 3D viewing for all 3D films and print media. Includes five pairs of red/blue 3D glasses
GoPro Anti-Fog Inserts
No matter what GoPro camera you possess, wet and humid conditions have always been a challenge, so equip yourself with the Anti-Fog Inserts. Though your GoPro is safe and sound inside its own waterproof housing, there there will always be air trapped inside with the camera. If that air is...
GoPro Auto Charger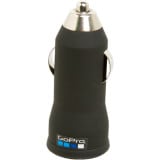 You have an intense day of adventure planned--make sure your camera has enough power to capture all of the awesomeness. The GoPro Auto Charger lets you keep the cameras rolling when you're on the road, so you won't miss a moment. Double ports let you charge two cameras simultaneouslyJuicy...
GoPro Bag Pack
It's not a backpack or a pack bag. It's a GoPro Bag Pack, five tough and handy drawstring bags to keep your GoPro camera and accessories neat, organized, and protected. That's right: not one, but five.
GoPro Battery BacPac
Give your GoPro a backpack of its own with the Battery BacPac. This little detachable pack doubles your battery capacity for those epic trips or readiness for spontaneous shenanigans. An LCD indicates battery level and charging status for quick and easy beta. It comes well equipped with both slim...
GoPro Camera Tethers
There's a squall out there, or you're about to drop a 50-footer. Either way, don't take chances; secure your GoPro with the GoPro Camera Tethers that attach your camera backdoor to your gear. Because if you stuck that baby but lost your camera, you'd be swearing instead of sharing. Five adhesive...
GoPro Chest Mount Harness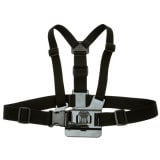 The GoPro Chest Mount Harness allows you to capture that elusive view of the action from behind the handlebars. If that's what you're after, mounting your GoPro on your head just won't do. It's made of wide, stretchy webbing with sliding strap adjusters to accommodate anyone from petite to...
<< Prev | 1 | 2 | 3 | 4 | 5 | Next >>