Camera Accessories Mounts - Road Bike Shop
Shop
>
Accessories
>
Cameras
>
Camera Accessories & Mounts
Chrome Niko 26L Backpack
More often than not, camera bags are designed with the sort of style that makes you a target for thieves. Thankfully, the crew at Chrome understands the hassles of the city, so they gave the Niko Pack a more subtle, subdued style that looks clean but blends in just enough to keep your gear on the...
Garmin Adjustable Mounting Arm Kit
Retail Price:
$19.99
Our Price: $16.99
buy now
If you've got a Garmin VIRB camera, you need this Adjustable Mounting Arm kit. It has a handful of useful attachments, enabling you to affix your camera to just about anything. This kit includes a short link, a long link, a right angle link, an adapter to popular industry mounts, flat and curved...
Garmin Mini USB Cable
Retail Price:
$14.99
Our Price: $11.24
buy now
If you need to maximize the power of your Garmin device, you'll need to connect it to the internet. We know that we're not blowing any minds here, but the Garmin Mini USB Cable supplies you with access to unlimited data possibilities. Just a small sample of what lies ahead is access to map and...
GoPro Chest Mount Harness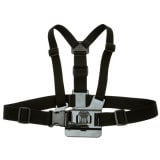 The GoPro Chest Mount Harness allows you to capture that elusive view of the action from behind the handlebars. If that's what you're after, mounting your GoPro on your head just won't do. It's made of wide, stretchy webbing with sliding strap adjusters to accommodate anyone from petite to...
GoPro Gooseneck
Peek around corners, grab a bird's-eye view, or get some extra extension on those selfies with the GoPro Gooseneck, which offers 8 inches of flexible adjustability and can be joined with other Goosenecks if you need more length. You can use it with any quick-release GoPro mount, or just as a...
GoPro Head Strap Mount + QuickClip
Give others a glimpse into your latest adventure with the GoPro Head Strap Mount + QuickClip. Two different mounts allow for a first-person view that shows exactly what you're seeing when you're skiing exposed lines, rafting rivers through towering canyons, or mountain biking your favorite trail....
GoPro Karma Grip
One of the major downsides to filming fast-paced activities is the jarring footage resulting from the vibrations of skiing, snowboarding, mountain biking, and other action sports. Solving this problem for good, the GoPro Karma Grip stabilizes your shooting experience, lending silky-smooth...
GoPro NVG Mount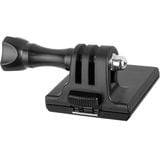 When night turns to day, and your NVG (night vision goggle) plate is naked, dress it with your GoPro HD Hero or Hero2 camera and get some sick, high-octane footage with the securing NVG Mount, including mounting plate and thumb knob. Cover your head and all the action. NVG mounting plate and...
GoPro The Tool Thumb Screw Wrench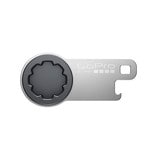 GoPro's copious use of thumb screws makes its cameras and related mounting hardware especially user friendly, but sometimes we need a bit more. For high-impact, high-speed, and high-vibration activities, you want more torque on those screws and bolts, so grab the GoPro Tool Thumb Screw Wrench. It...