Camera Accessories Mounts - Road Bike Shop
Shop
>
Accessories
>
Cameras
>
Camera Accessories & Mounts
SP Gadgets Power Bar Duo
All the raddest things tend to happen on the road, which is why you should make sure the SP Gadgets Power Bar Duo is packed whenever you head out the door. It can charge two GoPro Hero3/Hero3+ batteries simultaneously, and it has a USB port as well so you can keep your other electronics charges...
SP Gadgets Tripod Screw Adapter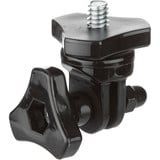 Turn your SP Gadgets GoPro mounts into standard camera mounts with the Tripod Screw Adapter, which simply screws into the top of SP Gadgets mounts to make them compatible with almost every camera or camcorder available.
UK Pro Freestyler Light
Use the UK Pro Freestyler Light to brighten the night when you're filming with your GoPro. Its ultra wide beam matches GoPro's camera lens so the footage looks like it was shot in the middle of the day. This LED light is waterproof up to 3 meters and is compatible with the UK Pro Flex Grip for...
UK Pro GoPro-Specific POV 20 Case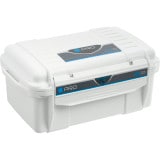 When your GoPro Hero camera isn't capturing your radness from your helmet, ski pole, handlebars, or surfboard, lock it up safely inside the waterproof UK Pro GoPro-Specific POV 20 Case. With hard ABS plastic on the outside and soft, shaped foam dampening the shock the inside, you'd have to chuck...
UK Pro GoPro-Specific POV 20 LT Case
If you aren't a contracted action sports videographer, then you've come to the right place. UK Pro built the GoPro-Specific POV 20 LT Case for those amateur film directors looking for a step up in their organizational ability. This lightweight, flexible nylon case may not be able to withstand a...
UK Pro GoPro-Specific POV 30 Case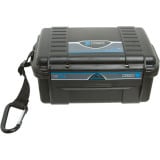 Long trips deserve to be documented and sweet camera gear deserves to be protected. The UK Pro GoPro-Specific POV 30 Case stores your GoPro Hero camera when it's not in use so it doesn't get lost, stolen, or broken during your travels. Once you fit your camera and accessories inside the snug,...
UK Pro GoPro-Specific POV 60 Case
If you've invested enough on the best action cameras on the market, you'll probably want to protect that investment; plastic grocery bags are not a storage option. Get yourself UK Pro's GoPro-Specific POV 60 Case and trek on without worry of damage or lack of supplies, whether you're off on a...
UK Pro GoPro-Specific POV BlackPak Case
Ever wonder how some directors can make such stunning videos with just a GoPro? This is their dirty little secret: the GoPro-Specific POV BlackPak Case by UK Pro includes everything you'll need to start making your videos look professional. The only two empty foam cavities you'll find in the UK...
UK Pro POV 40 with Shoulder Strap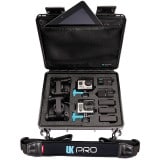 Protect your GoPro Hero cameras on adventures with the UK Pro POV 40 with Shoulder Strap. ABS plastic, stainless steel, and a Lexan treatment work together to guard your gear from damage, water, and impacts. There are two slots for GoPro Hero cameras, one large compartment for floaties, suction...
UK Pro POV Camera Pole 22in
Stop sabotaging old ski poles and broom handles in your efforts to find the perfect pole mount for your GoPro and get the UK Pro POV 22in Camera Pole instead. The lightweight aluminum handle won't tire out your arm after one run, and the rubber grip provides a solid hold so you don't drop it when...
<< Prev | 1 | 2 | 3 | 4 | 5 | 6 | Next >>