Camera Accessories Mounts - Road Bike Shop
Shop
>
Accessories
>
Cameras
>
Camera Accessories & Mounts
GoPro Wi-Fi Attachment Keys + Rings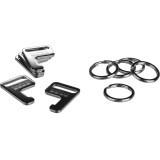 Wi-Fi Attachment Keys + Rings
GoPro Wi-Fi Remote Charging Cable
Wi-Fi Remote Charging Cable
GoPro Wi-Fi Remote Mounting Kit
Wi-Fi Remote Mounting Kit
iON Adhesive Pack - Board
The Ion Board Adhesive Pack includes six Ion-specific double-sided adhesive patches--three that hold the bracket to your board (snowboard, ski, surfboard, skateboard) and three that hold the camera to the bracket. That's plenty of backup in case you need it.
iON Bike Mount Pack
Make that iON Air Pro camera do its job with the iON Bike Mount Pack. This mount lets you get footage of screaming singletrack and park hucks, so you don't have to spend all night trying to describe how big and gnarly it all was. Included is a sturdy bike mount and short ball joint for secure...
iON Mount Pack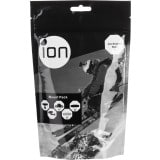 Congratulations! You just bought one of the best action-sports cameras on the market. Now you're going to have to figure out how to attach it to your lid so you can share the world through your eyes. Fortunately, the folks at Ion have that all figured out for you. The Ion Mount Pack comes with...
K-Edge Go-Big Universal Mount
The K-Edge Go-Big Universal Mount is a simple and supremely durable mount for your GoPro camera in high-speed applications. Designed to mount flush with flat surfaces, the Universal Mount minimizes camera shake, and maximizes picture stability for your GoPro, even at velocities most of us wouldn...
Ricoh WG Handle Bar Mount O-CM1472
Keep your camera ready to get the shot on scenic road bike rides and capture the intensity of your mountain bike run with the help of the Ricoh WG Handle Bar Mount O-CM1472. It has an adjustable clamp so you can secure your Ricoh WG-4 camera to almost any size handlebar.
Ricoh WG Holder O-CM1470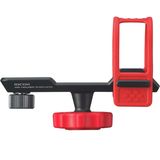 The Ricoh WG Holder O-CM1470 hooks up to any of your WG mounts and features a ball-and-socket joint that allows for precise adjustment of the camera angle so you can get the shot you want.
SP Gadgets P.O.V. Aqua Case Small
If there's a chance your GoPro will get soggy during storage, toss it in the SP Gadgets P. O. V. Aqua Small Case. The hard plastic shell is water-resistant to protect your gear, and the soft foam padding absorbs all the bumps and bruises of travel. It'll even float, though it's not recommended...
<< Prev | 1 | 2 | 3 | 4 | 5 | 6 | 7 | Next >>