Camera Accessories Mounts - Road Bike Shop
Shop
>
Accessories
>
Cameras
>
Camera Accessories & Mounts
GoPro Rechargeable Battery 2.0 (HERO3/HERO3+ only)
Use the lithium-ion GoPro Rechargeable Battery (HERO3/HERO3+ only) as a spare in case you go so big you use all your camera juice. Or use it as a replacement when you're running low. There's nothing less pro than setting up an epic shoot with a dead camera.
GoPro Roll Bar Mount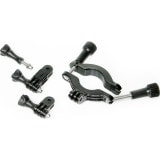 Use the GoPro Roll Bar Mount to attach your GoPro Hero HD camera to the bars of your dune buggy, four-wheeler, or big mountain bike. Attach this sturdy stainless steel and polycarbonate camera mount to any bar or tube with a diameter 1. 4 to 2. 5 inches wide and add more angles to your films.....
GoPro Skeleton Housing (Hero3/Hero3+ Only)
The GoPro Skeleton Housing is a minimalist housing for Hero 3 and Hero 3+ cameras. It offers side panel access for camera ports, providing the capability for live-feed video, charging, cooling, and enhanced audio capture. The housing isn't waterproof, and it should only be used in dry conditions....
GoPro Standard Housing BacPac Backdoor Kit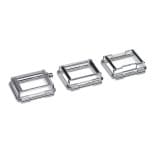 Protect your GoPro's LCD Touch BacPac or Battery BacPac with the Standard Housing BacPac Backdoor Kit, which provides three snap-on options to keep your camera safe while you're sticking a toe over the line between having fun and scaring yourself silly. The Standard Backdoor is super-waterproof...
GoPro Standard Housing For HERO3 and HERO3+
GoPro updated the Standard Housing for its HERO3 and HERO3+ cameras so it's smaller, lighter, and easier to use. This housing has tighter form and improved functionality to make getting the money shot easier than ever. Flatter, broader buttons are easy to use while wearing gloves or if you have...
GoPro Standard Housing for HERO4, HERO3+ or HERO3
Stuff happens. Things break. Lostness occurs. When the item in question is the housing for your Hero3, Hero3+, or Hero4 camera, replace it with the GoPro Standard Housing. Identical to the one your GoPro came with, the casing is waterproof to 40 meters and the pack includes the Skeleton, Touch,...
GoPro Standard Housing Lens Replacement Kit For HERO3/HERO3+
Standard Housing Lens Replacement Kit For HERO3/HERO3+
GoPro Suction Cup Mount
Shoot the most obscure angles possible when you use the GoPro Suction Cup Mount to attach your GoPro HD Hero camera to your boat, car, or motorcycle. An industrial-strength suction cup (think British spy gear) and easily adjustable mounting system allow you to safely secure your camera to any...
GoPro The Frame
The Frame is GoPro's smallest, sleekest, and lightest mount, with unbeatable audio capture and full access to all your camera's ports. It's compatible with GoPro BacPacs so you can attach a touch screen or battery pack, and includes a protective cover to keep your lens from getting scratched.
GoPro The Tool Thumb Screw Wrench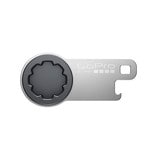 GoPro's copious use of thumb screws makes its cameras and related mounting hardware especially user friendly, but sometimes we need a bit more. For high-impact, high-speed, and high-vibration activities, you want more torque on those screws and bolts, so grab the GoPro Tool Thumb Screw Wrench. It...
<< Prev | 1 | 2 | 3 | 4 | 5 | 6 | 7 | Next >>