Camera Accessories Mounts - Road Bike Shop
Shop
>
Accessories
>
Cameras
>
Camera Accessories & Mounts
GoPro Skeleton Housing (Hero3/Hero3+ Only)
The GoPro Skeleton Housing is a minimalist housing for Hero 3 and Hero 3+ cameras. It offers side panel access for camera ports, providing the capability for live-feed video, charging, cooling, and enhanced audio capture. The housing isn't waterproof, and it should only be used in dry conditions....
GoPro Standard Housing For HERO3 and HERO3+
GoPro updated the Standard Housing for its HERO3 and HERO3+ cameras so it's smaller, lighter, and easier to use. This housing has tighter form and improved functionality to make getting the money shot easier than ever. Flatter, broader buttons are easy to use while wearing gloves or if you have...
GoPro Standard Housing Lens Replacement Kit For HERO3/HERO3+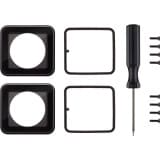 Standard Housing Lens Replacement Kit For HERO3/HERO3+
GoPro Suction Cup Mount
Shoot the most obscure angles possible when you use the GoPro Suction Cup Mount to attach your GoPro HD Hero camera to your boat, car, or motorcycle. An industrial-strength suction cup (think British spy gear) and easily adjustable mounting system allow you to safely secure your camera to any...
GoPro The Frame
The Frame is GoPro's smallest, sleekest, and lightest mount, with unbeatable audio capture and full access to all your camera's ports. It's compatible with GoPro BacPacs so you can attach a touch screen or battery pack, and includes a protective cover to keep your lens from getting scratched.
GoPro Tripod Mounts
Tripod Mounts
GoPro Vented Helmet Strap Mount
Show your East Coast friends what real pow is when you attach your GoPro camera to your helmet with the GoPro Vented Helmet Strap. This nylon strap threads through your helmet's vents and tightens with slide-locks, so you can attach your GoPro HD Helmet HERO while riding the first tram on a...
GoPro Wall Charger
Whether you use it to charge the battery or run your GoPro HD Hero from a standard wall outlet, the GoPro Wall Charger will keep the juice flowin' to your favorite memory-making machine. The compact design lets you take it anywhere, and two USB inlet plugs let you charge two cameras at once.
GoPro Wi-Fi Attachment Keys + Rings
Wi-Fi Attachment Keys + Rings
GoPro Wi-Fi Remote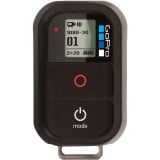 Hands-free, baby. In this age of high-tech gadgetry, you don't have to actually stand by like an island and push buttons when you could be standing wherever you please with the GoPro Wi-Fi Remote. Usher in this advanced era and liberate yourself from a fixed point, especially when that could be...
<< Prev | 1 | 2 | 3 | 4 | 5 | 6 | 7 | 8 | Next >>