Movies - Road Bike Shop
Shop
>
Accessories
>
Books, Magazines & Gifts
Arundel Bell
We all need to make a little noise at times on the roads, and we agree with the guys at Arundel who argue that the sweet ring of a bell sounds much, much better than yelling. With their smooth, rounded profile and classic finishes, the Isabell, Maybell, and Jezebell allow you to communicate...
Assos Espresso Set (2 Sets)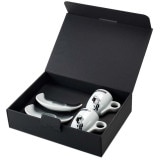 We're aware that the culture of cycling involves many intricacies, some of which take years to fully embrace and understand. However, one commonality among those in the shaved leg realm is fairly intuitive, as it involves an obsessive attraction to all things caffeinated. After all, there's a...
Blackburn Roll With It Book and Movie
Delve into an artistic and aspirational tale of American bikepacking with Blackburn's Roll With It Book and Movie. One part education with tips and guidance to launch your own adventure and one part inspiration as it follows a group of cyclists across the miles, this photo book is the perfect...
Burton Kit
Retail Price:
$39.95
Our Price: $27.96
buy now
We sat around all weekend trying to think of witty things to say about the Burton Kit, but it just burned us out. The fact is, if you know what the Kit is for, then you know why you need it. If you don't, you don't. It's that simple.
CatEye Yamabiko Bell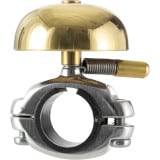 Bells aren't always the coolest accessory for your ride. Worse, mandatory bell laws in some areas of the country (lookin' at you, NYC) basically require you to dial up the dorkiness a bit, which can be seriously uncool for certain machines. With bells like the CatEye Yamabiko, however, you can at...
Chris King Cup and Saucer Set
We're all familiar with the signature buzz of Chris King's R45 hubs, and, love it or hate it, that noise is inseparably linked to a history of cycling design we're comfortable describing as precise, meticulous, and -- if you'll allow us a moment of hyperbole -- borderline-obsessive. The Chris...
Chris King Espresso Tamper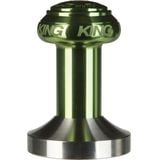 Retail Price:
$120.00
Our Price: $102.00
buy now
Many of the cyclists we know approach anything relating to machine or ride with an attention to detail that borders on the spiritual. Everything from the nuanced rituals we observe while wrapping our bars to the regimented process of assembling gear for a cold-weather ride is often precisely...
GSI Outdoors Wine Glass Gift Set
GSI Outdoors has launched a Wine Revolution, and the Wine Gift Set is the epitome of its mission to make it easy to enjoy your favorite varietal far from home. This set includes: the innovative 750ml Soft-Sided Wine Carafe, into which you can decant your favorite bottle of wine; two Nesting Wine...
Handpresso Outdoor Set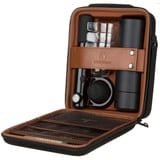 Retail Price:
$199.99
Our Price: $129.99
buy now
Ever wanted to make espresso halfway along some epic bike tour or atop a scenic mountain? The Handpresso Outdoor Set gives you the freedom to brew delicious and invigorating espresso anywhere, thanks to its ultra-portable size and quick-brewing Handpresso pump. The kit's carrying case comes in at...
Handpresso Unbreakable Outdoor Cups
As espresso enthusiasts, we insist on certain conditions during the ritual of coffee preparation. Among these is a prohibition on paper, metal, or oversized cups. Handpresso's Unbreakable Outdoor Cups mean that we can observe this prohibition while enjoying cafe from our Wild Hybrid mobile press...
<< Prev | 1 | 2 | 3 | Next >>