Books Magazines Gifts - Road Bike Shop
Shop
>
Accessories
>
Books, Magazines & Gifts
>
Books, Magazines & Gifts
Twin Six Dust Poster
Do your garage, workshop, or living room proud with the Dust Poster from Twin Six. In the words of the team at TS, this beautiful poster was inspired by "the dust we come from, ride through, and return to." The theme comes to life through the dirt brown and clear contoured ink printed on the...
Twin Six Flask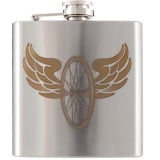 Twin Six just made you the hero of group with its special little steel sleeve of goodness. Whether you're course-side at the 'cross race or just jump-starting the night, the Twin Six Flask has you covered. The Flask is made with Alcohol-grade stainless steel, meaning your selected beverage will...
Twin Six Flask Holster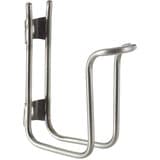 Yes, the Twin Six Flask Holster is exactly what it sounds like it is. Bolt the Holster to your bottle cage mount for convenient and fashionable toting of your necessary serum. Made in the USA of stainless steel. Please ride safe out there.
Twin Six Metal Poster
For those with a soft spot for hard metal, perhaps both music- and bike-related, Twin Six's Metal Poster was made for you. Screen-printed in silver and black on heavy-duty grey cover stock, this 22 x 28in poster is perfect for your shop, garage, or living room. Stay metal and ride on.
Wisecracker Backcountry Headset Spacer Bottle Opener
At Backcountry, we like to think of beer as the ultimate uniting beverage. However serious we can be in the heat of competition, few furrowed foreheads remain once we start popping open the local brews. So it's only fitting that Backcountry has its own branded opener from Wisecracker. With the...
Wisecracker Competitive Cyclist Headset Spacer Bottle Opener
Who said beer is not a great recovery drink? Not us. That's why we had to have a Wisecracker Competitive Cyclist Headset Spacer Bottle Opener. Carry it in your pocket or fit it neatly as a headset spacer under your handlebars, you'll never need to be without a way to open that brew on the trails...
Wisecracker Twinduro Titanium Headset Spacer Bottle Opener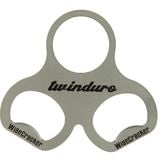 Not only is the Wisecracker Twinduro Titanium Headset Spacer Bottle Opener a two-in-one bottle opener, but the 1-1/8-inch, 1. 8-millimeter thick piece fits neatly onto your bike as a slim headseat spacer, so you can pop open a cold one or two wherever you ride. Not that we do that.
Yeti Cycles Flask
No tribe member's inventory is complete without the Yeti Cycles Flask. Its stainless steel construction is durable enough to resist dents while riding in your pocket, so you can carry the spirits of the Yeti tribe with you into the singletrack wilderness or the downtown jungle. Stay hydrated, the...
<< Prev | 1 | 2 | 3 | Next >>