Books Magazines Gifts - Road Bike Shop
Shop
>
Accessories
>
Books, Magazines & Gifts
>
Books, Magazines & Gifts
Skratch Labs Feed Zone Portables Cookbook
We make no qualms about it, we're big fans of Allen Lim, Skratch Labs, and the Feed Zone Cookbook. However, while the aforementioned book is nearly unparalleled for cycling-conscious meals, both pre- and post-ride, it's purposefully lacking on-the-move recipes. Enter the realm of the the Feed...
TrackR StickR TrackR
Have you ever walked out of class only to find nothing but a cut lock? Have you ever walked out of a bar only to realize you had no idea where you left your bike? Whether your bike has been stolen or simply misplaced, the TrackR StickR will help you find it. TrackR uses an app available for iOS...
Twin Six Deluxe Poster
Inspired by the Super Deluxe bikes of the '50s, Twin Six's Deluxe Poster beautifully captures the flowing lines that made this bicycle the dream ride of its day. From the matching chainguard to the fender-integrated headlight, few bikes match the sheer beauty of these classic bikes. Each poster...
Twin Six Dust Poster
Do your garage, workshop, or living room proud with the Dust Poster from Twin Six. In the words of the team at TS, this beautiful poster was inspired by "the dust we come from, ride through, and return to." The theme comes to life through the dirt brown and clear contoured ink printed on the...
Twin Six Flask
Twin Six just made you the hero of group with its special little steel sleeve of goodness. Whether you're course-side at the 'cross race or just jump-starting the night, the Twin Six Flask has you covered. The Flask is made with Alcohol-grade stainless steel, meaning your selected beverage will...
Twin Six Flask Holster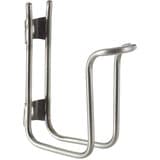 Yes, the Twin Six Flask Holster is exactly what it sounds like it is. Bolt the Holster to your bottle cage mount for convenient and fashionable toting of your necessary serum. Made in the USA of stainless steel. Please ride safe out there.
Twin Six Level Up One-Piece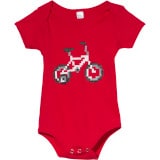 Retail Price:
$23.95
Our Price: $22.99
buy now
When you live and breathe bikes, you are sure to swaddle your children in anything with bikes. The Twin Six Level Up One-Piece is a 100% cotton, screened onesie with a snap bottom for easy diaper changing. Your youngster will be styling when they greet mom and dad at the finish line. The Twin Six...
Twin Six Metal Poster
For those with a soft spot for hard metal, perhaps both music- and bike-related, Twin Six's Metal Poster was made for you. Screen-printed in silver and black on heavy-duty grey cover stock, this 22 x 28in poster is perfect for your shop, garage, or living room. Stay metal and ride on.
Wisecracker Twinduro Titanium Headset Spacer Bottle Opener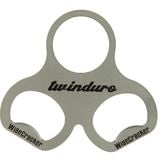 Twinduro Titanium Headset Spacer Bottle Opener
Yeti Cycles Flask
No tribe member's inventory is complete without the Yeti Cycles Flask. Its stainless steel construction is durable enough to resist dents while riding in your pocket, so you can carry the spirits of the Yeti tribe with you into the singletrack wilderness or the downtown jungle. Stay hydrated, the...
<< Prev | 1 | 2 | 3 | Next >>