Books Magazines Gifts - Road Bike Shop
Shop
>
Accessories
>
Books, Magazines & Gifts
>
Books, Magazines & Gifts
Skratch Labs Feed Zone Cookbook
The story of Dr. Allen Lim's Skratch Labs is a sports nutrition fairytale of sorts, born out of dedication for the pro teams and riders whose diets and nutrition he carefully supervised. It was at great personal cost that he tinkered with the preparation of wholesome foods under the belief that...
Skratch Labs Feed Zone Portables Cookbook
We make no qualms about it, we're big fans of Allen Lim, Skratch Labs, and the Feed Zone Cookbook. However, while the aforementioned book is nearly unparalleled for cycling-conscious meals, both pre- and post-ride, it's purposefully lacking on-the-move recipes. Enter the realm of the the Feed...
Twin Six Deluxe Poster
Inspired by the Super Deluxe bikes of the '50s, Twin Six's Deluxe Poster beautifully captures the flowing lines that made this bicycle the dream ride of its day. From the matching chainguard to the fender-integrated headlight, few bikes match the sheer beauty of these classic bikes. Each poster...
Twin Six Flask
Twin Six just made you the hero of group with its special little steel sleeve of goodness. Whether you're course-side at the 'cross race or just jump-starting the night, the Twin Six Flask has you covered. The Flask is made with Alcohol-grade stainless steel, meaning your selected beverage will...
Twin Six Flask Holster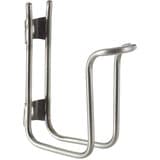 Yes, the Twin Six Flask Holster is exactly what it sounds like it is. Bolt the Holster to your bottle cage mount for convenient and fashionable toting of your necessary serum. Made in the USA of stainless steel. Please ride safe out there.
Twin Six Level Up One-Piece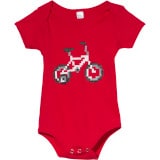 When you live and breathe bikes, you are sure to swaddle your children in anything with bikes. The Twin Six Level Up One-Piece is a 100% cotton, screened onesie with a snap bottom for easy diaper changing. Your youngster will be styling when they greet mom and dad at the finish line. The Twin Six...
<< Prev | 1 | 2 | 3 | Next >>