Books Magazines Gifts - Road Bike Shop
Shop
>
Accessories
>
Books, Magazines & Gifts
>
Books, Magazines & Gifts
Rouleur Rouleur Gloves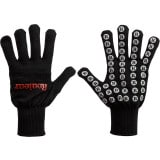 Show your love of one of the best cycling publications on the planet with a pair of Rouleur Gloves. Knit from a synthetic knit that wicks moisture away from your skin, the Rouleur gloves feature grip print on the fingers and palm to ensure that you always are securely attached to the bars. Wear...
Skratch Labs Feed Zone Cookbook
The story of Dr. Allen Lim's Skratch Labs is a sports nutrition fairytale of sorts, born out of dedication for the pro teams and riders whose diets and nutrition he carefully supervised. It was at great personal cost that he tinkered with the preparation of wholesome foods under the belief that...
Skratch Labs Feed Zone Portables Cookbook
We make no qualms about it, we're big fans of Allen Lim, Skratch Labs, and the Feed Zone Cookbook. However, while the aforementioned book is nearly unparalleled for cycling-conscious meals, both pre- and post-ride, it's purposefully lacking on-the-move recipes. Enter the realm of the the Feed...
<< Prev | 1 | 2 | Next >>