Books Magazines Gifts - Road Bike Shop
Shop
>
Accessories
>
Books, Magazines & Gifts
Adventure Medical Adventure 2.0 First Aid Kit
For trips of any kind, carry the Adventure Medical Kits Adventure 2. 0 First Aid Kit to ensure that you're ready for anything, anywhere. This family-sized kit contains a multitude of supplies to treat scrapes, sprains, headaches, mild allergic reactions, and larger wounds. Even if you're not...
Arundel Bell
We all need to make a little noise at times on the roads, and we agree with the guys at Arundel who argue that the sweet ring of a bell sounds much, much better than yelling. With their smooth, rounded profile and classic finishes, the Isabell, Maybell, and Jezebell allow you to communicate...
Blackburn Roll With It Book and Movie
Delve into an artistic and aspirational tale of American bikepacking with Blackburn's Roll With It Book and Movie. One part education with tips and guidance to launch your own adventure, and one part inspiration as it follows a group of cyclists across the miles, this photo book is the perfect...
Burton Kit
We sat around all weekend trying to think of witty things to say about the Burton Kit, but it just burned us out. The fact is, if you know what the Kit is for, then you know why you need it. If you don't, you don't. It's that simple.
Campagnolo BIG Corkscrew
Don't use a penknife corkscrew to open that Italian bottle of wine. Celebrate your favorite riders tearing it up on the World Tour scene with the Campagnolo BIG Corkscrew. Fashioned in the traditional rabbit-ear style, this beautiful corkscrew features a bronze-finished, hardened steel...
CatEye Flex Tight Bell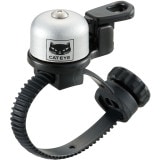 The CatEye Flex Tight Bell is the answer to your problem of what bell to pick up if you need to fit your dinger around a section of your handlebar, or any other part of your bike, where most bell clamps won't fit. The tool-free adjustable plastic band snugs up on anything with a diameter of 19 to...
CatEye Limit Bell
Need a dinger, but don't have a lot of room on your handlebar? Keep it light, tight, and simple with the CatEye Limit Bell. The aluminum dome rings loud and clear while the grooved lever is easy to pull from virtually any position, whether mounted on the top or bottom of the handlebar. Available...
CatEye Yamabiko Bell
Bells aren't always the coolest accessory for your ride. Worse, mandatory bell laws in some areas of the country (lookin' at you, NYC) basically require you to dial up the dorkiness a bit, which can be seriously uncool for certain machines. With bells like the CatEye Yamabiko, however, you can at...
Chris King Cup and Saucer Set
Retail Price:
$20.00
Our Price: $17.00
buy now
We're all familiar with the signature buzz of Chris King's R45 hubs, and, love it or hate it, that noise is inseparably linked to a history of cycling design we're comfortable describing as precise, meticulous, and -- if you'll allow us a moment of hyperbole -- borderline-obsessive. The Chris...
Chris King Espresso Tamper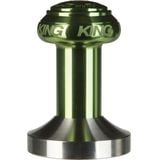 Retail Price:
$120.00
Our Price: $102.00
buy now
Many of the cyclists we know approach anything relating to machine or ride with an attention to detail that borders on the spiritual. Everything from the nuanced rituals we observe while wrapping our bars to the regimented process of assembling gear for a cold-weather ride is often precisely...
<< Prev | 1 | 2 | 3 | 4 | 5 | Next >>