Mens Cycling Sunglasses - Road Bike Shop
Shop
>
Accessories
>
Sunglasses
>
Men's Apparel Cycling Sunglasses
Assos Zegho Amplify Sunglasses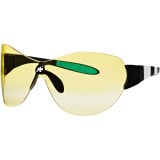 We've been around long enough to accept that true innovation requires a shift from the rigidity of paradigms. By this, we mean that change requires a bit of turning the status quo on its head, starting over, and reinventing every aspect that's ever been used as a design crutch. Or, in even...
Assos Zegho Crystal Sunglasses
The clear-lens pair of sunglasses. To some, they're an anomaly, while to others, they're a necessary component of a versatile cycling wardrobe -- we tend to gravitate towards the latter. After all, when clouds loom, and the light is low, you need protection that won't cloud your field of vision....
Assos Zegho eXploit Sunglasses
We understand how gimmicky it sounds to say that Assos' Zegho eXploit Sunglasses have 'improved upon perfection,' but that's really what's been done. With the eXploit, Assos has created a new frame color to appease the most daring of Assos clientele, while also creating a new lens color that's...
Assos Zegho Noir Sunglasses
In the transient world of cycling clothing, Assos strives for permanence. At their best, the Swiss company produces apparel that goes beyond being merely that. Their stuff is wearable bicycle componentry that has a timeless fashion and an honored tradition of durability. Because of their track...
Assos Zegho Werksmannschaft Sunglasses
We understand why you might sometimes feel that you need a degree in Assos to understand some of its product titles. However, like all things Assos, the two words, 'Zegho Werksmannschaft,' speak volumes towards a refined, innovative, and feverish approach to perfection. And while you have a few...
Catlike D'Lux Micro Sunglasses
What makes a quality pair of glasses? Speaking for ourselves, comfort reigns at the top of the list, followed closely by a consistent fit, durability, and just to be a tad vain, style. And while the cycling glasses market seems saturated, it's really just flooded with a host of sub par offerings....
Catlike D'Lux Plus Photochromic Sunglasses
Retail Price:
$175.00
Our Price: $157.95
buy now
Have you ever had the feeling that some of your gear is smarter than you? While this might be possible, say with Campy EPS, we feel that pieces like the Catlike D'Lux Plus Photochromic Sunglasses at least improve upon the inadequacies of the human body. Not surprisingly, Catlike's foray into...
Catlike D'Lux Plus Sunglasses
When it comes to cycling sunglasses, the world is seemingly your oyster. However, keep in mind that all that glitters isn't gold. Far too often, eyewear designs force you to compromise. Whether it be comfort over lens quality or price over polarization, we typically feel that we're left grasping...
Kaenon Kore Sunglasses - Polarized
The Kaenon Kore Polarized Sunglasses are made with high-quality materials and designed for those who take their outdoor sports seriously. Whether you're playing a friendly game of volleyball or kite surfing on the sand flats, you'll appreciate the Kore's light and durable frame. These Kaenon...
Oakley Bottle Rocket Sunglasses
You can pass it off as an accident if you run into a tree once while you're jogging, but if it happens again, you probably can't blame it on the glare. Save yourself the embarrassment, and the bloody face, by picking up the Oakley Bottle Rocket Sunglasses, which reduce glare with impact-resistant...
<< Prev | 1 | 2 | 3 | 4 | 5 | 6 | 7 | 8 | Next >>