Mens Cycling Sunglasses - Road Bike Shop
Shop
>
Accessories
>
Sunglasses
>
Men's Apparel Cycling Sunglasses
Oakley Radarlock XL Straight Sunglasses - Photochromic
Oakley is constantly redefining what sunglasses can do for you, and the Radarlock XL Straight Photochromic Sunglasses are no exception. Photochromic lenses darken and lighten is response to changing light conditions, and if that's not enough, they can be swapped out for other lenses in seconds...
Oakley Radarlock XL Straight Sunglasses - Polarized
Some sports, like cycling, require you to keep your head down for the correct performance position. The design of the Oakley Radarlock XL Straight Polarized Sunglasses takes that into account. Oakley gave the Radarlock XL a 19mm nosebridge to allow you to see under the top frame of the sunglasses...
Oakley Radarlock XL Sunglasses
During activities where you keep your head tucked low, like cycling, the upper frames of most sport sunglasses will get in the way of your vision. Oakley addressed this problem with the Radarlock XL Sunglasses, which feature a 19mm nosebridge height that provides a larger field of view so you don...
Oakley Radarlock XL Sunglasses - Polarized
Like the wing of a supersonic jet, the Oakley Radarlock XL Sunglasses feature a streamlined shape and a design dedicated to pure performance. Vented lenses evacuate moisture from behind the single-piece lens while Unobtanium earsocks and nose pads keep the ultralight frame securely fitted to your...
Oakley TDF Collection Half Jacket 2.0 XL Sunglasses
Whether you're cheering on the agony of the race up the Alpe D'Huez or staging your own climb up a local mountain pass (all right, hill), the Oakley TDF Collection Half Jacket 2. 0 XL Sunglasses provides unmatched visual acuity and protection. This version of the Oakley classic features custom...
Oakley TDF Collection Radarlock Path Sunglasses
You've watched the climb at Tourmalet, felt the pain, and celebrated the glory; now get a taste of it in the Oakley TDF Collection Radarlock Path Sunglasses. This Tour de France collection puts the performance of Oakley's Switchlock interchangeable lens system, stress-resistant O Matter frame,...
Oakley Team USA Flak Jacket XLJ Sunglasses
Representing your country trumps anything else you can do as an athlete, but Oakley has achieved that honor with the Team USA Flak Jacket XLJ Sunglasses, chosen as one of the official shades for the team going to London in 2012. Not only does it provide eye protection that helps win medals, but a...
Oakley Team USA Radar Path Sunglasses
Even if you can't represent your country as an athlete, you can slip on the Oakley Team USA Radar Path Sunglasses and look like one while you're training or racing in the brilliant sunlight. Official eyewear for Team USA at London 2012, this single-lens sport frame blocks the sun's rays; in...
Oakley TwoFace Sunglasses - Polarized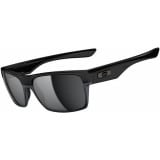 With relaxed style that draws on '60s surf culture, the Oakley Polarized TwoFace Sunglasses break new ground with a unique, multi-material frame construction. The combination of O Matter with an aluminum lower rim provides the durability you need for daily use while keeping weight to a minimum....
Oakley Valve Sunglasses
The Oakley Valve Sunglasses blend street-savvy looks with performance optics found on sport-specific shades, making them ideal for high-octane activities and casual outings alike. These sunglasses feature a lightweight, durable O Matter frame for hours of comfortable wear. The integrated...
<< Prev | 1 | 2 | 3 | 4 | 5 | 6 | 7 | 8 | Next >>