Mens Cycling Sunglasses - Road Bike Shop
Shop
>
Accessories
>
Sunglasses
>
Men's Apparel Cycling Sunglasses
Oakley Plaintiff Sunglasses
Retail Price:
$150.00
Our Price: $75.00
buy now
Back in the day, aviators had flat lenses and simple barrel hinges, but thanks to the Oakley Plantiff Sunglasses, those days are long gone. Now lightweight alloy frames rock burly leaf-spring style hinges that let the Plantiff's arms flex past the point of no return to easily slide on your face....
Oakley Racing Jacket Polarized Sunglasses
The heart and soul of the Oakley Polarized Racing Jacket Sunglasses is speed. Whether you're gunning for record-breaking RPMs on your two-wheeled steed or going for broke on the last mile of your run, the Polarized Racing Jacket Sunglasses are born pace-setters. Style certainly isn't lost in the...
Oakley Racing Jacket Sunglasses
Retail Price:
$220.00
Our Price: $187.00
buy now
When the Jawbone was released in 2009, it was easily one of the most outspoken, yet fashion-forward statements in eyewear available. Flash forward to today, and little has changed - the Oakley Racing Jacket continues the tradition of the Jawbone's aggressive styling and superlative fit as still...
Oakley Radar Path Photochromic Sunglasses
Get automatic light adjustment and a customized fit no matter your sport with the Oakley Radar Path Photochromic Sunglasses. The Radar Path's photochromic lens automatically adjusts to different light conditions while maintaining visual contrast, and features Oakley's High Definition Optics, as...
Oakley Radar Path Polarized Sunglasses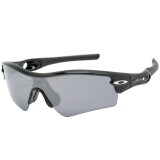 The Jet Black frame offers full-on fashion versatility -- no matter what you wear, Jet Black is the perfect match. But what sets this model apart from the rest of its Radar brethren is its lens technology. Oakley has long spread the gospel about their Black Iridium lenses: It's a superb choice...
Oakley Radar Path Sunglasses
Oakley pioneered single-lens sports eyewear way back when in 1983, but they haven't released a markedly new cycling-focused design since 1990. Yes, the M-Frames were futuristic back then, but the style has been kind of ho-hum for years. It's still iconic, but is now conservative, when Oakley made...
Oakley Radar Pitch Sunglasses - Polarized
Oakley designed the Radar Pitch Polarized sunglasses to meet the uncompromising demands of their professional athletes. The Pitch shades offer a medium size lens in the Radar line to offer you comfort and visual clarity when you're paddling class IV rapids. The Radar Pitch Sunglasses offer a...
Oakley Radar Range Sunglasses
If you're screaming down singletrack or paddling class IV whitewater, you need to see exactly what you're doing. Rely on the full-coverage of the Oakley Radar Range Sunglasses to provide you with precise, crisp vision. The Radar Range Sunglasses offer a permanent hydrophobic lens coating that...
Oakley Radarlock Path Photochromic Sunglasses
Oakley turned to cutting-edge athletes like ultramarathon runner Dean Karnazes and Mountain Bike World Champion Thomas Frischknecht for feedback on the futuristic Radarlock Path Photochromic Sunglasses, and what they've heard has been really, really good. It's no surprise, especially considering...
Oakley Radarlock Path Sunglasses
The original Oakley Radar was a sports optics game-changer when it landed in the pro peloton in 2007. It was exceptionally lightweight, offered an excellent fit under a wide variety of cycling helmets, and the carefully sculpted design was simultaneously aggressive and universally wearable. The...
<< Prev | Back | 1 | 2 | 3 | 4 | 5 | 6 | 7 | 8 | 9 | 10 | More | Next >>