Mens Cycling Sunglasses - Road Bike Shop
Shop
>
Accessories
>
Sunglasses
>
Men's Apparel Cycling Sunglasses
Oakley Bottle Rocket Sunglasses - Polarized
Oakley's Bottle Rocket Polarized sunglasses utilize space-age technology that banishes glare to alternate dimensions inhabited by lesser optical prowess.
Oakley Crosshair Sunglasses
Long road trips make summer the greatest time of year, especially when you can see your bright, wild future through the Oakley Crosshair Sunglasses. Metal frame and UV-blocking lenses feature a large curvature to shade your peripherals during sunset drives down the coast. Plutonite lenses with...
Oakley Crosshair Sunglasses - Polarized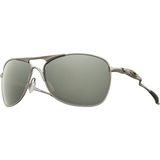 Built around a classic aviator style, the Oakley Crosshair Polarized Sunglasses keep you classy and glare-free while you cruise down the highway. Impress everyone at the family picnic, or just impress the rear-view mirror as you put the top down for a well-earned summer speed session on an open...
Oakley Fast Jacket Sunglasses
Same. Well, not quite. Different, sort of. You've seen them before, and yet you have a nagging suspicion they're something else. At first glance, the Polished Black Oakley Fast Jacket looks similar to their Flak Jacket, yet you can tell something is new. You might notice the greater sculpting on...
Oakley Fast Jacket XL Polarized Sunglasses
Polarized is one of those names that reek of marketing. It's a pity as Polarizing does a simple, great thing. Polarized lenses block glare and improve your vision in bright, reflected light. Oakley figured out how to improve the existing technology, and that's why they they're now making...
Oakley Fast Jacket XL Sunglasses
The Oakley Fast Jacket comes in two styles. The XL is the one with the larger lenses. As with the Fast Jacket, you're getting Oakley's latest advance, the Switchlock, applied to open edge lens architecture. You get the benefits of their race-specific Jawbone in a style that is technical enough to...
Oakley Flak Jacket Sunglasses
While the M Frame boasts a hybrid lens, Oakley's Flak Jacket is the true hybrid of the big O's offerings. It has feet firmly set in both the sport and lifestyle camps. It looks like it belongs on your face while riding, while hanging out, and for that hybrid of sport and standing around, golf....
Oakley Flak Jacket XLJ Heritage Collection Sunglasses
The Oakley Flak Jacket XLJ Heritage Collection Sunglasses allow you to focus on the activity or course that lies before you, especially when you're teeing off or bombing hills on your bike. These lightweight sunglasses feature a durable O Matter frame with built-in Unobtanium sleeves that secure...
Oakley Flak Jacket XLJ Sunglasses
Angles. It's all about the angles. The Oakley Flak Jacket XLJ Iridium takes the same exact frame as the Flak Jacket, but has a slightly larger, more squared-off XLJ lens. So you get all the same features, only with a little more coverage for larger faces. As with the standard Flak Jacket, the XLJ...
Oakley Flak Jacket XLJ Sunglasses - Polarized
Slightly larger lens than the standard Flak Jacket, the Oakley XLJ Flak Jacket Sunglasses feature polarized lenses to give you more protection from the sun's nasty rays. If you're biking and you need to see those berms rushing your way, swap out the Flak Jacket's lenses to suit any lighting...
<< Prev | 1 | 2 | 3 | 4 | 5 | 6 | 7 | 8 | Next >>