Kids Bikes - Road Bike Shop
Shop
>
Bikes
>
Kids' Bikes
Diamondback Clarity 24 Complete Bike - 2015
For the young lady who wants to explore the neighborhood, roll through the parks, or simply get to her friend's house in fast style, the Diamondback Clarity 24 Kid's Bike is just about everything she could need, and then some. The Clarity is immediately distinguished from most other youth bikes...
Diamondback Cobra 20 Kids Bike
Forget rummaging through neighborhood sales and bargain-basement stores for your kid's next bike. The well-equipped Diamondback Cobra 20 Kids Bike is sure to promote your kid to veritable king or queen of the neighborhood with its sweet paint job, bold racing stripes, and signature Diamondback...
Diamondback Insight 24 Kid's Bike - 2015
Diamondback knows that most of the riding the little whippersnappers are doing these days isn't on gnarly trails or loose dirt paths, but on the paved streets around their towns, parks, and neighborhoods. With this in mind, the company set out to take a new approach to kid's bikes, and in doing...
Diamondback Octane 20" Complete Kids' Bike - 2015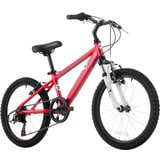 Yes, technically, that department store kids' bike is a bike. It might, technically, roll. But the difference between it and a real kids' mountain bike like the Diamondback Octane 20 Kids' Bike is the difference between them wanting to get out and ride, and them forgetting about it because the...
Diamondback Octane 24" Complete Kids' Bike - 2015
The Diamondback Octane 24 is the real deal, a high-quality blend of parts built on a trail-ready aluminum frame that's both tough and light enough that they just might pass you on the climbs. Consider yourself warned. What distinguishes the Octane series from the Cobra series is frame material....
Diamondback Podium 24 Youth Road Bike
Walk down the aisle of kids' bikes at your local shop and you'll likely notice that bikes have become way more high-tech since you were a kid, and that they're almost all heavy, knobby-tire bikes for off-road use and/or for bouncing off the neighborhood curbs. What's out there for your aspiring...
Diamondback Podium 650c Youth Road Bike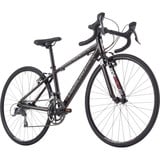 They're too big for that 24-inch-wheeled mountain bike you bought them (seemingly yesterday), but they're not quite big enough for a full-sized adult machine just yet. If this is the problem you face when trying to find a ride so your kid can pedal along, meet the Diamondback Podium 650c Youth...
Diamondback Podium 700c Youth Road Bike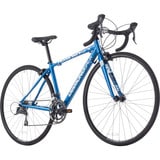 Any aspiring young cyclists who had a chance to watch the 2014 Tour of Utah were no doubt as blown away as all of us by Eric Young's epic sprint finish victory in Stage Five aboard his Diamondback Podium. Screaming across the line after a heroic 300 meter off-the-front pull at the end, Young...
Diamondback Sync'R 24 Complete Bike - 2015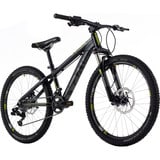 Why do you think those miniature shopping carts they have at the grocery stores are so popular? We could dive into books'-worth of psychology here, but we think it all boils down to kids simply loving to emulate grown-ups. If you've got a young one aspiring to tackle the trails like mom or dad --...
Diamondback Tess 20 Complete Bike - 2014
When she's ready to hit the trails, you'll know. And if you don't know, she'll let you know. Set her up properly when the time comes with a bike that can take a beating and keep rolling. Whether she's slinging mud or just cruising the neighborhood, get her a bike designed by folks who want her to...
<< Prev | 1 | 2 | 3 | Next >>