Kids Bikes - Road Bike Shop
Shop
>
Bikes
>
Kids' Bikes
Diamondback Clarity 24 Kids' Bike - 2016
Your little ripper barely runs through the door after school for a snack before they're back outside tearing around the driveway, practicing their sprinting and hitting their latest plywood jump creations. Keep feeding their growing passion for cycling as they get bigger by upgrading them to a...
Diamondback Insight 24 Kids' Bike - 2016
It's definitely safe to say your young rider is hooked on cycling, and they've somehow already outgrown the bike you bought them last year. You're not sure if they'll end up with a preference for the roads or the trails yet, so right now, they need something that's as comfortable on the grass or...
Diamondback JR Viper Kids' Bike - 2016
Your future ripper is ready for a big-kid's bike, and Diamondback's JR Viper Kids' bike is a fitting upgrade for his growing adventures. From sprints around the driveway to running race courses set up in the backyard, the Viper is ready for it all, and its BMX-inspired frame will give your...
Diamondback Lustre 20 Kids' Bike - 2016
Kids' elaborate driveway adventures have a way of expanding into the grass, under trees and maybe onto a few trails in the woods, so they need a bike that's versatile enough to take them to whatever imaginary locales they happen to travel towards on a summer day. Diamondback's Lustre 20 Kids'...
Diamondback Lustre 24 Kids' Bike - 2016
Your young rider has been complaining that they're too big for their old bike already, and after watching them try to take makeshift backyard jumps on a suspension-free frame, you can see they're ready for an upgrade. Diamondback's Lustre 24 will give them a taste of front suspension, and it's...
Diamondback Micro Viper Kids' Bike - 2016
Maybe your little one has an older sibling tearing around the yard on a bike that they're trying to keep up with, or maybe you're hoping to introduce them to the world of cycling as soon as possible. Either way, starting them off on Diamondback's Micro Viper Kids' Bike will ease them into riding...
Diamondback Mini Viper Kids' Bike - 2016
They may not know it yet, but your energy-filled little one is going to love riding a bike. Give them their first taste of the sport with a bike that's the right size for them, and more importantly, looks like it's ready to go fast. Diamondback's Mini Viper Kids' Bike is inspired by BMX geometry,...
Diamondback Octane 20 Kids' Bike - 2016
Plywood jumps in the yard and hours practicing dramatic sprints and skidding stops in the driveway can't be done on a bike that isn't dependable -- active young riders need a bike that's up for the job of accompanying them on any given day's adventures. Quality materials and components aren't...
Diamondback Octane 24 Kids' Bike - 2016
Your young rider has started to show a preference for the trails, and you want to get them out exploring some mellow rocks and winding switchbacks on your local routes. They don't need full suspension yet, but after you've seen them making their own trails in the backyard, it's clear they're...
Diamondback Podium 700c Youth Road Bike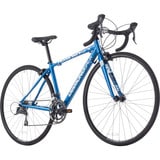 Retail Price:
$600.00
Our Price: $509.99
buy now
The Diamondback Podium Youth Bike comes in a single size, designed to fit those between about 4'8" and 5'1". Why just one size? Well, Diamondback saw that adult bikes rarely ranged low enough to fit youngsters, and that kids bikes topped out at about the 4'8" range. So they made the Podium Youth...
<< Prev | 1 | 2 | 3 | 4 | Next >>