Kids Bikes - Road Bike Shop
Shop
>
Bikes
>
Kids' Bikes
Diamondback Cobra 24 Kids Bike
You're ready to hit the trails, and so are they, but that big-box department store bike falls to pieces every time it sees daylight. Go figure. Give them what they need to keep up or go out and explore on their own with a sweet ride like the Diamondback Cobra 24 Kids Bike. Smart parts and durable...
Diamondback Octane 20 Complete Bike - 2015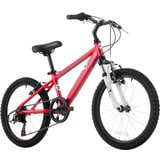 Yes, technically, that department store kids' bike is a bike. It might, technically, roll. But the difference between it and a real kids' mountain bike like the Diamondback Octane 20 Kids' Bike is the difference between them wanting to get out and ride, and them forgetting about it because the...
Diamondback Octane 24 Complete Bike - 2015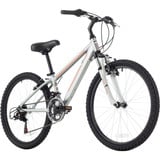 The Diamondback Octane 24 is the real deal, a high-quality blend of parts built on a trail-ready aluminum frame that's both tough and light enough that they just might pass you on the climbs. Consider yourself warned. What distinguishes the Octane series from the Cobra series is frame material....
Diamondback Podium 24 Youth Road Bike
Walk down the aisle of kids' bikes at your local shop and you'll likely notice that bikes have become way more high-tech since you were a kid, and that they're almost all heavy, knobby-tire bikes for off-road use and/or for bouncing off the neighborhood curbs. What's out there for your aspiring...
Diamondback Podium 650c Youth Road Bike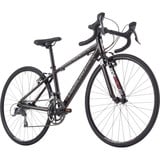 They're too big for that 24-inch-wheeled mountain bike you bought them (seemingly yesterday), but they're not quite big enough for a full-sized adult machine just yet. If this is the problem you face when trying to find a ride so your kid can pedal along, meet the Diamondback Podium 650c Youth...
Diamondback Tess 24 Kids Bike
The trails aren't just for the boys. The Diamondback Tess 24 Kids Bike is a mud-ready mountain bike for your aspiring young dirt diva, comprised of a great frame and great parts that will far outlast those bargain-basement deal bikes from the big-box department stores. The 24-inch wheels nail...
MiiR Bambini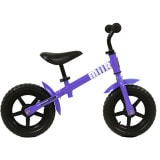 MiiR describes the Bambini as a "full-fledged time machine, spaceship, and motorcycle," which perfectly sums up the potential this balance bike provides the future generation of cyclists. The frame is constructed from durable steel that's thin walled, so, when combined with the lightweight EVA...
SE Bicycles Bronco Bike
The perfect ride for junior, SE Bicycles Bronco has a low standover height along with short cranks and small handlebars to fit kids not quite ready for a full-on BMX. It's intended for riders fewer than five feet tall and is constructed from Hi-Ten steel for strength. The Bronco comes with a rear...
SE Bicycles Everyday Bike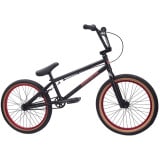 SE Bicycles' Everyday Bike blurs lines so you don't need to shell out for more than one BMX. It's built on a similar geometry as the Hoodrich with a mid-BB and integrated headset, but forgoes Cro-Moly in favor of Hi-Ten steel and eliminates the removable goodies to keep its price down. Please...
SE Bicycles Hoodrich Bike
Ready for mean streets, the Hoodrich features SE Bicycles's Laughlin signature double-butted frame and the versatility to fit your riding style. This includes removable rotor tabs, cable guides, and brake mounts. To keep things simple and tough, the Hoodrich features an integrated head tube,...
<< Prev | 1 | 2 | Next >>