Kids Bikes - Road Bike Shop
Shop
>
Bikes
>
Kids' Bikes
Diamondback Clarity 24 Complete Bike - 2015
For the young lady who wants to explore the neighborhood, roll through the parks, or simply get to her friend's house in fast style, the Diamondback Clarity 24 Kid's Bike is just about everything she could need, and then some. The Clarity is immediately distinguished from most other youth bikes...
Diamondback Insight 24" Single Speed Complete Kids' Bike - 2015
It's true even of adult bikes: sometimes you want gears, and sometimes you don't. It's especially fun for kids to just hop on and pedal and not have to worry about shifting and the associated parts that can break. Not to mention, training wheels can't be installed on a geared bike. So, if they're...
Diamondback Kid's Push Bike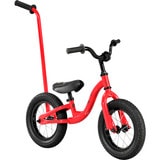 Retail Price:
$119.95
Our Price: $49.99
buy now
A high quality steel frame is the backbone of this perfect learning tool to get your little one going on two wheels, known as the Diamondback Push Bike. You can help them steadily build their confidence and balance the beginner-friendly 12-inch wheels with the included handle attachment, which...
Diamondback Micro Viper Kids' Bike - 2014
Retail Price:
$139.95
Our Price: $69.99
buy now
What we love about Diamondback is that it takes its entire lineup very seriously, with as much respect for its pro athletes as for the newest little riders who are hitting the pedals for the first time. Case in point: the Diamondback Micro Viper Kid's Bike, ready to roll with or without training...
Diamondback Octane 20" Complete Kids' Bike - 2015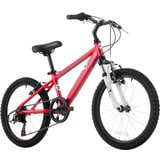 Yes, technically, that department store kids' bike is a bike. It might, technically, roll. But the difference between it and a real kids' mountain bike like the Diamondback Octane 20 Kids' Bike is the difference between them wanting to get out and ride, and them forgetting about it because the...
Diamondback Octane 24" Complete Kids' Bike - 2015
The Diamondback Octane 24 is the real deal, a high-quality blend of parts built on a trail-ready aluminum frame that's both tough and light enough that they just might pass you on the climbs. Consider yourself warned. What distinguishes the Octane series from the Cobra series is frame material....
Diamondback Podium 700c Youth Road Bike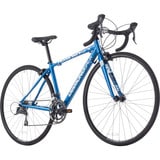 Any aspiring young cyclists who had a chance to watch the 2014 Tour of Utah were no doubt as blown away as all of us by Eric Young's epic sprint finish victory in Stage Five aboard his Diamondback Podium. Screaming across the line after a heroic 300 meter off-the-front pull at the end, Young...
Diamondback Sync'R 24 Complete Bike - 2015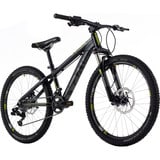 Why do you think those miniature shopping carts they have at the grocery stores are so popular? We could dive into books'-worth of psychology here, but we think it all boils down to kids simply loving to emulate grown-ups. If you've got a young one aspiring to tackle the trails like mom or dad --...
GT Aggressor 20" Complete Kids' Bike - 2015
The GT Aggressor 20in Boy's Bike is that perfect step between training wheels and his first big kid (or small adult) bike. A great selection of parts, a very manageable size, and low weight make it a fantastic first two-wheeled machine. The Aggressor's frame is a big deal here, and by big we mean...
GT Aggressor 24" Complete Bike - Kids' - 2015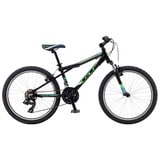 The GT Aggressor 24in Boy's Bike may sound like a scary machine, but it's far more inviting than intimidating. Young riders will love its looks, capability, and durability, and they'll be encouraged to get out there and ride. The Aggressor's frame is a big deal here, and by big we mean just right...
<< Prev | 1 | 2 | 3 | Next >>