Commuter Bikes - Road Bike Shop
Shop
>
Bikes
>
Commuter Bikes
Diamondback Haanjo Comp Complete Bike - 2015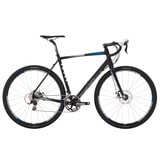 While many manufacturers are beginning to join the gravel bike industry, few seem to grasp what we want from a machine designed for all-surface, damn-the-torpedoes bikes as well as Diamondback. For example, the Haanjo Comp Complete Bike does away with the flashy components we'd expect on a carbon...
Diamondback Haanjo Complete Bike - 2015
How many times have you been trying to make a decision between two or three different options -- such as, say, which car to buy, or which restaurant to try, or which socks to wear -- and you just wish you could take the best features of each and combine them into one optimal choice, without...
Diamondback Haanjo Metro Complete Bike - 2015
There's no way for us to hide it -- we love Diamondback's Haanjo bikes. They combine the best of different designs -- the low weight of a road bike, the durability of a mountain bike, and the practicality and comfort of a hybrid -- into a series of machines that can meet almost anyone's needs....
GT Tachyon Comp Complete Road Bike - 2015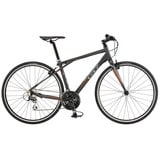 There is a time and place for high-performance, multi-thousand dollar carbon racing bikes. 5:15 on a Tuesday evening during rush hour is not that place. GT knows this very well, which is why it designed the Tachyon Comp Complete Bike for moments of urban commuting warfare -- the times when...
GT Tachyon Elite Complete Road Bike - 2015
If you're the kind of commuter who regularly takes the circuitous, scenic routes home, or if you're constantly thinking of excuses to ride down to the store or back to the office because you may have forgotten something, then the GT Tachyon Elite Complete Bike is the ride for you. The Speed Metal...
Stromer ST-1 Platinum Complete Electric Bike - 2014
Retail Price:
$4249.00
Our Price: $3599.99
buy now
Given the combined caloric intake needed for recreational riding, competitive cycling, and commuting by bicycle -- on a healthy diet -- grocery bills easily approach operating costs for a dino-burning cage. On the other hand, modern electric bikes, like Stromer's ST-1 Platinum, cut bio-energy...