Commuter Bikes - Road Bike Shop
Shop
>
Bikes
>
Commuter Bikes
Diamondback Haanjo Complete Bike - 2015
Retail Price:
$900.00
Our Price: $765.00
buy now
Not everyone is a budding racer. Some folks just want a solid, lightweight bike to get around town and take for the occasional pleasure cruise. Diamondback realizes this, and they've come out with what may be the ultimate pleasure cruiser--The Haanjo. What makes the Haanjo so cool is its unique...
GT Grade FB Elite Complete Bike - 2016
Investing in a bike that you can use for multiple activities is no easy task -- after all, there's not yet a bike in existence that can do everything. However, if you're looking for something you can use to commute a few mornings per week then take out to the bike path or your favorite...
GT Grade FB Expert Complete Bike - 2016
Whether you've been commuting for years or are just starting to consider it, it's undeniably important to have a bike that's comfortable and prepared to handle the unexpected as you get where you're going. According to GT, demand from customers was a key reason the brand decided to introduce a...
GT Tachyon Comp Complete Road Bike - 2015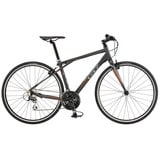 Retail Price:
$599.99
Our Price: $509.99
buy now
GT understands that you need a tough and reliable ride for your daily commute. The company's solution is the Tachyon Comp Complete Road Bike, which makes the hustle and bustle of urban riding effortless and enjoyable. The Tachyon Comp features a new compact geometry Speed Metal aluminum frame...
GT Tachyon Elite Complete Road Bike - 2015
Retail Price:
$699.99
Our Price: $594.99
buy now
If you're the kind of commuter who regularly takes the circuitous, scenic routes home, or if you're constantly thinking of excuses to ride down to the store or back to the office because you may have forgotten something, then the GT Tachyon Elite Complete Bike is the ride for you. The Speed Metal...
GT Transeo 2.0 Complete Bike - 2016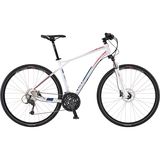 Exploring a city on foot can become exhausting pretty quickly. And when you're trying to get from one end to the other, it's just not practical. However, we'd argue that sitting in gridlocked traffic sounds even more unappealing. GT developed its line of Transeo bikes to accompany you on your...