Wheels Tires Tubes - Road Bike Shop
Shop
>
Components
>
Wheels, Tires, Tubes
45NRTH Flowbeist Tubeless Fat Bike Tire
Let loose on snowy fields and flowy, winter singletrack with the 45NRTH Flowbeist Tubeless Fat Bike Tire. Billed as a front-specific tire, the Flowbeist boasts tall side lugs made from a softer compound to grab the snow and guide you through the turns. Its aggressive knobs are set wide to float...
Ambrosio Ambrosio Excellence Rim
Retail Price:
$99.95
Our Price: $79.96
buy now
Aside from the brutal weather, die-hard fans, and legendary cobbled sectors, nothing signifies the Spring Classics quite like those traditional box-section rims trusted by professional riders year after year. Sure, we've seen carbon hoops begin their inevitable takeover in all facets of road...
Campagnolo Bora One 35 Wheelset - Clincher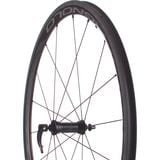 Retail Price:
$2736.00
Our Price: $2150.00
buy now
The median depth of Campagnolo's Bora One 35 Wheelset strikes a balance between the advantages of low rotational mass for climbing and drag-reducing aerodynamics for holding speed on the flats. They also exhibit no signs of compromise in the build, the hubs, or the price, bringing a modern-width...
Campagnolo Bora One 35 Wheelset - Tubular
The Bora One 35 Wheelset is essentially a smooshed version of Campagnolo's flagship, 50-millimeter rims. They're shallower for an ideal balance of low rotational weight and wind-fooling aerodynamics that recommend them for use by cyclists who enjoy long climbs, fast flats, and blistering sprints...
Campagnolo Bora One 50 Wheelset - Tubular
In terms of race pedigree, you'd be hard pressed to find a rim that enjoys more time on the podiums of Europe than Campagnolo's iconic Bora rims. With the Bora One 50 Wheelset, Campagnolo brings this proven rim design into the self-sponsored racer's range by mating it to Ultra Smooth Bearing (USB...
Campagnolo Bora Ultra 35 Wheelset - Tubular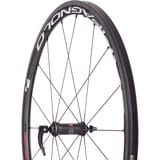 Retail Price:
$4155.00
Our Price: $2825.40
buy now
Let's get one thing out of the way: yes, the Campagnolo Bora Ultra 35 Tubular Wheelset costs over $4000. Now that you're sure your eyes aren't deceiving you, let's try and answer the obvious question: why? The simple answer is that the Bora Ultra 35 is a pro-level race-day rim, as in "I'm leading...
Campagnolo Bora Ultra 50 Wheelset - Tubular
The Campagnolo Bora Ultra 50 Wheelset is perhaps the most immediately recognizable piece of cycling componentry in the world. Those deep rims and iconic script just scream class. They've long been associated with the greatest performances of grand tour cycling, with only the names of the riders...
Campagnolo Bora Ultra 80 Wheelset - Tubular
Retail Price:
$4105.00
Our Price: $3284.00
buy now
Campagnolo's wind-cheating Bora Ultra 80 Wheelset takes its name from the "north wind" of the Mediterranean. This is an appropriate choice, because -- if there was ever a wind that you'd want to keep from gaining purchase on you, it's the Bora, whose top speed of 136 miles per hour almost doubles...
Campagnolo Shamal Mille Wheelset
When Campagnolo introduced the Shamal, it was the shape of things to come, quite literally. The aero-shaped alloy rim would kick-start the development of aero alloy rims, followed by aero carbon rims, which more or less brings us to present day, and Campy's latest iteration of the Shamal, the...
Challenge Gravel Grinder Plus Tire - Clincher
Enjoy the pleasure of pedaling along scenic back roads and less-traveled paths when your bike is rolling on the Challenge Gravel Grinder Plus Clincher Tire. This 38mm tire stays true to Challenge's handcrafted heritage, delivering a smooth, supple ride across rough pavement, bumpy back roads, and...
<< Prev | Back | 1 | 2 | 3 | 4 | 5 | 6 | 7 | 8 | 9 | 10 | More | Next >>