Water Bottles Cages - Road Bike Shop
Shop
>
Accessories
>
Water Bottles & Cages
Amphipod Hydraform Jett-Lite Thermal - 12oz.
Amphipod's Hydraform Jett-Lite Thermal includes a water bottle, a thermal sleeve, and a pocket that stores essentials for runners. The thermal sleeve breathes and eliminates hand cramping with a cushioned, adjustable hand strap. The hand strap has an expandable pocket large enough for keys, gels,...
Arundel Bando Cage
They may not be the most exciting accessory to add to your frame, but a trustworthy bottle cage is an integral part of every ride. We'd argue that it's also one of the least appreciated pieces of cycling equipment. While most cage designs are made in one standard size, Arundel's Bando Cage...
Arundel Chrono Water Bottle
The Chrono Water Bottle is what comes standard with a carbon fiber Arundel Chrono aero cage. It literally 'snaps' into the cage. The bottle stays in securely and holds 22oz. of water. Embossed with the Arundel logo -- it looks cool and makes the bottle a bit grippier in your hands.
Arundel Chrono Water Bottle & Cage
The question that seems to be on many peoples minds when preparing for a time trial is, 'Where should I mount my water bottle?' If you're opting to go with a rear hydration system, just to be a little more aero, rethink your decision and throw down a few dollars for the Arundel Chrono Water...
Arundel Dave-O Water Water Bottle Cage
The Arundel Dave-O Water Bottle Cage is one of the company's original designs, and is the cage of choice for everyone from pro roadies to weekend gravel explorers. Why the overlap? The Dave-O won't eject bottles, even on rough ground or in the last 150m of a sprint.
Arundel Mandible Water Bottle Cage
The Arundel Mandible Water Bottle Cage was designed with two slim pieces that grasp your water bottle like jaws, securely holding your bottle in place whether you stick to smooth roads or take the stairs at your local cyclocross race. It is constructed from carbon fiber that has been given a foam...
Arundel OtherSideloader Water Bottle Cage
Arundel's OtherSideloader Water Bottle Cage is pretty forthcoming in its name -- it's a side-loading bottle cage for those with non-dominant right hands. Since lefties tend to keep their dominant hand on the bars when reaching for water, Arundel flipped its ever-popular Sideloader design to...
Arundel Sideloader Water Bottle Cage
Arundel's Sideloader Water Bottle Cage is the simple answer to one of the great quandaries confronting cyclists with small frames: getting a bottle out of its cage. The aptly named Sideloader sets your bottles free by allowing for lateral ingress and egress, meaning you don't have to struggle...
Arundel Sport Water Bottle Cage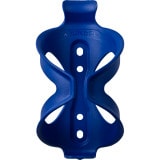 The Arundel Carbon Cage is the envy of many a rider, but when your budget calls for a bit more modesty, its Sport Water Bottle Cage provides the same security for your bottle, at a fraction of the cost. Weighing a mere 20 grams heavier than the carbon version, the Sport Cage is nylon-reinforced...
Arundel Tri Clamp Kit
We must confess that the thought of putting any seat-mounted bottle carrier on our bike fills us with revulsion; it makes any bike look like a golf cart. But since it is Arundel making this Tri Clamp Kit, we'll give it a second thought. Maybe some day we'll do an ultra-marathon. We like the water...
<< Prev | Back | 1 | 2 | 3 | 4 | 5 | 6 | 7 | 8 | 9 | 10 | More | Next >>