Water Bottles Cages - Road Bike Shop
Shop
>
Accessories
>
Water Bottles & Cages
Profile Design Aero HC System
Profile Design's Aero HC System straightforward build makes it one of the most efficient triathlon hydrations systems on the market today. The Aero HC features a BPA-free bottle that is bullet-shaped, and a shrouded straw mount to create the ultimate aerodynamic profile. The system mounts to your...
Profile Design Aerodrink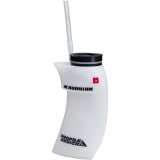 Breaking your aerodynamic position won't help you break any records. That's why Profile Design created the Aerodrink. With it, you're able to store your hydration between your aero extensions. So, you'll be able to rehydrate without deviating from your sweet spot. Even better, the bottle's...
Profile Design Aerodrink Base Bar Bracket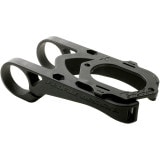 After taking a look at Profile Design's hydration systems, the best of us will feel among the most unimaginative in the world. Basically, if there's room to fit a bottle in a place where you need one, Profile has found a way to mount it there. Case in point is the Aerodrink Base Bar Bracket. This...
Profile Design Aerodrink Insulated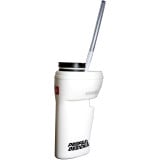 For some, their water temperature isn't of a concern. However, most of us would prefer a nice cold drink on a hot day if presented with the option. It's for this reason that Profile Design expanded upon its already successful Aerodrink, by now providing an insulated version. With it, you're able...
Profile Design Aerodrink Parts Kit
If you've landed here, we already know what your hydration preference is come race day. So, whether you're looking for backup parts, or you're installing the Aerodrink for the first time, the Profile Design Aerodrink Parts Kit is exactly what you need. The kit includes both the short and long...
Profile Design FC25 Drink System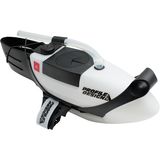 If Profile Design spec'd the larger FC35 for 140. 6-mile courses, then the smaller FC25 Drink System would be your 70. 3 model. It puts everything you need for hydration and caloric-intake needs between your aerobars but shaves off ten ounces of volume for a more compact profile that reduces your...
Profile Design FC25 Drink System Bottle Kit
Whether it's to ward off the accumulation of funk or to maintain a separation between your hydration mix bottles and water-only bottles, Profile Design offers a replacement reservoir for the FC25 Drink System Bottle Kit. Its straw can be switched to a fore or aft position, depending on the...
Profile Design FC35 Drink System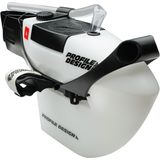 Fumbling at pockets and down tube-mounted water bottle cages during the middle leg of a 140. 6 mile event can cost precious seconds and energy when every gram of drag dodged and every watt expended count. Profile Design's FC35 Drink System handles storage, hydration, and even head unit issues...
Profile Design FC35 Drink System Bottle Kit
The only potential drawback with the water reservoir in the FC35 Drink System is the possibility of accumulating funk or the lingering taste of hydration mix flavoring when you're just using water on a training ride. Having a spare FC35 Drink System Bottle Kit on hand lets you replace the...
Profile Design Universal Aerodrink Bracket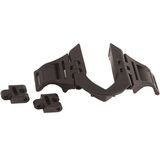 We know that we're not blowing any minds when we say that moving out of your 'aero' position amounts to a loss in time. However, the very act of hydration demands this. Well, that was until Profile Design created the Universal Aerodrink Bracket. This bracket mounts to your extension bars, leaving...
<< Prev | 1 | 2 | 3 | 4 | 5 | 6 | 7 | Next >>