Water Bottles Cages - Road Bike Shop
Shop
>
Accessories
>
Water Bottles & Cages
Lezyne Flow Water Bottle Cage
Lezyne made the Flow Water Bottle Cage with strong, lightweight, and carbon fiber-reinforced Composite Matrix material. It features an integrated low-profile pump bracket for easy access. The Flow Water Bottle Cage is available in one size and in the colors Black, White, and Grey.
Lezyne Power Water Bottle Cage
Lezyne built the hollow aluminum Power Water Bottle Cage with an integrated mount for any of Lezyne's high-volume pumps. This provides quick, easy access to a badly needed tire pressure boost on the fly. The hollow construction keeps the weight down, and the wraparound design locks onto your...
Lezyne Road Drive Cage - Alloy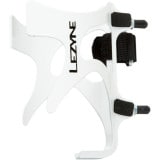 Compatible with the Road Drive Pump, the Lezyne Alloy Water Bottle smartly holds your H2O reserves and an emergency pump. CNC'd out of aluminum for a carbon-fiber-shunning shine, the alloy bottle cage securely retains water bottles without making it a P. I. T. A. to get them out.
MiiR Growler
Retail Price:
$59.00
Our Price: $49.00
buy now
The ample 64oz MiiR Growler offers you the most charitable way to transport your beverages. While the Growler features more than a day's worth of insulating capabilities and a convenient pouring top with easy access, MiiR also includes an "impact bracelet" with each purchase, which allows you to...
MiiR Growler Bike Cage
Retail Price:
$38.95
Our Price: $29.21
buy now
You've already bought the Miir Growler and provided clean water to someone in need for a year, so make sure you can take your own beverage along with you on your adventures with Miir's Growler Bike Cage. Keep the 64oz insulated steel vessel secured laterally to your top tube where you can easily...
MiiR Vacuum Insulated Howler
Retail Price:
$39.97
Our Price: $29.98
buy now
At just half the size of its 64oz stablemate, the beastly Growler, MiiR's Vacuum Insulated Howler brings the double-wall vacuum insulation of the 64oz model to a more nimble, easily packable 32oz size. Its flip-top opening and Korean steel body maintain an internal cool for 24 hours and an...
POC Carbon Bottle Cage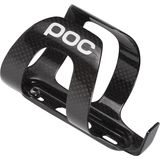 When you've invested serious time and money into getting your bike as light and aero as possible, small things like the POC Carbon Bottle Cage start to make a real difference. At 27 grams, it weighs about the same as a breath of fresh air, but it will help you stay hydrated when you're pushing...
POC Podium Race Bottle
Clutch the POC Podium Race Bottle before pouring replenishing liquids down your throat as you sprint towards the finish line. This 0. 5 liter bottle is great for shorter loops or as a handy backup on longer rides. The self-sealing Jet valve features a high-flow rate for quickly hydrating yourself...
Polar Bottle Cenote Reusable & Recyclable Bladder
Replace that old, funky hydration bladder and freshen up your pack with a Polar Bottle Cenote Reusable and Recyclable Bladder. Although it's made to last as long as non-recyclable bladders, it comes packaged with a couple of friends for easy replacement if you forget to rinse out that old energy...
Polar Insulated Water Bottle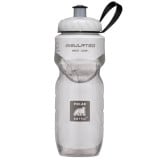 No one would argue that it's not a good idea to use a energy-replacement drink like First Endurance EFS on a ride of any duration or intensity. The only argument you'll get, in fact, is from your taste buds when you try to swallow a mouthful of EFS after you've been riding for 2 hours on a...
<< Prev | 1 | 2 | 3 | 4 | 5 | 6 | 7 | 8 | 9 | Next >>