Water Bottles Cages - Road Bike Shop
Shop
>
Accessories
>
Water Bottles & Cages
Profile Design Aerodrink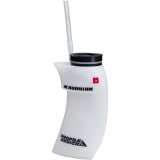 Breaking your aerodynamic position won't help you break any records. That's why Profile Design created the Aerodrink. With it, you're able to store your hydration between your aero extensions. So, you'll be able to rehydrate without deviating from your sweet spot. Even better, the bottle's...
Profile Design Aerodrink Base Bar Bracket
After taking a look at Profile Design's hydration systems, the best of us will feel among the most unimaginative in the world. Basically, if there's room to fit a bottle in a place where you need one, Profile has found a way to mount it there. Case in point is the Aerodrink Base Bar Bracket. This...
Profile Design Aerodrink Insulated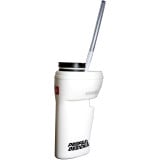 For some, their water temperature isn't of a concern. However, most of us would prefer a nice cold drink on a hot day if presented with the option. It's for this reason that Profile Design expanded upon its already successful Aerodrink, by now providing an insulated version. With it, you're able...
Profile Design Aqualite Drink System
If you think that you're experiencing deja vu right now, we understand. Profile Design's Aqualite Drink System is essentially the same Aerodrink that you know and love, only a little bit smaller. Instead of having a 32oz capacity, Profile designed the Aqualite with a smaller 22oz capacity. This...
Profile Design Rear Mount System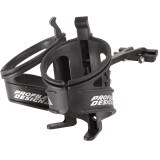 Did your bike come without bottle cage mounts, or do you just get sick of having to reach all the way down to the down tube to hydrate? Profile Design has the answer to all of your problems. The Rear Mount bottle cage system mounts directly to your seat rails and carries not one, but two standard...
Profile Design RMC Carbon Fiber Rear Mount with Kage
In a normal world, most people would take a shower and go home after T1. However, this is where the real racing begins in a triathlon. And over the next leg of unsupported tarmac, it's crucial to stay as hydrated as possible. For this reason, Profile Design created the RMC Carbon Fiber Rear Mount...
Profile Design Universal Aerodrink Bracket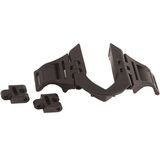 We know that we're not blowing any minds when we say that moving out of your 'aero' position amounts to a loss in time. However, the very act of hydration demands this. Well, that was until Profile Design created the Universal Aerodrink Bracket. This bracket mounts to your extension bars, leaving...
Skratch Labs Polar Bottle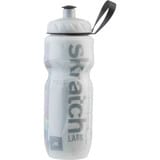 We have to admit that we weren't sure how Skratch Labs was going to add its trademark pixelation to an insulated Polar Bottle. However, the end result looks like it's been frozen in carbonite, which is only fitting given that you're able to freeze this bottle and its contents. So, this bottle...
Specialized Water Bottles Backcountry Water Bottle
Ain't no bottle like a Backcountry bottle 'cause a Backcountry bottle won't stop delivering tasty, refreshing beverages to your mouth hole. Please also notice The Goat. The 22-ounce bottle itself is called the Purist, and it's USA-made using a low-density polymer that makes it freezer-friendly...
Specialized Water Bottles Competitive Cyclist Water Bottle
Ever wonder about the significance of the three-dot logo that banners our hallowed halls? Each of the dots represents one of the three original founders of CC back in Little Rock, Ark. -- Brendan Quirk, Craig Zediker, and Hap Seliga -- three gentleman who not only work hard, but still ride hard,...
<< Prev | 1 | 2 | 3 | 4 | 5 | 6 | 7 | 8 | Next >>