Water Bottles Cages - Road Bike Shop
Shop
>
Accessories
>
Water Bottles & Cages
Lezyne Flow Caddy with Organizer
Don't be stranded with a mechanical when you're carrying essential repair tools inside the Lezyne Flow Caddy with Organizer. This lightweight, rigid case fits inside a standard bottle cage, eliminating the need to stuff your jersey pockets with tools. Its water-resistant threaded lid seals out...
Lezyne Flow Cage HP
The Lezyne Flow Cage HP seamlessly integrates with the Road Drive pump providing an ultra lightweight, low-profile setup. FCT structural carbon fiber for extremely strong, lightweight constructionOvalized mounting holes allow cage to fit both small and large framesTop catch and bottom bridge for...
Lezyne Flow SL Cage
Offered in left and right-side configurations, the Lezyne Flow SL Cage provides easy-access to your water bottle on uphill slogs and fast training rides. Its fiber-reinforced construction strikes a nice balance between weight savings and strength. Oval mounting holes fine-tune the position on...
Lezyne Flow SL Cage Pair
Whether you need two bottle cages for bikes in your stable or desire extra hydration capacity on longer rides, the Lezyne Flow SL Cage Pair gives you two easy-access bottle cages, with reinforced composite material for added durability. Side-access makes it easy to grab water bottles at a moment...
Lezyne Flow Water Bottle Cage
Lezyne made the Flow Water Bottle Cage with strong, lightweight, and carbon fiber-reinforced Composite Matrix material. It features an integrated low-profile pump bracket for easy access. The Flow Water Bottle Cage is available in one size and in the colors Black, White, and Grey.
Lezyne Power Water Bottle Cage
Lezyne built the hollow aluminum Power Water Bottle Cage with an integrated mount for any of Lezyne's high-volume pumps. This provides quick, easy access to a badly needed tire pressure boost on the fly. The hollow construction keeps the weight down, and the wraparound design locks onto your...
Lezyne Road Drive Cage - Alloy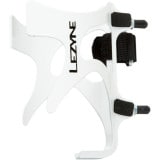 Compatible with the Road Drive Pump, the Lezyne Alloy Water Bottle smartly holds your H2O reserves and an emergency pump. CNC'd out of aluminum for a carbon-fiber-shunning shine, the alloy bottle cage securely retains water bottles without making it a P. I. T. A. to get them out.
MiiR Growler
Retail Price:
$59.00
Our Price: $49.00
buy now
The ample 64oz MiiR Growler offers you the most charitable way to transport your beverages. While the Growler features more than a day's worth of insulating capabilities and a convenient pouring top with easy access, MiiR also includes an "impact bracelet" with each purchase, which allows you to...
MiiR Growler Bike Cage
Retail Price:
$38.95
Our Price: $29.21
buy now
You've already bought the Miir Growler and provided clean water to someone in need for a year, so make sure you can take your own beverage along with you on your adventures with Miir's Growler Bike Cage. Keep the 64oz insulated steel vessel secured laterally to your top tube where you can easily...
MSR Alpine Stainless Steel Water Bottle
Retail Price:
$29.95
Our Price: $23.96
buy now
MSR's Alpine Stainless Steel Water Bottle is the BPA-free alternative to plastic water bottles. The Alpine Water Bottle is tough, lightweight, and integrates with all MSR water filters.
<< Prev | 1 | 2 | 3 | 4 | 5 | 6 | 7 | 8 | 9 | 10 | Next >>