Water Bottles Cages - Road Bike Shop
Shop
>
Accessories
>
Water Bottles & Cages
Elite Cannibal Carbon Cage
Retail Price:
$89.99
Our Price: $80.99
buy now
The Elite Cannibal Carbon Cage offers you quick and convenient access to your bottle at a ridiculously low weight. This side-entry cage lets you insert and remove your bottle from either side, as well as the front, and its self-adjusting design maintains a secure hold while you ride.
Elite Cannibal Water Bottle Cage
Elite's design for the Cannibal Water Bottle Cage is ideal for race situations, when quick and easy bottle access is critical. The side-entry cage allows the bottle to be inserted from the sides as well as the front, so you can stay focused on what's ahead. The Cannibal is built with reinforced...
Elite Ciussi Inox Bottle Cage
There's a time and place for lightweight carbon water bottle cages; namely, on lightweight carbon race frames. Elite's Ciussi Inox Bottle Cage is a much more appropriate choice for the classic lines and unembellished tube shapes of a hand-built steel or titanium frameset. The cage's clean lines...
Elite Crono CX Cage Kit with Base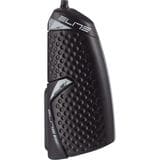 If you love cutting wind resistance, the Elite Crono CX Cage Kit with Base is for you. Tested in a wind tunnel for maximum aerodynamic capability, this bottle and cage combo was designed for successful triathlons and time trials.
Elite Custom Race Plus Water Bottle Cage
You'd expect a team like Sky, whose mantra is "marginal gains," to look for every possible advantage down to the smallest equipment detail. That's why the team opts for Elite's new Custom Race Plus Water Bottle Cage, which combines the original Custom Race's durable, reinforced nylon body with a...
Elite Custom Race Water Bottle Cage
Retail Price:
$17.99
Our Price: $16.19
buy now
Elite's self-adjusting Custom Race Water Bottle Cage lets you focus on the road rather than fighting a poor bottle/cage interface. Constructed from fiber-reinforced polyamide makes for a light and durable bottle cage. The key part, however is an elastomer rubber that allows the Custom Race to not...
Elite Eroica Vintage Bottle Cage
Elite's Eroica Vintage Bottle Cage retro-fits modern cockpits with some refreshingly traditional style. Whether you're using it for easy bottle access on the home trainer or are building a period bicycle for a throwback ride, the Vintage Bottle Cage's blend of materials and design evoke the gear...
Elite Leggero Carbon Cage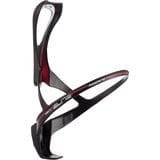 Using the Elite Leggero Carbon Cage feels like tying helium balloons to your bike. While it doesn't actually make your setup lighter At 15oz, it might be the lightest cage on the market at a claimed 15 grams. Unlike its competitors, it doesn't require special bottles, so you can just mount it to...
Elite Paron Race Composite Cage
Flexible and sturdy, Elite's Paron Race Composite Bottle Cage keeps your bottle handy without weighing you down or costing half as much as a new bike.
Elite Pase Custom Carbon Cage
Ounces matter whether you're pushing for the polka-dot jersey or just trying to beat your training buddies to the summit, and the Elite Pase Custom Carbon Cage keeps them to a minimum. At just 36 grams, it won't slow you down, but it'll keep your bottle secure and easily accessible so you don't...
<< Prev | Back | 1 | 2 | 3 | 4 | 5 | 6 | 7 | 8 | 9 | 10 | More | Next >>