Water Bottles Cages - Road Bike Shop
Shop
>
Accessories
>
Water Bottles & Cages
Speedfil Hydration R3 Rear Single Carrier
On a hot summer's ride, an extra stash of water or sports drink is never a bad thing to carry. And if your frame only came with one water bottle mount, as is likely if you ride a smaller frame, having two bottles is necessary. The Speedfil Hydration R3 Rear Single Carrier adapts to virtually any...
Speedfil Hydration R3 Single and Dual Carrier
Rear hydration isn't just for triathletes: desert dwellers, and those prone to gruel-a-thons always need to carry as much hydration as possible. While many rear hydration systems are optimized for racing, the Speedfil Hydration R3 system was designed to fit any saddle and any rider, to keep...
Speedfil Hydration Seat Tube Adapter
Just because some bikes don't come with water bottle mounts doesn't mean that you don't need to hydrate. The Speedfil Hydration Seat Tube Adapter uses a series of bands and clips to attach an A2 system to your down tube so that you'll benefit from the same aerodynamic drinking system available to...
Speedfil Hydration Stem Mount
If you don't ride in aerobars but want to be able to reap the benefits of a hands-free hydration system, the Speedfil Hydration A2 System may be attached directly to your stem via its Stem mount. This series of straps connects directly to the top of the stem so that you'll be able to easily...
Speedfil Hydration Z4 Cage System
Between-aerobar hydration systems have always been a novel, if not messy idea. Open top bottles, even with sponges or mesh, are prone to splashing if you hit a speed bump or rough section of road. Speedfil Hydration took a new look at bar-mounted hydration with the Z4, a secure bottle mount that...
Speedfil Hydration Z4 Plus Cage System
The Speedfill Hydration Z4 Plus Cage System is designed to be used with the A2 bottle for a complete system to keep you hydrated throughout your ride. Unlike upright bottles that secure with over-sized rubber bands, the Z4 attaches securely to the extensions with nylon cable ties. This...
Speedplay Nanogram Ultra Carbon Water Bottle Cage
27g is light for a water bottle cage -- and it's exactly what the Speedplay Nanogram Standard bottle cage weighs. But Speedplay wanted to go lighter, hence the introduction of the Nanogram Ultra Carbon Water Bottle Cage, tipping the scales at a scant 20 grams. The shape of the Nanogram Ultra is...
Stanley Classic Flask - 8oz
The inside of the Stanley 8oz Classic Flask is odorless and tasteless, so you don't need to hesitate before pouring in your 18-year single malt. Wide mouth opening for smoother flow, easier cleaning, and fool-proof fillingRust-proof finish and stainless steel construction ensure the life of the...
Storck Carbon Race Bottle Cage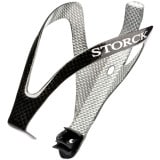 Storck knows that come race day, the small components we affix to our bikes need to be both light in weight and fully functional. If something doesn't meet these criteria, it's out. For these reasons, Storck made its new Carbon Race Bottle Cage specifically for your speed machine, as it keeps...
Tacx Tao Water Bottle Cage
Retail Price:
$20.00
Our Price: $15.00
buy now
The Tacx Tao Water Bottle Cage is the only cage that seems to have a foothold against the Elite monopoly in the pro peloton. The Tao has a very modern look and won't mark up your bottles. Te full-wrap design ensures that your bottles stay put, even over the roughest cobbles or early-spring...
<< Prev | 1 | 2 | 3 | 4 | 5 | 6 | 7 | Next >>