Water Bottles Cages - Road Bike Shop
Shop
>
Accessories
>
Water Bottles & Cages
Skratch Labs Big Mouth Bottle
At some point in time, whether you've realized it or not, you've probably owned, used, and loved a Big Mouth water bottle. The reason for this is simple, as they don't leak, they open easily, and they stay secure in your water bottle cage. It's for these reasons, aside from a great name, why...
Skratch Labs Polar Bottle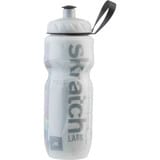 We have to admit that we weren't sure how Skratch Labs was going to add its trademark pixelation to an insulated Polar Bottle. However, the end result looks like it's been frozen in carbonite, which is only fitting given that you're able to freeze this bottle and its contents. So, this bottle...
Specialized Water Bottles Backcountry Water Bottle
Ain't no bottle like a Backcountry bottle 'cause a Backcountry bottle won't stop delivering tasty, refreshing beverages to your mouth hole. Please also notice The Goat. The 22-ounce bottle itself is called the Purist, and it's USA-made using a low-density polymer that makes it freezer-friendly...
Specialized Water Bottles Competitive Cyclist Water Bottle
Ever wonder about the significance of the three-dot logo that banners our hallowed halls? Each of the dots represents one of the three original founders of CC back in Little Rock, Ark. -- Brendan Quirk, Craig Zediker, and Hap Seliga -- three gentleman who not only work hard, but still ride hard,...
Speedfil Hydration A2 Hydration System
The Speedfil Hydration A2 uses the same design as the F2 but it is designed to be used in conjunction with aerobars. Keep your bottles full and close-at-hand so that you're able to stay in the most aerodynamic position possible. The A2 works with any Specialized thread compatible water bottle in...
Speedfil Hydration F2 Frame System
For a short bike leg of a triathlon, or a time trial, the Speedfil Hydration F2 works to get your hydration to you so that you don't compromise your carefully calculated aerodynamic position. The F2 fits into a standard down tube water bottle holder so that you won't need to mount any extra...
Speedfil Hydration R3 Rear Single Carrier
On a hot summer's ride, an extra stash of water or sports drink is never a bad thing to carry. And if your frame only came with one water bottle mount, as is likely if you ride a smaller frame, having two bottles is necessary. The Speedfil Hydration R3 Rear Single Carrier adapts to virtually any...
Speedfil Hydration R3 Single and Dual Carrier
Rear hydration isn't just for triathletes: desert dwellers, and those prone to gruel-a-thons always need to carry as much hydration as possible. While many rear hydration systems are optimized for racing, the Speedfil Hydration R3 system was designed to fit any saddle and any rider, to keep...
Speedfil Hydration Seat Tube Adapter
Just because some bikes don't come with water bottle mounts doesn't mean that you don't need to hydrate. The Speedfil Hydration Seat Tube Adapter uses a series of bands and clips to attach an A2 system to your down tube so that you'll benefit from the same aerodynamic drinking system available to...
Speedfil Hydration Stem Mount
If you don't ride in aerobars but want to be able to reap the benefits of a hands-free hydration system, the Speedfil Hydration A2 System may be attached directly to your stem via its Stem mount. This series of straps connects directly to the top of the stem so that you'll be able to easily...
<< Prev | 1 | 2 | 3 | 4 | 5 | 6 | 7 | 8 | Next >>