Water Bottles Cages - Road Bike Shop
Shop
>
Accessories
>
Water Bottles & Cages
Polar Bottle Cenote Reusable & Recyclable Bladder
Water is ideal for hydration, but once in a while (or more often perhaps), you may want something a bit different. Whether that drink is a hydration mix or something a little stronger, if you forget to rinse and scrub your hydration bladder afterward a few times, it won't be long before your...
Portland Design Works Bar-ista Coffee Cup Holder
It's a fast paced world, take your morning jolt along for the ride with the stylish, alloy Portland Design Works Bar-ista Coffee Cup Holder. The clamp fits 26mm bars, and it's 8cm top diameter tapers slightly to securely hold most coffee cups and travel mugs.
Profile Design Aero HC System
Sometimes, we find that starting from scratch is the most direct route to efficiency. Sure, Profile Design has provided the tools to build up its Aero HC System from individual pieces, but if you need the most efficient triathlon hydration right now, you simply can't beat the Aero HC. This system...
Profile Design Aerodrink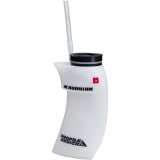 Breaking your aerodynamic position won't help you break any records. That's why Profile Design created the Aerodrink. With it, you're able to store your hydration between your aero extensions. So, you'll be able to rehydrate without deviating from your sweet spot. Even better, the bottle's...
Profile Design Aerodrink Base Bar Bracket
After taking a look at Profile Design's hydration systems, the best of us will feel among the most unimaginative in the world. Basically, if there's room to fit a bottle in a place where you need one, Profile has found a way to mount it there. Case in point is the Aerodrink Base Bar Bracket. This...
Profile Design Aerodrink Insulated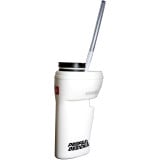 For some, their water temperature isn't of a concern. However, most of us would prefer a nice cold drink on a hot day if presented with the option. It's for this reason that Profile Design expanded upon its already successful Aerodrink, by now providing an insulated version. With it, you're able...
Profile Design Aerodrink Parts Kit
If you've landed here, we already know what your hydration preference is come race day. So, whether you're looking for backup parts, or you're installing the Aerodrink for the first time, the Profile Design Aerodrink Parts Kit is exactly what you need. The kit includes both the short and long...
Profile Design Aqualite Drink System
If you think that you're experiencing deja vu right now, we understand. Profile Design's Aqualite Drink System is essentially the same Aerodrink that you know and love, only a little bit smaller. Instead of having a 32oz capacity, Profile designed the Aqualite with a smaller 22oz capacity. This...
Profile Design RMC Carbon Fiber Rear Mount with Kage
In a normal world, most people would take a shower and go home after T1. However, this is where the real racing begins in a triathlon. And over the next leg of unsupported tarmac, it's crucial to stay as hydrated as possible. For this reason, Profile Design created the RMC Carbon Fiber Rear Mount...
Profile Design Universal Aerodrink Bracket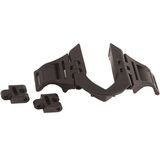 We know that we're not blowing any minds when we say that moving out of your 'aero' position amounts to a loss in time. However, the very act of hydration demands this. Well, that was until Profile Design created the Universal Aerodrink Bracket. This bracket mounts to your extension bars, leaving...
<< Prev | 1 | 2 | 3 | 4 | 5 | 6 | 7 | Next >>