Water Bottles Cages - Road Bike Shop
Shop
>
Accessories
>
Water Bottles & Cages
FSA SL-K Bottle Cage
Thoughtfully engineered with its lightweight composite plastic design, the FSA SL-K Bottle Cage keeps your favorite water bottle from jostling around while riding on the road and trail. And because it's not made from a more brittle carbon composite, it won't easily crack in the event of a road...
Hammer Nutrition Blender Water Bottle
Hammer Nutrition offers the Blender Water Bottle to keep your recovery drinks well mixed. As you know, protein-laden beverage mixes tend to clump together. That's why there's a metal shaker ball that keeps your recovery blend from turning into an unappealing sludge at the bottom of your bottle....
Kinetic Bottle Cage Twenty20
Once you've mounted it and reached for a bottle mid-workout, the Bottle Cage Twenty20's benefits become clear. Kinetic shaped it so that bottle retrieval and replacement can be effected at 20-degree angles, which Kinetic claims is the natural angle of approach from a cyclist in the saddle. The...
Lezyne Carbon Cage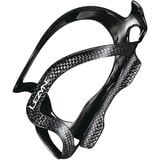 The Lezyne Carbon Cage uses FCT structural carbon to shave crucial grams and features upper and lower catches so your bidon won't eject mid-race. An integrated low-profile pump bracket is molded directly into the cage body to save weight and space when paired with a Road Drive-style hand pump....
Lezyne Carbon Side Pull Water Bottle Cage
Bottle security and low weight are two of the most important features that we look for in a cage. But, it also needs to be durable enough to handle all of the rigors of the road, day-in and day-out. Lezyne designed its new Carbon Side Pull Water Bottle Cage with these features in mind, making it...
Lezyne CNC Water Bottle Cage
The Lezyne CNC Water Bottle Cage's machined aluminum construction offer a precise fit for your water consumption device. Ovalized holes allow for adjustable mounting on frames, and the low-profile design (without an integrated pump mount) provides a better fit for smaller frames. It's available...
Lezyne Flow Caddy
Seeking extra storage without stuffing your jersey pockets full? Pick up the Lezyne Flow Caddy for lightweight, easy-carrying convenience inside a standard bottle cage. This rigid container carries essential tools and riding accessories on longer rides where help is far off. The water-resistant...
Lezyne Flow Cage HP
The Lezyne Flow Cage HP seamlessly integrates with the Road Drive pump providing an ultra lightweight, low-profile setup. FCT structural carbon fiber for extremely strong, lightweight constructionOvalized mounting holes allow cage to fit both small and large framesTop catch and bottom bridge for...
Lezyne Flow SL Cage
Offered in left and right-side configurations, the Lezyne Flow SL Cage provides easy-access to your water bottle on uphill slogs and fast training rides. Its fiber-reinforced construction strikes a nice balance between weight savings and strength. Oval mounting holes fine-tune the position on...
Lezyne Flow SL Cage Pair
Whether you need two bottle cages for bikes in your stable or desire extra hydration capacity on longer rides, the Lezyne Flow SL Cage Pair gives you two easy-access bottle cages, with reinforced composite material for added durability. Side-access makes it easy to grab water bottles at a moment...
<< Prev | 1 | 2 | 3 | 4 | 5 | 6 | 7 | 8 | Next >>