Training Tools - Road Bike Shop
Shop
>
Accessories
>
Training Tools
Blackburn Sweat Net
You wouldn't expect that an apprenticeship at a local bike shop would reveal lessons in chemistry, but nature becomes apparent the first time someone walks their bike through the door for a spring tune-up after a hard winter of indoor training. Generally, this is when the wily shop veterans shove...
CycleOps ANT+ Dual Speed/Cadence Sensor
You have your ANT+ device, but now, how do you get all your metrics to show up on it? Sure, that old wired speed and cadence sensor works fine during the ride, but once it's over, you have no record of those KOM breaking speeds you rode. CycleOps' ANT+ Dual Speed/Cadence Sensor gives you the...
CycleOps realRides Race Day Trainer DVD
Noted cycling coach & ex-pro Robbie Ventura does more than host this training video -- he races a national caliber criterium with cameras mounted on the bike to place you among the field of elite riders. You'll see how the race unfolds from his vantage point and from a multitude of other camera...
CycleOps Trainer Accessory Kit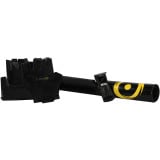 Indoor training days are the pits. Even if you've cued up the best movies and the most motivating music, and have a niche carved out inside just for your trainer, nothing seems to make the hours go by fast. Why not add the CycleOps Trainer Accessory Kit to your training space -- the little extras...
CycleOps Trainer Skewer
If you've been riding indoors for any length of time, you've undoubtedly toppled over or tipped your bike out of the trainer. CycleOps solved this dilemma by making a Trainer Skewer specifically designed for its trainers to ensure you're always upright. It fits most rear wheels and is shaped so...
CycleOps Trainer Tire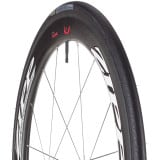 The CycleOps Trainer Tire is for use on your home trainer only. The Trainer Tire is ultra durable and extremely quiet, so you can train at all kinds of hours and not bother anyone. The CycleOps Trainer Tire comes in 700c x 23mm only.
Marc Pro, Inc. Belt Clip
Have you been using the Marc Pro Muscle Conditioning Device for a while now, and at every turn you wonder, "I wish this were on a belt?" That's a little weird if this was seriously an all-consuming thought in your life, but nonetheless, the Marc Pro Belt Clip is certainly a helpful addition. Now,...
Marc Pro, Inc. Replacement Battery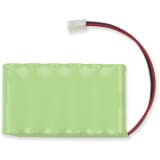 Well, it was fun while it lasted, but the battery on your Marc Pro Muscle Conditioning Device bit the dust. Now, you're left with two options: Get the Replacement Battery found here, or recover naturally. Gross. We suggest that you opt for the Replacement Battery and get back to work training...
Marc Pro, Inc. Replacement Battery Charger
Sorry. We know that you were diligent about putting all of the pieces of your Marc Pro Muscle Conditioning Device back in its carrying case when you were done. But for whatever reason, providence was not with you on that fateful day, that horrid day when you lost your battery charger. Your...
Marc Pro, Inc. Touch Free Replacement
Maybe you lost it, or maybe your cat chewed it to bits, but either way, you need the Black Touch Free Replacement to get your Marc Pro Muscle Conditioning Device up and running again. This cord connects to the Black port on the device, serving as the transmission interface between the main unit...