Trainers Rollers - Road Bike Shop
Shop
>
Accessories
>
Trainers & Rollers
Blackburn Fluid Advanced Level Trainer
When you're sitting on the couch in your favorite fleece pajama pants trying to talk yourself into kitting up and knocking out those indoor intervals your coach prescribed, having an easy-to-set-up trainer can make all the difference in the world. The Blackburn Fluid Advanced Level Trainer steps...
Blackburn Folding Trainer Mat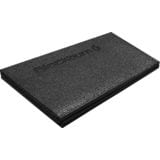 If you've gone all the way and invested in a trainer to step up your winter fitness routine, you can't make a proper at-home gym without Blackburn's Folding Trainer Mat. Compatible with just about any trainer you decide to use, the mat will guard your floors from scuffs, scrapes, and sweat while...
Blackburn Mag 5 Trainer Kit
Setting up your basement or living room to double as a training studio in the winter months can be as difficult as you want to make it. If a simple, solid setup is what you're after, we'd recommend a TV, some spring classics DVDs, and the Blackburn Mag 5 Trainer Kit. In addition to the Mag 5...
Blackburn Tech Mag 1 Trainer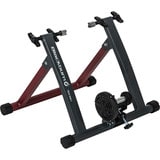 All cyclists, even the hardest of the hard, must eventually make concessions to circumstances beyond their control. Boonen had to abandon on the way to Roubaix in 2011, Cancellara had to climb off prematurely in Flanders in 2012, and many of us here at Competitive retire annually from the road...
Blackburn Tech Mag 5 Trainer
Whether you're familiar with the benefits of building base miles over the winter or have yet to experience the advantages in springtime form for yourself, Blackburn's Tech Mag 5 Trainer will allow you to keep your fitness up indoors over the winter without blowing your upgrade budget. With a...
Blackburn Tech Mag 6 Trainer
Retail Price:
$239.95
Our Price: $155.96
buy now
The Blackburn Tech Mag 6 Trainer features six different resistance settings and a smooth road-like feel, providing you the perfect way to stay fit during the winter. The trainer's magnetic resistance system is controlled via the handlebar-mounted remote lever, which makes switching the resistance...
Blackburn Tech Mag Race Trainer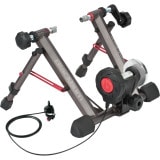 Retail Price:
$269.95
Our Price: $188.95
buy now
Warm up your pre-race morning legs on the Blackburn Tech Mag Race Trainer, and get the hole shot every time. The Mag Race's Fast Crank mounting system lets you quickly mate your dropouts to the stand, while the fully adjustable legs maximize stability on asphalt, grass, or any other surface....
Blackburn Trainer Block
As satisfying as it may be to crush the despised calculus textbook that the bookstore wouldn't buy back under your front wheel to prop up endless winter trainer sessions, it isn't the most stable choice and is definitely going to get you some looks if you have it in the pre-race warm up tent....
Blackburn Trak Block 3
Blackburn makes the Trackblock 3 because stacking old college textbooks or two by fours under your front wheel is just not pro. The Trackblock 3 levels and stabilizes your front wheel as you do a workout on your indoor trainer. It has three slots that are unique to different wheel diameters --...
CycleOps Bike Thong Sweat Catcher
Retail Price:
$24.99
Our Price: $22.49
buy now
The main drawback to training indoors -- other than the terminal boredom it brings on -- is the sweat that pours all over your bike. It's hell on your headset and on the bolts of your stem and bars. The CycleOps Bike Thong is the cure. It's a Y-shaped piece of terry cloth that velcros to your...
<< Prev | 1 | 2 | 3 | 4 | 5 | Next >>