Lubricants Maintenance - Road Bike Shop
Shop
>
Accessories
>
Lubricants & Maintenance
FOX Racing Shox Float Fluid Pillow Pack
For all of the fun and excitement your Fox Float suspension provides, don't you think that it's time you take care of it? The Fox Float Fluid Pillow Pack does just that. With five CCs of anti-friction goodness, the Pillow Pack will breathe life into your Float's seals. The fluid uses a blend of...
Motorex Wet Lube
Retail Price:
$9.00
Our Price: $5.40
buy now
Motorex Wet Lube is a fully synthetic, biodegradable lubricant designed for riding in wet, muddy conditions and for riders who desire a more durable, longer-lasting chain lube. Boasting a unique synthetic compound that penetrates quickly and holds fast to your chain, Motorex Wet Lube uses a...
Orange Seal Shine Bike Cleaner
Sharing the same principle as Orange Seal's chain lube and sealant, nanites in the Shine Bike Cleaner's formula fills voids. But in this case those voids are microscopic scratches that mar a bicycle's finish over time. Orange Seal's engineered, sub-micron particles fill imperfections on modern...
Orange Seal Slide Chain Lube
Formulated with nanites, Orange Seal's Slide Chain Lube not only prevents wear, but its nanotechnology also fills microscopic voids in chains to effectively reduce friction. The sub-micron, lubricating nanites bury themselves into the links to keep the chain running smoothly in all types of...
Park Tool Heavy Duty Cutting Fluid - CF-2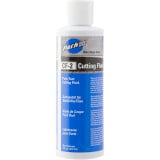 Retail Price:
$14.95
Our Price: $13.46
buy now
Cutting tools are spendy and delicate, so use Park Tool's CF-2 Heavy Duty Cutting Fluid when cutting, reaming, facing or tapping to ensure you don't prematurely dull your tool. An environmentally friendly, soy-based formula means that you can spare your conscience some damage, too.
Park Tool PolyLube 1000 Grease - PPL-1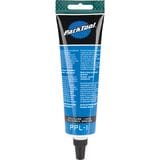 Retail Price:
$6.49
Our Price: $5.84
buy now
Park Tool PPL-1 Polylube is a poly-urea based lubricant developed specifically for bicycle maintenance and repair. Polylube 1000 has an extremely high shear strength to protect vital parts under extreme conditions. Polylube 1000 also repels moisture and is compatible with conventional greases....
Pedro's Chainj Chain Lubricant
Pedro's made the environmentally-friendly Chainj Chain Lubricant for those looking for a sustainable lube option for mixed and wet conditions. The Chainj Chain Lube goes on easy and won't leave a mess Mother Nature can't take care of.
Pedro's Green Fizz 16X Concentrate
Keep your whip sparkling and classy with Pedro's Green Fizz 16X Concentrate. This powerful cleaner uses foaming action and surfactants to take off all the dirt, grime, and caked on dust your bike accumulates over the miles without damaging any of its parts or surfaces. As an added bonus, its...
Pedro's Green Fizz Foaming Cleaner
If your bike is clean, not only will it look great, but it'll ride better, and it makes it a lot easier to spot impending mechanical issues. Pedro's Green Fizz Foaming Bike Wash is your one-stop-spray to help get your whip looking and riding like new.
Pedro's Syn Grease Plus
Though not as biodegradable or as light as the company's Bio Grease, Pedro's sustainably-produced Syn Grease Plus is a synthetic lithium bicycle grease that's a little bit more heavy-duty and can maintain its structure over a wider range of temperatures. It's highly stable, extremely...
<< Prev | 1 | 2 | 3 | 4 | 5 | Next >>