Lubricants Maintenance - Road Bike Shop
Shop
>
Accessories
>
Lubricants & Maintenance
Finish Line Speed Bike Degreaser
A gummed-up drivetrain is a slow drivetrain. Finish Line's Speed Bike Degreaser uses a powerful solvent to quickly remove grease, grime,and other organic elements from your bike, without scrubbing. It leaves no residue and doesn't use water so that there is no rinsing required. More impressive,...
Finish Line Super Bike Wash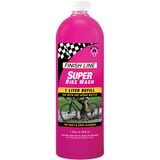 Keep your expensive steed looking and riding like new with Finish Line's Super Bike Wash. This non-toxic cleaner works on both your frame a drivetrain to remove dirt and grime that degrade the look, and if not cleaned the performance, of your bike. Super Bike Wash is formulated with eco-friendly...
Finish Line Wet Lube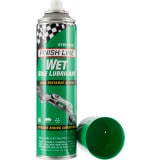 If you live in a place where the weather can't quite make up its mind, Finish Line's Wet Lube is what your drivetrain needs to keep it moving with minimum friction and maximum smoothness. As a wet-style lubricant, Finish Line's Lube requires that you keep your drivetrain clean. The trade-off is...
Motorex Dry Lube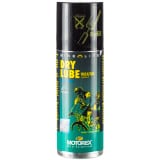 Retail Price:
$13.00
Our Price: $7.15
buy now
Motorex Dry Lube is designed for riding in dry, dusty conditions and for riders looking for a clean-running chain lube that prevents unwanted build-up. Traditional wax-based lubes only coat the surface of your chain, doing little to lubricate internal chain pins, rollers, and plates. But Motorex...
Motorex Wet Lube
Retail Price:
$9.00
Our Price: $5.40
buy now
Motorex Wet Lube is a fully synthetic, biodegradable lubricant designed for riding in wet, muddy conditions and for riders who desire a more durable, longer-lasting chain lube. Boasting a unique synthetic compound that penetrates quickly and holds fast to your chain, Motorex Wet Lube uses a...
Park Tool Bio ChainBrite Cleaner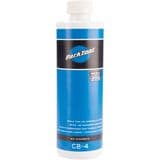 Park Tool's Bio ChainBrite Cleaner takes the grime off your drivetrain without taking a few layers of skin with it. It's plant-based and biodegradable, so you can scrub your machine in the front yard, and its friendly enough for use on alloy, plastic, rubber, and -- of course -- carbon fiber.
Park Tool Heavy Duty Cutting Fluid - CF-2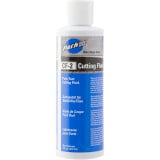 Cutting tools are spendy and delicate, so use Park Tool's CF-2 Heavy Duty Cutting Fluid when cutting, reaming, facing or tapping to ensure you don't prematurely dull your tool. An environmentally friendly, soy-based formula means that you can spare your conscience some damage, too.
Park Tool HPG-1 High Performance Grease
Optimized for high-end applications on road and mountain bikes, Park Tool's HPG-1 High Performance Grease combats friction to keep your bike running smoothly. Park Tool's proprietary grease blend provides superior adherence and longer lubrication life on precision ground and ceramic bearings,...
Park Tool PolyLube 1000 Grease - PPL-1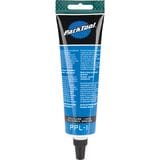 Retail Price:
$6.49
Our Price: $5.84
buy now
Park Tool PPL-1 Polylube is a poly-urea based lubricant developed specifically for bicycle maintenance and repair. Polylube 1000 has an extremely high shear strength to protect vital parts under extreme conditions. Polylube 1000 also repels moisture and is compatible with conventional greases....
Park Tool PPL-2 Polylube 1000 Grease
Staying prepared for routine maintenance and general bike upkeep doesn't have to be complicated if you have a tub of Park Tool's PPL-2 Polylube 1000 Grease on hand. Pairing well with most standard greases, the polyurea formula won't damage carbon frames, and it was developed with a high shear...
<< Prev | 1 | 2 | 3 | 4 | 5 | Next >>