Lubricants Maintenance - Road Bike Shop
Shop
>
Accessories
>
Lubricants & Maintenance
Finish Line One Step
Make two steps of cleaning and re-greasing into one, with Finish Line's One Step Cleaner and Lubricant. While One Step is not a complete bicycle degreaser, it is ideal for the rider who wants to keep their drivetrain shifting smoothly, especially before that big weekend ride. As the formula...
Finish Line Speed Bike Degreaser
A gummed-up drivetrain is a slow drivetrain. Finish Line's Speed Bike Degreaser uses a powerful solvent to quickly remove grease, grime,and other organic elements from your bike, without scrubbing. It leaves no residue and doesn't use water so that there is no rinsing required. More impressive,...
Finish Line Wet Lube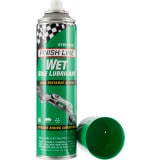 If you live in a place where the weather can't quite make up its mind, Finish Line's Wet Lube is what your drivetrain needs to keep it moving with minimum friction and maximum smoothness. As a wet-style lubricant, Finish Line's Lube requires that you keep your drivetrain clean. The trade-off is...
FOX Racing Shox Float Fluid Pillow Pack
For all of the fun and excitement your Fox Float suspension provides, don't you think that it's time you take care of it? The Fox Float Fluid Pillow Pack does just that. With five CCs of anti-friction goodness, the Pillow Pack will breathe life into your Float's seals. The fluid uses a blend of...
Motorex Bike Carbon Grease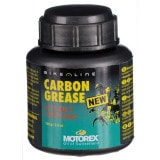 Motorex Bike Carbon Grease is unique for a number of reasons. Most notable is that it lacks the suspended particulates you'll find in typical carbon assembly paste. Where the others use these microspheres to increase the traction between the slick finishes of carbon parts, the Motorex formula...
Motorex Dry Lube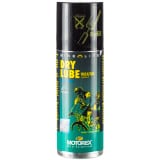 Motorex Dry Lube is designed for riding in dry, dusty conditions and for riders looking for a clean-running chain lube that prevents unwanted build-up. Traditional wax-based lubes only coat the surface of your chain, doing little to lubricate internal chain pins, rollers, and plates. But Motorex...
Motorex Wet Lube
Retail Price:
$9.00
Our Price: $7.20
buy now
Motorex Wet Lube is a fully synthetic, biodegradable lubricant designed for riding in wet, muddy conditions and for riders who desire a more durable, longer-lasting chain lube. Boasting a unique synthetic compound that penetrates quickly and holds fast to your chain, Motorex Wet Lube uses a...
Orange Seal Shine Bike Cleaner
Retail Price:
$4.79
Our Price: $3.59
buy now
Sharing the same principle as Orange Seal's chain lube and sealant, nanites in the Shine Bike Cleaner's formula fills voids. But in this case those voids are microscopic scratches that mar a bicycle's finish over time. Orange Seal's engineered, sub-micron particles fill imperfections on modern...
Orange Seal Slide Chain Lube
Retail Price:
$4.99
Our Price: $3.74
buy now
Formulated with nanites, Orange Seal's Slide Chain Lube not only prevents wear, but its nanotechnology also fills microscopic voids in chains to effectively reduce friction. The sub-micron, lubricating nanites bury themselves into the links to keep the chain running smoothly in all types of...
Orontas Grease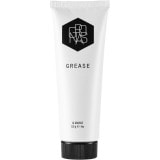 Retail Price:
$44.95
Our Price: $34.95
buy now
Ah, the joys of cycling! By no means the least of which is removing, cleaning, re-installing, and adjusting anything and everything that makes your bicycle work. It's half the fun of being a cyclist. Your dedication has earned you a new best friend-the unsung hero of cycling: grease. It's the...
<< Prev | 1 | 2 | 3 | 4 | 5 | 6 | Next >>