Lubricants Maintenance - Road Bike Shop
Shop
>
Accessories
>
Lubricants & Maintenance
Finish Line Bike Care Pack
Degrease, wash, and lubricate. These are three simple steps to keep your bike running like new. The Finish Line Bike Care Pack is pack of three of its best-selling products: Multi Bike Degreaser, Dry Lube, and Super Bike Wash to help you achieve a smooth running drivetrain. The Multi Bike...
Finish Line Ceramic Grease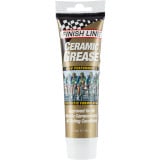 Your bike is only as good as the sum of its parts. To keep bottom bracket, hub, and headset bearings running smoothly, Finish Line formulated Ceramic Grease. This compound features ceramic particles, fluropolymer additives, and non-toxic synthetic oils. As bearings are coated with ceramic...
Finish Line Chill Zone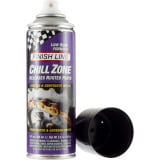 Before you get the hacksaw out and begin cutting off seatposts, crank bolts, and other rusted, seized bike parts, give them a shot of Finish Line's Chill Zone and watch the magic. Chill Zone is not a lubricating grease. It's a refrigerant that freezes metal to as low as negative 50 degrees...
Finish Line Dry Lube
Using 'wet' lubrication for your drivetrain in dusty, dry conditions results in caked, gummed-up chains and gears. Finish Line's Dry Lube was formulated to keep your chain running smoothly without attracting abrasive contaminants. Dry Lube looks wet when you use it, but then quickly sets with a...
Finish Line Easy Pro Brush Set
Don't ruin another toothbrush trying to get the grease out from between the gears on your bike when Finish Line has a set of brushes specifically designed for every crevice. The Easy Pro Brush Set features 5 different brushes to remove mud, dirt, and road grime from frame and components. The...
Finish Line Grease Injection Gun
To grease hard-to-reach components such as recessed suspension pivots, don't try to use a brush. Finish Line's Grease Injection Gun features easy one-hand operation and is compatible with Finish Line's 3. 5oz Premium Grease tubes, 2oz Ceramic Grease tubes and most standard 9/16in threaded tubes...
Finish Line Max Suspension Spray
Dust and other environmental factors cause fork stanchions to become less responsive which leads to loss of travel and slow response--it feels stiff over even very small bumps. Finish Line's Max Suspension Spray is designed to give a fork new life between overhauls. Formulated from polysiloxane...
Finish Line One Step
Make two steps of cleaning and re-greasing into one, with Finish Line's One Step Cleaner and Lubricant. While One Step is not a complete bicycle degreaser, it is ideal for the rider who wants to keep their drivetrain shifting smoothly, especially before that big weekend ride. As the formula...
Finish Line Pro Care Bucket Kit V8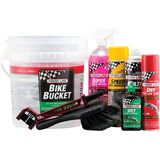 It's easy to say you're going to clean your bike, but truthfully, how many of us do it on a regular basis? With the Finish line Pro Care Bucket kit 8. 0, you have everything you need right at your fingertips. As the name implies, the Pro Care Bucket 8. 0 includes eight items. For cleaning and...
Finish Line Super Bike Wash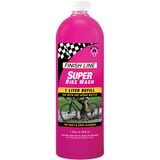 Keep your expensive steed looking and riding like new with Finish Line's Super Bike Wash. This non-toxic cleaner works on both your frame a drivetrain to remove dirt and grime that degrade the look, and if not cleaned the performance, of your bike. Super Bike Wash is formulated with eco-friendly...
<< Prev | 1 | 2 | 3 | 4 | 5 | 6 | 7 | Next >>