Lubricants Maintenance - Road Bike Shop
Shop
>
Accessories
>
Lubricants & Maintenance
Motorex Wet Lube
Retail Price:
$9.00
Our Price: $6.30
buy now
Motorex Wet Lube is a fully synthetic, biodegradable lubricant designed for riding in wet, muddy conditions and for riders who desire a more durable, longer-lasting chain lube. Boasting a unique synthetic compound that penetrates quickly and holds fast to your chain, Motorex Wet Lube uses a...
Orange Seal Slide Chain Lube
Formulated with nanites, Orange Seal's Slide Chain Lube not only prevents wear, but its nanotechnology also fills microscopic voids in chains to effectively reduce friction. The sub-micron, lubricating nanites bury themselves into the links to keep the chain running smoothly in all types of...
Park Tool Bio ChainBrite Cleaner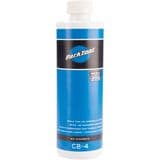 Park Tool's Bio ChainBrite Cleaner takes the grime off your drivetrain without taking a few layers of skin with it. It's plant-based and biodegradable, so you can scrub your machine in the front yard, and its friendly enough for use on alloy, plastic, rubber, and -- of course -- carbon fiber.
Park Tool CG-2.3 Chain Gang Chain Cleaning System
Retail Price:
$34.95
Our Price: $32.50
buy now
Whether your cogs fly the flag of flashy titanium or redoubtable, nickel-plated steel, you owe it to them, the chainrings, and the chain itself to maintain a tidy ship of state. Park Tool's CG-2. 3 Chain Gang Cleaning System comprises all the materials you'll need to ensure a presentable...
Park Tool Heavy Duty Cutting Fluid - CF-2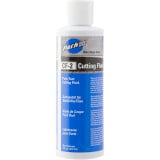 Cutting tools are spendy and delicate, so use Park Tool's CF-2 Heavy Duty Cutting Fluid when cutting, reaming, facing or tapping to ensure you don't prematurely dull your tool. An environmentally friendly, soy-based formula means that you can spare your conscience some damage, too.
Park Tool HPG-1 High Performance Grease
Optimized for high-end applications on road and mountain bikes, Park Tool's HPG-1 High Performance Grease combats friction to keep your bike running smoothly. Park Tool's proprietary grease blend provides superior adherence and longer lubrication life on precision ground and ceramic bearings,...
Park Tool PolyLube 1000 Grease - PPL-1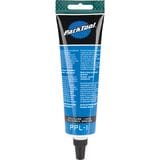 Retail Price:
$6.49
Our Price: $5.84
buy now
Park Tool PPL-1 Polylube is a poly-urea based lubricant developed specifically for bicycle maintenance and repair. Polylube 1000 has an extremely high shear strength to protect vital parts under extreme conditions. Polylube 1000 also repels moisture and is compatible with conventional greases....
Park Tool Supergrip Carbon and Alloy Assembly Compound - 4 oz. tube
Retail Price:
$11.95
Our Price: $10.76
buy now
Park Tool Supergrip Carbon and Alloy Assembly Compound creates a better grip between slippery surfaces, so you don't have to deal with slippery seatposts, stems, or handlebars anymore. Note: Not for threaded surfaces. Do not use for bearing lubrication
Park Tool Synthetic Blend Chain Lube with PTFE
Retail Price:
$8.49
Our Price: $7.64
buy now
Be a hero and lube up your neighborhood fleet with Park Tool's Synthetic Blend Chain Lube with PTFE. This synthetic blend penetrates, cleans, and prevents rust on chains, cables, spoke nipples, brake pivots, and just about anything else that needs lubing.
Pedro's Chain Pig
Retail Price:
$28.00
Our Price: $24.64
buy now
Hate scrubbing your filthy chain with a brush? Use Pedro's Chain Pig for a squeaky-clean chain without the hassle or mucky mess of traditional chain cleaning. This handy little tool attaches to your rear derailleur for hands-free operation, allowing you to crank the chain through its pro-grade...
<< Prev | 1 | 2 | 3 | 4 | 5 | Next >>